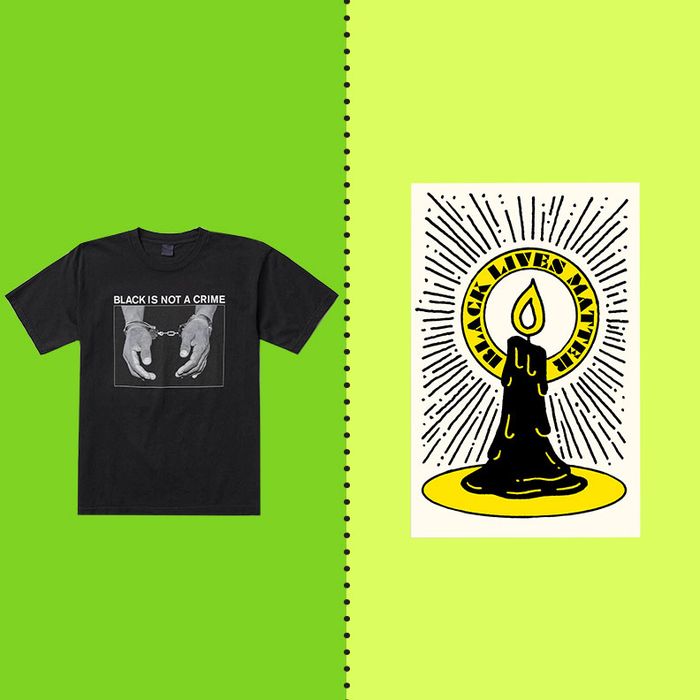 Photo-Illustration: Much More By Rick; Freshjive; Caboose
While donating directly to local, Black-led organizations is the most effective way to financially support the struggle against police brutality, if you're already in the market for a Father's Day gift or your quarantine partner's birthday is coming up, consider buying one of these items that gives back to an organization fighting racism. Here, we've rounded up items from smaller brands — many owned by people of color — that are donating all of the profit or proceeds of certain items (or in some cases, all of their sales throughout this week or month) to anti-racism and anti–police brutality organizations. Whether you want an Assata Shakur tote, a fringed, glow-up face mask, or a print to frame in your room, we've included everything from apparel and tees to beauty and wellness items, and home goods.
If you see something that you like, don't dillydally: Some of these items are in low stock, and other brands are only donating profits through this week or weekend. Plus, these organizations need your donations now.
Apparel
During the month of June, you can buy fabric face masks at Agolde and Citizens Humanity and donate money — in this case 100 percent of the retail selling price, sans sales tax and shipping charges — to organizations that fight injustice. The racial justice organizations include Black Lives Matter, Color of Change, Rebuild Foundation, the Southern Poverty Law Center, Real Justice, and the ACLU.
From Asia Hall's light-up, Western-inspired accessories brand Neon Cowboys comes this fringed, glow-up face mask; all sales profits will go to Grass Roots Law, an organization created to dismantle mass incarceration.
All of the proceeds from the Lady White Co. x Reproduction of Found sneaker collaboration will be donated to Reclaim the Block, a Minneapolis-based coalition that organizes to divest from policing and invest in long-term, community-led safety alternatives. With 100 sneakers for sale at $108 each, that's up to $108,000 in donations. Don't dillydally: Only several sizes are still in stock.