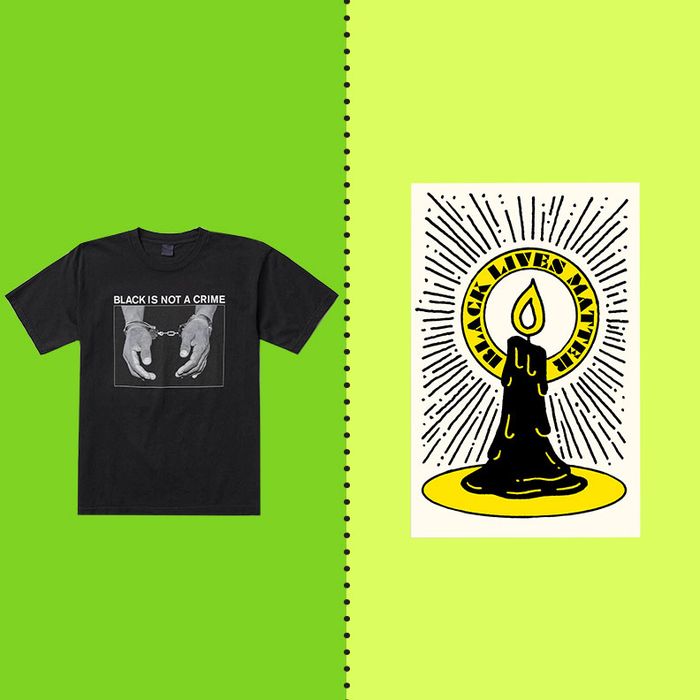 Photo-Illustration: Much More By Rick; Freshjive; Caboose
While donating directly to local, Black-led organizations is the most effective way to financially support the struggle against police brutality, if you're already in the market for a Father's Day gift or your quarantine partner's birthday is coming up, consider buying one of these items that gives back to an organization fighting racism. Here, we've rounded up items from smaller brands — many owned by people of color — that are donating all of the profit or proceeds of certain items (or in some cases, all of their sales throughout this week or month) to anti-racism and anti–police brutality organizations. Whether you want an Assata Shakur tote, a fringed, glow-up face mask, or a print to frame in your room, we've included everything from apparel and tees to beauty and wellness items, and home goods.
If you see something that you like, don't dillydally: Some of these items are in low stock, and other brands are only donating profits through this week or weekend. Plus, these organizations need your donations now.
Apparel
During the month of June, you can buy fabric face masks at Agolde and Citizens Humanity and donate money — in this case 100 percent of the retail selling price, sans sales tax and shipping charges — to organizations that fight injustice. The racial justice organizations include Black Lives Matter, Color of Change, Rebuild Foundation, the Southern Poverty Law Center, Real Justice, and the ACLU.
From Asia Hall's light-up, Western-inspired accessories brand Neon Cowboys comes this fringed, glow-up face mask; all sales profits will go to Grass Roots Law, an organization created to dismantle mass incarceration.
All of the proceeds from the Lady White Co. x Reproduction of Found sneaker collaboration will be donated to Reclaim the Block, a Minneapolis-based coalition that organizes to divest from policing and invest in long-term, community-led safety alternatives. With 100 sneakers for sale at $108 each, that's up to $108,000 in donations. Don't dillydally: Only several sizes are still in stock.
Another piece of outerwear that gives back is this tricolor fleece from Donni (junior writer Chloe Anello's fuzzy layer of choice): On Juneteenth — this Friday — all proceeds from the brand's online sales will be donated to the Bail Project, an organization that combats mass incarceration and pretrial injustices through its National Bail Fund.
Through June 19, the unisex boxers-with-pockets brand Jambys is donating all of its profits to three organizations: The Bail Project; The Okra Project, which brings free meals to Black trans folks; and Harlem Lacrosse, an organization that empowers middle-and high-schoolers in Harlem through academic support and lacrosse instruction. These "supersoft" shorts are Jenna Milliner-Waddell's loungewear of choice, and both she and writer Liza Corsillo say they're comfortable enough to sleep in.
For the month of June, Peter Do, known for its functional and minimalist women's clothing, is also donating proceeds to Color of Change, the Black Visions Collective, a queer-led and trans-centered organization in Minneapolis dedicated to Black liberation, and the Black Youth Project 100, which amplifies the voices of young Black people through political engagement tools. Even if $195 is more than you would usually pay for a tank top, this one is in solidarity.
Tees
All proceeds from this tee, which features a portrait of Donald Trump and the words "Public Enemy Number One," will go to the ACLU.