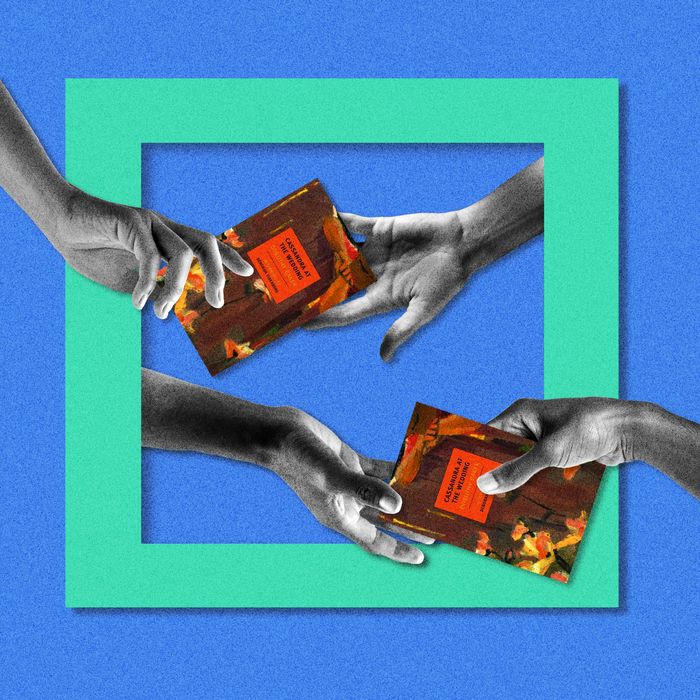 Photo-Illustration: Photo-illustration by the Strategist; Photos Getty Images
There's no easy explanation for why Cassandra at the Wedding, a 1962 novelette about a pair of twins reuniting at their family ranch in the Sierra Nevada, should be circulating rapidly right now. Written by Dorothy Baker, it wasn't particularly popular at the time of its release (likely because of its too-modern themes: Cassandra is a queer, acerbic, and generally self-destructive character). It's been rereleased a handful of times over the past decades — in 2004, then again in 2012, by the New York Review of Books. (Edwin Frank, NYRB's founder, was responsible for the acquisition. Sales were modest.) But over the past year, seemingly every screenwriter, editor, and Ph.D. candidate from New York to L.A. has picked it up. We set out to find patient zero, the person at the very top of the Cassandra chain, by interviewing every single person we know who's read it.
The Stein Strain
One day last October, the writer Moira Donegan was perusing Twitter when she came across a post by the author Lynn Steger Strong. It read: "Favorite novels about siblings??" Forty-nine comments later and there was Cornelia Channing, an editorial assistant at the New York Times' Sunday Review. No details, just a title: Cassandra at the Wedding. Donegan spotted the comment and bought the book. Strong did, too — then read it and promptly added it to the syllabus for a class she's teaching at Columbia this fall on unhinged narrators. Channing bought it on a recommendation from her boyfriend, who says it was mentioned to him by his friend the writer Sadie Stein.
"And the buck stops there," says Stein, who found the book at a used bookshop in Paris in 2002. That year, Stein had taken a job as a late-night receptionist at a "sparsely patronized" shop and was reading more than ever before. "I'd pick up anything cheap with a dark-green Virago spine — and while I read plenty of forgettable novels, this was an exception. I was figuring out so much then, and the messiness of the character appealed to me."
The Ward Strain
It seemed as if Stein was responsible for the spread — until we heard about Taylor Ward. Ward, the wine and service director at Cervo's, Hart's, and the Fly, says he's been evangelizing Cassandra for years — ever since he found it while combing the NYRB website in 2016. "I love Cassandra's self-awareness as a form of delusion; she's so narcissistic that she actually is incapable of reading the room," Ward says. "It's a really fun exploration of genius and a great book on lonerism." Whenever Ward is in a used bookstore, he says, he looks for a copy; if they have it in stock, he buys it and gives it away to a friend. Since his first read, he's passed it off to Kassandra Thatcher, a ceramist in Los Angeles; Kate Abernathy, a film editor in Brooklyn; Lily Soule, who manages the Fly; and Emily Dinowitz, a producer in Brooklyn (who has since recommended it to Emma Wooley, a brand strategist, and Eliza Dumais, an editor).
The Rose Strain
An entirely separate thread emerged when we spoke to Maggie Rose. In 2019, Rose — who was then working in a writers' room at Disney — was Googling around for recommendations for lesser-known queer literature. A couple hundred Wikipedia pages later, she stumbled upon Cassandra.
For two weeks after finishing the book, Rose grieved her departure from Cassandra's world. Then came the pressing urge to turn it into a movie. "I pumped it out into the film world," she says. She passed it on to Izzy Calvin-Smith, a screenwriter; Lucy Licht, then a business-development coordinator at FilmNation; and Sam Intili, also in development at the film-distribution company Animal Kingdom. Eventually, Rose tried to secure the rights to the book herself — but failed. "I'm not someone with enough credits or acumen to have gotten far with it."
The Wallace Strain
Sometime in 2020, Emily Rappaport, a book-to-film scout, came across the book by way of Clare Sestanovich, an editor and writer who was then working at The New Yorker. (Sestanovich had bought a copy a few years prior but fully committed to reading it when David Schurman Wallace, then also an editor at The New Yorker, urged her to do so.) Rappaport recommended it to Zander Allport, a Ph.D. candidate at the University of California, Riverside (who recommended it to Sacha Macabee, a high-school English teacher in Hollywood, who recommended it to Soren Hope, an artist getting her M.F.A. in painting at Yale, who recommended it to Sara Brooks, a psychology student getting her M.S.W. at Hunter College). Then she brought it to one of her clients, a producer at Seaview (the production company behind Slave Play), who saw its potential and figured they might look into acquiring it down the road. But then something strange happened. Neon (the distribution and production company behind Parasite) reached out to Seaview: An actor had brought a book to their attention, and the company were hoping to approach the estate.
The book, as it happens, was Cassandra. The actor was John Early.
The Early Strain
Early found the book on his own, he says. Early in the pandemic, he decided to "become a Deborah Eisenberg completist." After he finished reading every book, short story, and essay the author had ever written, he moved onto her favorite books — starting with those for which she'd written forewords and afterwords. Eisenberg wrote the afterword for the New York Review's 2012 rerelease of Cassandra. 
Like everyone else, he was obsessed with it. "It's just this beautiful, private little book of great complexity," he says. He promptly began talking about the book to anyone who would listen — including his parents, the comedian Kate Berlant, and the playwright Sarah DeLappe, who is a twin herself. "I knew Sarah would freak for it," he says. She did — and the two began discussing adapting the book into a film. They put a pitch together and approached the Dorothy Baker estate, which consisted of Baker's elderly daughters plus their children and grandchildren, over Zoom. The estate signed off with Seaview and Neon as co-producers. DeLappe is now working on a first draft of the screenplay.
Meanwhile, the strands are still multiplying: In October, the hosts of Backlisted— a podcast devoted to reinvigorating old, obscure, and niche books — spent an entire episode chatting about Cassandra, introducing it to, among others, an Ontario-based lawyer named Gordon Baird and Eva Leach, a medieval musicologist at Oxford. Once Leach finished it, she wrote, she mentioned it straight away to a retired U.S. literature professor who'd never heard of it despite it being published during her undergrad years. "Giving new life."
The Strategist is designed to surface the most useful, expert recommendations for things to buy across the vast e-commerce landscape. Some of our latest conquests include the best acne treatments, rolling luggage, pillows for side sleepers, natural anxiety remedies, and bath towels. We update links when possible, but note that deals can expire and all prices are subject to change.