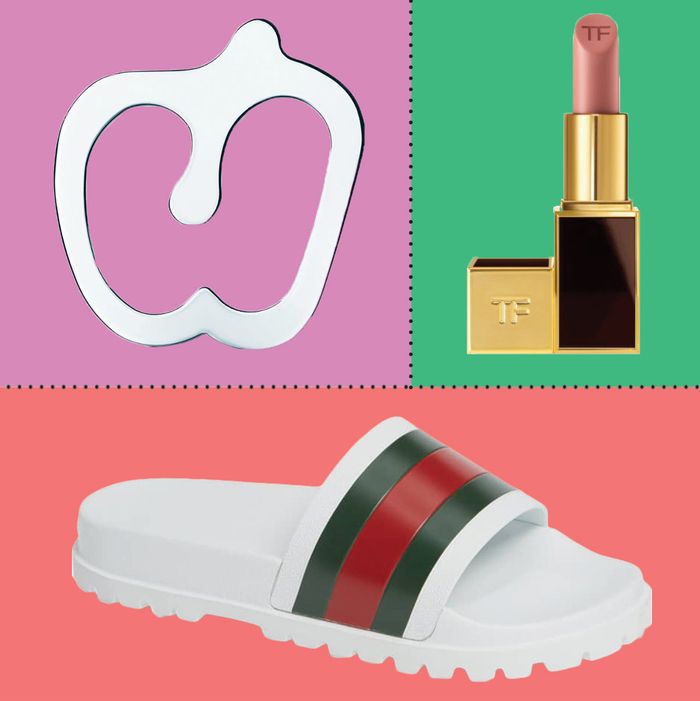 Photo: Courtesy of the retailers
As we've noted before during the holidays, being a label whore when it comes to gifting isn't a terrible idea. A $50 Chanel hand cream or $30 pair of Supreme boxers can feel so indulgent and over-the-top — in a great and glamorous way. To that end, we've rounded up 30 (relatively) inexpensive things from typically very expensive brands that would make wonderful Valentine's Day gifts.
Sculptural earrings that look much more expensive than they are.
Packaged and ready for Valentine's Day.
You might not be able to afford a custom Charvet shirt, but a skinny knit tie is much cheaper and always appreciated.
You could always opt for a pair of striped socks from Gucci, but these slides make more of a statement.
While still on the pricey side, this pale pink puffer scarf is a fraction of the price of Moncler's slick down parkas — and would be like wearing a mini-jacket on your neck, sort of.
For the Alexander McQueen stan who wants to be subtle-but-not-so-subtle about his allegiance to the designer.
For the fashion-forward boxer in your life.
It will look luxurious on any vanity table, and the smell of Prada's vanilla and ylang-ylang lotion? Divine.
From Tom Dixon's Bump collection, to impress your valentine with your mixology skills.
This MM6 Maison Margiela clutch in a refreshing transparent blue is pretty sweet.
A perfectly purple, perfectly frivolous bag tag from Versace for your valentine.
Surprise her with this Cult Gaia bag that's currently 50 percent off.
The tiny prints of cars, hot air balloons, bicycles, and airplanes on this silk Etro scarf are just too cute to pass up.