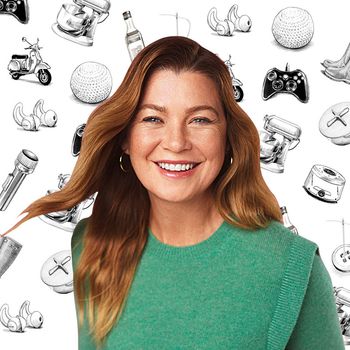 Photo-Illustration: Strategist. Photo: The Stable
If you're like us, you've probably wondered what famous people add to their carts. Not the JAR brooch and Louis XV chair but the hair spray and the electric toothbrush. We asked actress and star of Grey's Anatomy Ellen Pompeo — who co-founded of Betr Remedies, a newly launched over-the-counter wellness brand — about the game-changing foot cream, tea, and speaker she can't live without.
Photo: Retailer
My acupuncturist really got me into tea. I love it so much. In Chinese medicine, you don't want dampness in your intestinal tract, and she's always encouraging me to eat warm spices, have warm broth, have warm tea. So I've been into tea for a while, and I use it to go to sleep or to wake up. l just think the warm liquid is good for you, and hibiscus just tastes like berries to me — like fruit punch.
I lift weights like twice, sometimes three times a week. Sometimes after I do weights my muscles are just so sore, and I feel these really help the next day after a workout. Or if I've just had a stressful day and I feel like the world is collapsing on me, I'll take one of these. The white peach flavor is kind of amazing, and I love that they do seasonal flavors. I give them as gifts, too, and people love them.
Lord Jones also makes a [soothing] "stiletto" cream. It's literally such a game changer. You just rub it on your feet and put your shoes on — after it dries, of course (It's a little greasy at first.) Your feet won't hurt. It's crazy. This, too, makes an amazing gift.
I have a couple of different oil diffusers. I have the Vitruvi stone in my trailer. And then at one point, Kourtney Kardashian and Poosh did a really chic one. I think I have that one in my gym. Then I bought one at Erewhon — that's so Tinxs of me — but I bought a cute little white one at Erewhon a couple weeks ago and I put that in my bathroom. It just makes the room feel fresh and not germy. I love grapefruit essential oil. A little bit of sage and a little bit of grapefruit makes the room smell clean. In my gym and trailer where there isn't a lot of airflow, that moisture and nice scent in the air just makes the room feel fresh and gives it a vibe.
So when you buy your sage, you've seen the little wood sticks, right? That's palo santo. You light the stick and then it burns for like five minutes and then it just fizzles out and you have to keep relighting it. These cones stay lit. I actually found them in the Goop store in Sag Harbor. It's the same wood, but in sawdust form and they press it into a cone, like an incense cone, and it just burns and never goes out. I do a podcast out of my guest house, and I get kind of anxious when I do the podcast, so I always light palo santo.
They're a little bit expensive, but it's very cool. It's called a Rainbow Chakra Mat, and basically there's all these like little pebbles of crystals in the mat. There's like a row of amethyst pebble, a row of jade pebble, a row of lapis pebble, and you turn it on and it heats up so you're laying on hot crystals. I personally crank it up superhot, and every night my ritual is to lay on the chakra mat for like an hour. It feels so good and it gets you tired and ready for bed. It's probably the same premise as a sauna blanket because I crank it up so high. My husband is like, "This is so hot, like what's wrong with you?" But I love it. I'm on my feet a lot all day so my muscles are kind of tight and sore at the end of the day, so I just love laying on that and watching Rachel Maddow. Again, it's a little bit expensive, but it's an amazing gift and a really nice investment for self-care.
I switch between coffee and matcha or green tea in the mornings. Pique Teas are very interesting because they make a powder form of tea, and it comes in this very cool little package. It's almost like a sugar packet, so you can travel with it and keep it in your purse and it dissolves in cold water. You don't need hot water for it, so if you're on a plane and, you have a bottle of water you can just rip open this packet and dump it in. It's not like crystals or granules that don't actually dissolve because the water isn't hot.
I gotta have my speaker on set. It's a must-have. The crew doesn't really get a break, and most of them live far away and have to drive really far. On sets it's all about keeping the spirit high and keeping the mood up. That's a big part of my consciousness every day: really making sure I contribute to good feelings and emotions on set. And nothing makes people feel better than when you play some Stevie Wonder or some Elton John. I like to bring my Beats Pill to set and sit at Video Village and just play some nice music while the crew works — it just kind of elevates the mood. (Sometimes I'm blasting Tupac or Jay-Z and that probably irritates some of them.) You can change the vibe in any room with some sexy scents and music. That's my mantra all the time: It's all about beats and scents.
Photo: Retailer
I co-founded Betr Remedies with Jen Hoffman and Livio Bisterzo. We make FDA-approved, accessible, over-the-counter medicine [like Cold & Flu Relief, Acid Reducer, and Pain Relief]. We're trying to give consumers an option to buy products from companies that are actually trying to make a difference in people's lives. We're taking a portion of the proceeds from every box sold and donating it to a program called SIRUM, a not-for-profit, charitable pharmacy program started by this brilliant woman Kiah Williams, who has been working tirelessly for almost ten years now to try to address pharmacy deserts. Just like food deserts in the middle of the country and rural areas, people just don't have access to pharmacies, and if they do, they don't have the money to afford the stuff. So we found a way with Betr Remedies to sort of help her with that. We have, I think, 15 SKUs, but I use the allergy relief the most because I have a lot of allergies, especially to animals, and I have a bunch of puppies. It doesn't make me drowsy, it doesn't make my heart race, and I can just breathe easier.
The Strategist is designed to surface the most useful, expert recommendations for things to buy across the vast e-commerce landscape. Some of our latest conquests include the best acne treatments, rolling luggage, pillows for side sleepers, natural anxiety remedies, and bath towels. We update links when possible, but note that deals can expire and all prices are subject to change.