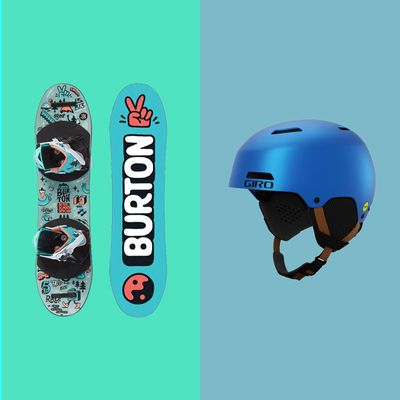 Photo-Illustration: The Strategist
You and I both know skiing is fun, but the 3-year-old standing in the freezing cold in clunky ski boots for the first time is probably still on the fence about the whole thing. Hot-cocoa breaks and a positive, supportive attitude from their teacher are critical, and so is the right gear. After all, there's no surer way to prematurely end a day on the slopes with a toddler than waterlogged socks, uncomfortable goggles, or getting wet and cold after a big wipeout. All the gear included on this list is selected for comfort and safety — two basic tenets of parenting that longtime gear writer and dad Joe Jackson calls "meltdown mitigation" and "protecting brains 'n' bones." (Performance, an important third consideration when adults are choosing gear, wasn't a priority for most of our experts until kids get to around 7 or 8 at the earliest.)
Besides finding small-enough gear, one of the biggest challenges of equipping young skiers is that they go up a size in nearly everything nearly every year. This can get expensive quickly, so parents and industry experts alike recommend buying second-hand whenever possible and getting seasonal rentals for skis and boots. "Most of the rental shops will trade out sizes within a given season, and they know how to fit a kid almost better than a parent does," said Ali Givnish, a youth development program coordinator with the Steamboat Springs Winter Sports Club.
When that's not possible, the products here try to take fast-growing kids into account with price or extendible sizes like the snowsuits with hems made to be let out an extra couple of inches.
Even on the bunny slope, it's important to take precautions to protect young, growing brains — and that means a good helmet. Jackson's daughter rocks the Crue, which sports Giro's top-notch protection technology in addition to coming in different sizes and bright colors. Paired with the equally colorful Chico goggles, which fit without a chill-inducing gaper gap, and your child's face and eyes are protected from cold and impact as well.
A number of parents and other experts suggest helmets with built-in goggles. "One less thing to worry about carrying or potentially losing," said Jen Streby, a buyer at Evo. Anon's Define helmet has the convenience of this feature while still looking like a regular helmet and goggles (some are pretty Stormtrooper-esque). Robert Garlow, a dad and snowboarder in Washington, says it's a favorite with his kids, who have worn Define helmets for multiple seasons.
Kids'
winter
clothing
and
boots
Helly Hansen's outerwear came up over and over with the parents I talked to. They liked the clothing's durability, waterproofing, and extendable hems that grow with their wearer. Regardless of where they ski, every parent and instructor I spoke with emphasized the importance of waterproofing above any other feature, which the Vertical bibs have in spades. "Even if it's not warm or rainy, kids are in the snow so much at that age," said Givnish. "Like, half of skiing is building a snowman and rolling around in the snow when you're done skiing."
Givnish called out Helly Hansen's ski jackets for the pop of bright orange on each one, making it easier to find your little shredder on the slopes. "It's a safety thing," she explained. In addition to high visibility and waterproofing, the Rider 2.0 comes with similar features to those of an adult ski jacket, including a pass pocket and an adjustable powder skirt.
As if miniature skiers and boarders and their miniature gear weren't cute enough, German brand Weedo Funwear makes snowsuits that turn your grom into a shredding monster, unicorn, or other critter. The Powdersaurus rocked the blue monster suit in all her viral videos, and Garlow stands by their functionality. "The kids love the fun character options, and they're also the warmest and highest-quality snowsuits," says Garlow.
Of all the layers you're bundling your kid up in to keep them warm for a day on the snow, only one will be directly against their skin. So the extra comfort of base layers with flat seams and soft material are worth the investment. Several parents specifically mentioned Patagonia's Capilene base layers, and Jackson said his daughter was so cozy in her Capilene tops and bottoms that she wore them as pajamas as well as on the slopes.
Frigid toes can bring even the best of us to tears, and they're a sure way to end a ski day with a toddler. Jackson opts for these tall socks made with a cozy merino wool that stays warm even when wet and are sturdy enough that your kiddo will outgrow them long before they're worn out. Even if you don't spring for Darn Tough, look for socks that are made of wool and extend to the top of their shins so that any snow that gets into boot tops isn't directly touching skin.
Easy to put on and secure against snow and water — thanks to a cinchable top and a rubber sole that extends into a waterproof upper — Kamik's snow boots are popular with parents for the trek to and from the lodge and for pre- and post-ski snowman building sessions.
Givnish cautions that, by a certain age — or, more precisely, weight — harnesses cause more problems than they solve. But if you're starting them young, a harness is a great tool. The parents I spoke to preferred climbing-style harnesses with handles for lifting them onto the chairlift and leashes that attach at the hips to help with balance. Jackson likes the Lil' Gripper Ripper because the dual leashes retract, making it easier to steer and prevent tangled leashes.
[Note: Lil' Ripper Gripper lists all prices in Canadian dollars, so the price shown here is an approximate conversion to U.S. dollars.]
With the Hookease, an alternative to a harness, you can help a beginning skier turn and control their speed by hooking your poles onto the tails of their skis. "You can actually turn your poles and get them to carve, so one of my kids was carving pretty well at the age of 3," said Ainsley Close, a former ski patroller. "They never learned christie turns; they just intuitively figured out how to edge one way or the other." If you do opt for this route, Close cautions, you'll need to find them well-fitting boots, skis with good edges, and safe bindings sooner rather than later.
I used these when I was first learning to ski, and now, more than two decades later, everyone I talked to who has taught a little kid to pizza and french fry in the last few years is still recommending them. They're a classic for a reason: "When they're really little, their legs aren't strong enough to hold a wedge," explained Close. The little bungies attach to the tips of their skis so they don't do the splits the first time they're even slightly off balance.
These were the smallest boots Close could find the first season she was getting her twin sons on the snow. She appreciated the Speedmachine J1's three-piece design, which made it possible to get feet in without the fuss ski boots cause for people of all ages. "They don't have to be tight like adult boots, but if they're too loose, the kid can fly right out of them," Close says. "And they can't hold an edge at all in boots that big."
Since little kids are so, well, little, the setting on bindings that adjusts how much force is required to make them release in a crash, called DIN, often needs to be set below 1. Jackson recommends figuring out your child's approximate DIN based on their weight and buying bindings that include that in their range (and make sure they're mounted or, if they're used, checked by a professional shop technician). His daughter clipped into the Rossignol KID-X her first couple seasons, and he recommends them for anyone whose little shredder still isn't tipping the scale at 30 pounds.
Head makes a handful of youth skis that go down to 67 centimeters, which is about as small as planks that take real bindings will get. Close, who started her twins sliding on snow on Supershapes when they were 2, said they did the job. But since construction and shape aren't really factors for toddler skis, Close was the first to say that, though this exact model was nice because of its small size, anything within a few centimeters in length would have worked, too.
As with ski boots, little kids' snowboard boots don't need to be performance tight like adult boots, just snug enough that they won't float out of them when they hit a bump. Garlow completed the Powdersaurus' kit with the Mini Groms, which stand out for being functional and available in the smallest sizes on market (down to 7C).
"More than any other brand, Burton caters to the youngest riders," said Garlow, who recommends Burton's boots, bindings, and boards for anyone looking for quality products in small sizes. He writes about teaching his daughter and son to ride on his blog, and videos of her shredding in a dinosaur snowsuit (the self-proclaimed "Powdersaurus") on the After School Special went viral on Instagram. The After School Special's convex base is good for beginners prone to catching edges, and the package comes with bindings (which are also available separately) and mounting points on the front for Burton's Riglet Reel, a leash for towing them around in the backyard or other flat areas to help them get used to the sideways stance.
The Strategist is designed to surface the most useful, expert recommendations for things to buy across the vast e-commerce landscape. Some of our latest conquests include the best acne treatments, rolling luggage, pillows for side sleepers, natural anxiety remedies, and bath towels. We update links when possible, but note that deals can expire and all prices are subject to change.