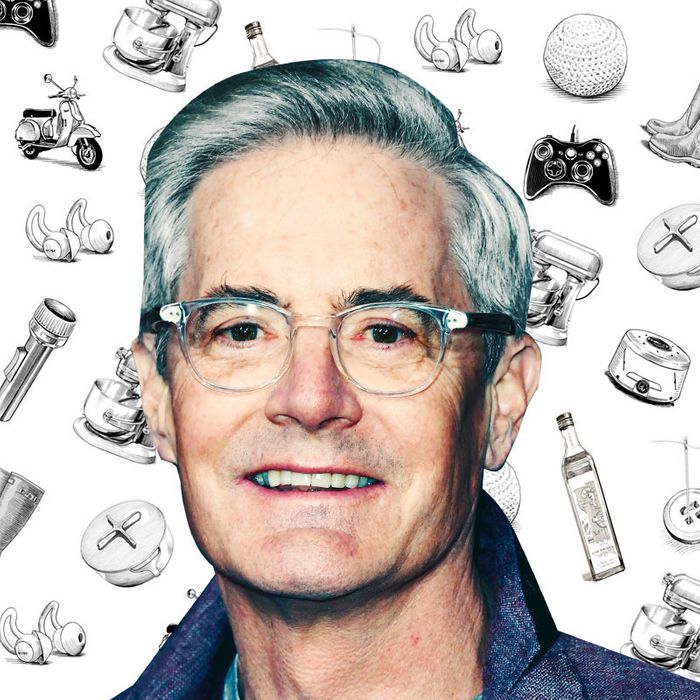 Photo-Illustration: Getty
If you're like us, you've probably wondered what famous people add to their carts. Not the JAR brooch and Louis XV chair but the hairspray and the electric toothbrush. We asked actor Kyle MacLachlan — the owner and vintner of Pursued By Bear Wine — about the shaving soap, pens, and chickpea pizza he can't live without.
They are my go-to. I appreciate the flexibility of being able to start something on the stove and move it to the oven and vice versa. I just made black-bean soup in mine. I remembered that Julia Child used them, and when I Googled it, it turns out that the Dutch oven was one of her favorite things. She kind of introduced it to America, I think. She loved the flame-colored one, which is the exact one I have.
This is a revelation. I'm familiar with cauliflower crust, which I like a lot, but I had no idea about chickpea. I like this brand's chickpea pasta, but to be honest, it needs a strong sauce for me because I do sense the chickpea flavor. So when they came out with this pizza, I was initially skeptical. But it tastes incredible. I try to stay away from wheat and grains, and now I can have pizza a little more frequently. They also just sell the crust without toppings, so you can build your own pizza as well.
I was with Don Johnson and his wife Kelley a few summers back and I commented on how much I liked his shoes. I love an easy sneaker that's not expensive or pretentious, something that's comfortable and you don't feel bad if you find yourself walking on the beach and then suddenly you're in the water. I noticed Don's shoes and was like, "Oh those are great," so he told me more about them and I got a pair. But I also ordered a couple of other pairs from the brand that suit my style, including these slip-ons. I love anything with canvas, and they come in gray and neutral colors. I've been really happy with them: They're not expensive, they still look decent after a year of wear, and next year I plan to use them when I'm gardening.
I started taking care of my skin when I was in my early 20s, so that's now some 40 years ago. I was working in theater and I got comfortable with putting on makeup for a play and taking it off. I had to really scrub my face, which would then be dry. So I learned to moisturize my face because it just protects the skin, you know? I'm not as fastidious about it now, but I try. I've been using Dr. David Colbert's products for years. There's really no fragrance at all — I like stuff that doesn't have any scent.
I've had a sort of shaving ritual that involves a shaving brush and some kind of shaving soap for maybe 20 years. I don't remember the other brands of soap I've used; I liked them, but I always wondered what is the best, so one day I looked online and this soap from Mitchell's came up a lot of times. People say it has something to do with the wool fat — I didn't know what I was getting myself into, but I tried it, and I can say its the real deal. It is softer and creamier than any of the other soaps I've used.
The Variis bike was a splurge. Being from New York, I usually go to SoulCycle or Flywheel to stay fit. This is a great alternative for getting a wonderful cardio workout and the bike is super sophisticated. They designed the bike so it's easy for you to adjust, and it's got a really nice screen on it — you can access any number of classes at any level. It's the best of all possible combinations and a perfect bike for my little garage gym.
I really, really like the company and the product: The 25 oz one can accommodate a bottle of wine, so it's the type of thing you could bring to the Hollywood Bowl where you can't bring an actual bottle, because it keeps it perfectly cold. The bottles are also indestructible and definitely my favorite to use even just for water when when I'm going out to play tennis or whatever it is. I have a couple of different sizes.
Sundays are designated Art Days with our family and we've been lucky to enjoy the guidance of the amazing artist, Guno Park. His pen and ink work is amazing and he uses these pens. Everything he draws looks so fantastic, so I said, "Well, must be the pens!" I ordered a whole bunch and I love them. They come in a range of unusual colors, which is neat. But it's just the kind of thing that just feels good in the hand and they make a beautiful line. Plus, it's nice to have all the colors so I can choose one based on on the mood I'm in. It's funny, I keep thinking to myself, "You know, I am sort of made for the Strategist, because these little details are important and really make a difference in terms of finding something that works well."