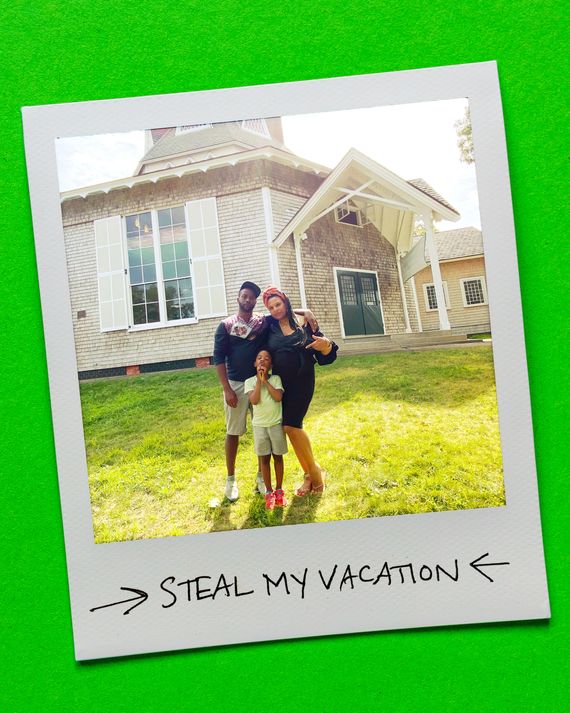 Photo-Illustration: The Strategist; Photo: Julee Wilson
Everyone knows that person who spends weeks sniffing around travel blogs, going deep down into Tripadvisor rabbit holes, collecting Google docs from friends of friends, and creating A Beautiful Mind–style spreadsheets to come up with the best vacations and itineraries possible. In this recurring series, we find those people who have done all the work for you, and we have them walk us through a particularly wonderful, especially well-planned vacation they took that you can actually steal.
Every summer, Cosmopolitan's beauty director, Julee Wilson, spends the last two weeks in August at her family home in Oak Bluffs, Massachusetts, with her husband and two sons, clamming, blanket-hopping on the beach, and going to diners with Dapper Dan. Wilson knows the island inside and out — she has been going there for 15 years — and shares her only-locals-would-know ferry tips, the Facebook group with the best rentals, and the doughnuts and banana-chocolate rum drinks worth waiting in line for.
Stay in Oak Bluffs
Martha's Vineyard is huge for families. We have a home in Oak Bluffs, and the area's deep-rooted Black history fills me with pride. We always go during the peak weeks — the second and third weeks of August — but really, the whole month of August is lit. It's all Black excellence, all the time.
There are hotels on the island that people I know really love. Lambert's Cove (90 Manaquayak Rd.) is off the beaten path, away from the hustle and bustle. Winnetu Ocean Resort (31 Dunes Rd.; from $325 a night) is a resort by the water — it's quintessential New England and has crazy views of the water. We stayed at the Oak Bluffs Inn (64 Circuit Ave.; from $270 a night) when we got married. It's pink and blue and beautiful — very old Victorian architecture, very quaint. There's an observatory at the top of the inn that's not open to the public, but if you stay there, the proprietors will most likely let you go up and see the town from the top. But usually, people rent a house. I'm on a Facebook group for Oak Bluffs called the Inkwell Group, and people who own houses will post and say, Hey, I'm renting my house from this date to this date. You can find some great last-minute ones there.
11 a.m.: Take the ferry from Woods Hole
To get to the island, people take the ferry across the sound. Real Vineyarders know that ferry reservations open up around January 12, so all the people who go to the Vineyard are texting each other like, You know, the ferry is opening, because it'll sell out, especially if you want to bring your car. There's a snack bar, and people usually sit at the top and enjoy the ride. It's around 45 minutes, and it's just beautiful. There's also a fast ferry from New York City that we took a few times when we were young and childless. It's basically the same price as flying — around $250 — and takes about five hours. Once you get out of the sound, you're in open water, so it's really choppy. If you have motion-sickness issues, you probably don't want to be on it. Flying is really easy; it's only 32 minutes from New York. If I buy tickets early, I can get them for under $300 per person. The airport is teeny tiny. There's one terminal, and they pass your luggage out through a window.
12 p.m.: Get a lobster roll at (possibly) Obama's favorite restaurant
We usually get in around noon, and if it's a nice day, we try to hit the beach. If we're super-hungry at that point, we'll go and get food. I always love my first meal to be a lobster roll from Nancy's (29 Lake Ave.). It's probably the most famous restaurant in Oak Bluffs and is rumored to be President Obama's favorite on the island. We either bring it back to the house, or we eat outside in the dining area because it's good for people watching. It's at the top of Circuit Avenue, so it's down near the water and you can see people coming in from the ferry. Then there's this bar next to the pickup window called Donovan's Reef. Donovan is this Jamaican guy who comes up every season, and he's a town favorite. People wait in line for an hour to get a dirty banana. It's this banana and chocolate and rum situation that everybody loves. We also stock up on alcohol for the house from Jim's Package Store (27 Lake Ave.) or Our Market (1 E. Chop Dr.), which we tend to go to more. It's close to Nancy's.
2 p.m.: Blanket-hop at Inkwell
That afternoon, we usually go to Inkwell (83 Seaview Ave.). It's a classic beach, and a lot of Black families and friends tend to be there. It's a good socializing beach for when you want to see old folks and blanket-hop. A lot of beautiful Black boy-and-girl joy is going on. The house is really close to the beach, so we can walk or drive; it's about ten minutes away walking. Inkwell is right next to Town Beach, and the two are separated by a jetty. Inkwell Beach is really small in comparison to Town, so once it fills up, people pour over to Town and vice versa. We usually go to the Town side because it has a little more surface area.
8 a.m.: Watch the polar bears
I get up early and meet up with a girlfriend whose family has owned a home on the island forever. We usually get coffee at Mocha Mott's (10 Circuit Ave.). It's no-frills. I get an iced latte, but they have a lot of great pastries. Sometimes we go to Biscuits (26 Lake Ave.), which is Black owned and across the street from Nancy's. It's one of those places where people will wait outside. There are a few places like that on the island — Linda Jean's (25 Circuit Ave.) in Oak Bluffs and ArtCliff Diner (39 Beach Rd.) in Vineyard Haven, which is apparently Gayle King's favorite restaurant. Biscuits has amazing breakfast sandwiches, so I'll get a bacon, egg, and cheese on a biscuit. Then we go sit at Inkwell and watch the polar bears, a group of Black mostly women who will gather and do water aerobics at seven in the morning. They're really legendary. It could be 50 to 100 people chanting, singing, and dancing in a circle in the water. The number of people fluctuates, but it happens every morning.
1 p.m.: Jump off Jaws Bridge
After that, I go back home and order sandwiches from Tony's (119 Dukes County Ave.), a small market where you can buy groceries. They also have a deli stand inside, where you can get sandwiches and chicken fingers and fries. Then we pack up the car by noon, and we're on the beach by 12:30. We'll reach out to friends and ask where everyone is going to, but we go either to Inkwell/Town or Joseph Sylvia State Beach in Edgartown, which we just call State Beach. We love State Beach. It's less rocky than Inkwell and Town. Inkwell is great for socializing, and the swimming is fine but there are a lot of rocks onshore and in the water. State Beach is more sandy and less harsh on your feet. It's also a lot more spread out; it goes on for miles. There are markers along State Road, so whoever gets there first will text and tell everyone which marker to go to. State Beach is also famous for Jaws Bridge. Everyone jumps off it.
Since it's the second day, we probably haven't gone grocery shopping yet, so we'll order food. There's a place called Lookout Tavern (8 Seaview Ave.) that has great seafood and sushi. We also love Giordano's (18 Lake Ave.), which is known for its pizza and its fried clams.
10 a.m.: Pick up some jumbo shrimp
By the third day, we have to get groceries because it's more affordable and we like grilling at the house. So we'll go to our favorite local fish market, the Net Result (79 Beach Rd.), which is in Vineyard Haven and near Stop and Shop (50 Water St.). We'll buy jumbo shrimp there and salmon and soft-shell crab. It's really great because the fish is so fresh, and everyone is so nice. You can also eat there — they'll fry or steam any fish you ask for, and they have sushi as well. People will eat outside on the picnic benches. It's a place a lot of people go to, so we usually run into people we know.
Then we head back home, pack up the car, and go to the beach. We sit on the beach every day during the day — the only difference is what beach we're going to. Sometimes we'll go to South Beach in Edgartown. People like going there because the waves tend to be bigger and more aggressive. We don't usually go because we have children, so it's not as fun.
12 p.m.: Have a picnic in Aquinnah
Aquinnah (31 Aquinnah Cir.) is where the famous clay cliffs that everyone photographs are. It's just breathtakingly beautiful. It takes about 45 minutes to an hour to go up there, and it's all winding country roads. There's not one stoplight. We go to Moshup Beach (71 Moshup Trail). It's on the ocean side of the island, so the waves are big, the sand is like dust, and the water is stunning. It's my favorite place to take pictures. We bring food and our booze, and we go out there and just chill. I don't think you're allowed to have alcohol necessarily, but as long as you're respectful about it, you should be good.
4 p.m.: Go clamming for dinner
There's also a beach there called Lobsterville (21 Lobsterville Rd.), where you can go clamming. But there's a catch: There are a lot of regulations around who can clam. They don't want just anyone there affecting the ecosystem; you have to have a license, and they don't give out many a year. If you're renting a house in Aquinnah for a long time, you can go to the city office and get one for $50. But there are also services you can hire to take you fishing, like Black Dog Tall Ships or Book-A-Boat, who can take you. You just stand there and move the sand below you with your feet and try to find the hard clam. Once you feel it, you dig it up with your feet and pick it up. We took ours back to our friend's house that they were renting in Aquinnah, and we cooked and ate them. Sea to table.
7 p.m.: Wait in line for honey-glazed doughnuts
We start going out with friends toward the end of the week, typically on Thursday or Friday. We like to do drinks at Nancy's because it's by the water. Offshore Ale Company (30 Kennebec Ave.) is also great. It has craft beer and burgers and lobster rolls. It's a very chill vibe. They give you peanuts, and all the shells are on the floor; it's that type of place.
If we're not going out as adults, we'll go to Circuit Avenue with the kids and go get ice cream at Carousel (15 Circuit Ave.), which is my favorite place. They have carousel horses inside — our son, Orion, likes to sit on them. But the biggest thing is Back Door Donuts (1-11 Kennebec Ave.). It's a regular bakery during the day, where you can buy coffee and donuts and muffins. But at night, they sell doughnuts out the back door, and it turns into a scene. They're known for their doughnuts and their apple fritters. You can get maple-bacon donuts, honey glazed (my favorite), old-fashioned, chocolate frosted, one with sprinkles. It's like Krispy Kreme but homemade. There tends to be a line wrapped around the block of people buying donuts. It's almost gimmicky but still cool.
1 p.m.: Eat at Dapper Dan's favorite diner
On Fridays at 3 p.m., Grace Church (34 Woodlawn Ave.) in Vineyard Haven sells the best lobster rolls. They're big and succulent, and there's no filling — no celery and shit. Just a little bit of mayo and seasoning.
We also like to go to Edgartown Diner (65 Main St.), which is Black owned. It's really divey with great diner food. Dapper Dan goes there with his wife.
11 a.m.: Take the kids to a pig race
The second week is usually when the more social stuff happens. There's a lot of private parties and things that vary from year to year. Spike Lee and his wife have a house up there; they're strong Vineyarders.
There's also the Agricultural Fair. It happens in West Tisbury from August 19 to 22, and it's fun. There are rides and all of that, but there are also livestock and pig races. The kids can go into the barn and touch the sheep and feed the chickens.
We also like to go to Menemsha, where you can see a really beautiful sunset on the beach. Everyone tends to go before the sun goes down. There's a seafood shack called Larsen's Fish Market, and you can get fried clams, shrimp (I always get the shrimp and save the fried clams for Giordano's), and fish. You can go to the beach and watch the sunset — it's really stunning.
9 p.m.: Go out in Oak Bluffs
On Tuesday night, there's the Jack and Jill party, which is a fundraiser hosted by the Boston chapter. You can buy tickets, but they go fast so you have to buy them months in advance. It's an adults-only white party, and it's at one of the bars in Oak Bluffs. For the past few years, they've done it at the Chowder Company (9 Oak Bluffs Ave.). We get dressed up with all of our friends and dance and drink.
9 p.m.: Go to church in a campground
Wednesday of the second week is Illumination Night (80 Trinity Park). It takes place in an old Methodist community where the famous gingerbread houses are. They're mini-versions of the bigger houses next to them, and they're all tiny and colorful and look like something out of The Wizard of Oz. On Illumination Night, all the houses put out lanterns, and you walk around. There's usually music happening, and the fire trucks come out for the kids to look at. It's a big family thing.
6 p.m.: Eat lobsters at Atria
Hennessy throws its annual party at my favorite restaurant, Atria (137 Main St.), on Thursday night of the second week. It's invite-only and D-Nice DJs it every year. It's kind of a who's who party, but once you get invited, you're kind of on the radar. If you're not invited, Atria is worth going to another time; the restaurant is stunning indoors and outdoors. It has a swing hanging from a tree branch outside on the front lawn. There's also a firepit you can sit around while you wait for your table. It's cozy but also fancy. Don't wear flip-flops. Put on your nice dress.
11 a.m.: Go outlet shopping in Oak Bluffs
We usually do souvenirs and shopping on the last full day. Everyone who goes to the Vineyard gets a Black Dog T-shirt and sweatshirt. What people don't know is that there's a Black Dog outlet store (2421 Cranberry Hwy.) in Oak Bluffs. We go there because we're not buying retail-price Black Dog. It's been a tradition for us to get Orion a sweatshirt or T-shirt. I also like to go to C'est La Vie (51 Circuit Ave.), a Black-owned shop. It's great because they have all the Vineyard T-shirts, but they're the only ones on the island licensed to carry Black sorority and fraternity paraphernalia. So if you want an AKA Oak Bluffs T-shirt or sweatshirt, it's there. There's also a Black-owned art gallery called Cousen Rose Gallery (71 Circuit Ave.). It has a lot of great local art from Black artists, plus souvenirs and children's books about the island.
Julee's
Oak
Bluffs
Packing
List
Plenty of Sunscreen
"I'm a beauty director, so there's no way I'm not packing a dope sunscreen. I have various ones, but this is my favorite. It's so nice on your skin, doesn't look ashy, and it's a very light fluid. It works on everyone in my family, so I usually bring a few bottles."
A Multiuse Wrap
"I pack at least four or five of these oversize wraps. They can be worn as a sarong, or I'll use it to put my braids up. They can also be a cover-up or a dress at night. There are so many options, and they have amazing designs."
A Beach/Farmers Market Tote
"I always have my oversize monogrammed Lands' End canvas bags. I love anything monogrammed. I get the full names. I especially love my 'Julee' one because I could never find anything with my name spelled correctly. They fit everything for the beach, and they're durable and washable and sturdy. I bring them to the farmers market, too."
A Swimsuit Made With Moms in Mind
"Not enough people know about these. They're stylish and sexy but also suck me in and hold me. Being a mom of two, my body isn't what it used to be, so I really appreciate a suit that makes me look as young and sexy as I feel, while also cinching where I need it to. I don't think enough brands are thoughtful about the postpartum moms who are dope as fuck but aren't snatched. Almost all of my bathing suits are from here."
The Strategist is designed to surface the most useful, expert recommendations for things to buy across the vast e-commerce landscape. Some of our latest conquests include the best acne treatments, rolling luggage, pillows for side sleepers, natural anxiety remedies, and bath towels. We update links when possible, but note that deals can expire and all prices are subject to change.