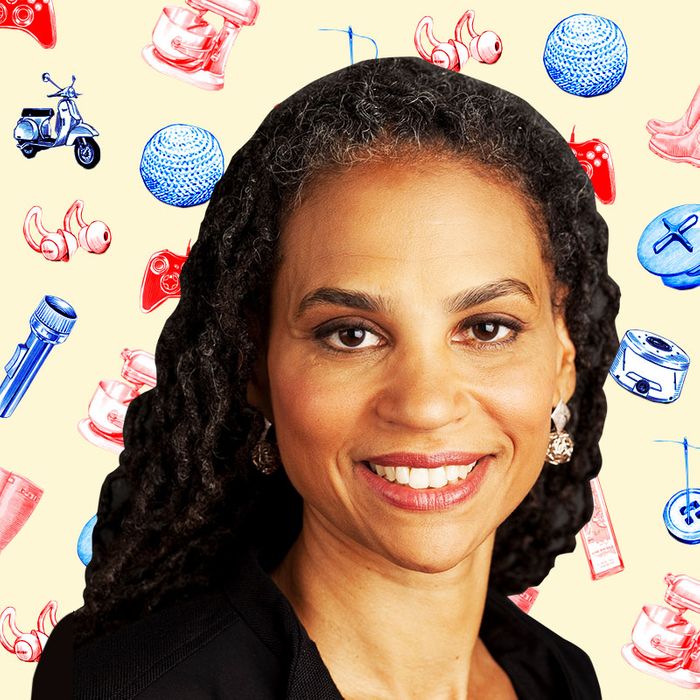 Photo: courtesy maya wiley
If you're like us, you've probably wondered what famous people add to their carts. Not the JAR brooch and Louis XV chair but the hair spray and the electric toothbrush. We asked Maya Wiley — a Democratic candidate running to be New York City's next mayor — about the moisturizer, bobby pins, and wedge sandals she can't live without.
Photo: retailer
This headset took it to another level in terms of sound quality and the ability to multitask on calls and Zoom meetings. It lets me be on the phone while freeing my hands to doing other things like cook, feed the cats, and other stuff I need to do when I'm working and living in the same house all day. I can pair it with my laptop, iPad, phone — any device I use.
Photo: retailer
As a working mom, one thing that has always been important is to have family dinners. When you're working all day, it's easier to have meals ready by the time you sit down. This is not easy and I've experimented with different things. I tried a pressure cooker, but thinking about how it could explode kind of freaked me out. I had to keep an eye on it, which didn't really make life easier. Then I got the Cuisinart Slow Cooker. It changed my life. I can prep ingredients before going to bed, throw them in the slow cooker in the morning, set it, and go. Then, come dinner time, I can walk in the door and serve the meal. I do ribs every week. Before the slow cooker, they were just a summertime thing. But now I'll just buy slabs of pork or baby back ribs, let them marinate overnight in the fridge, and put them in the slow cooker. Weekly rib nights are very exciting.
Photo: retailer
I don't wear a ton of makeup, but I need that little lift. Great Lash is a really reliable product and it has been for decades. It brings out my eyes, doesn't clump or run, and is easy to remove. There are some great mascaras out there, but I can't spend ten minutes trying to get mascara off of my eyelashes at night. Taking this off doesn't require scrubbing my eyelashes until they fall off my eyelids. It's easy from beginning to end, which is why I love it.