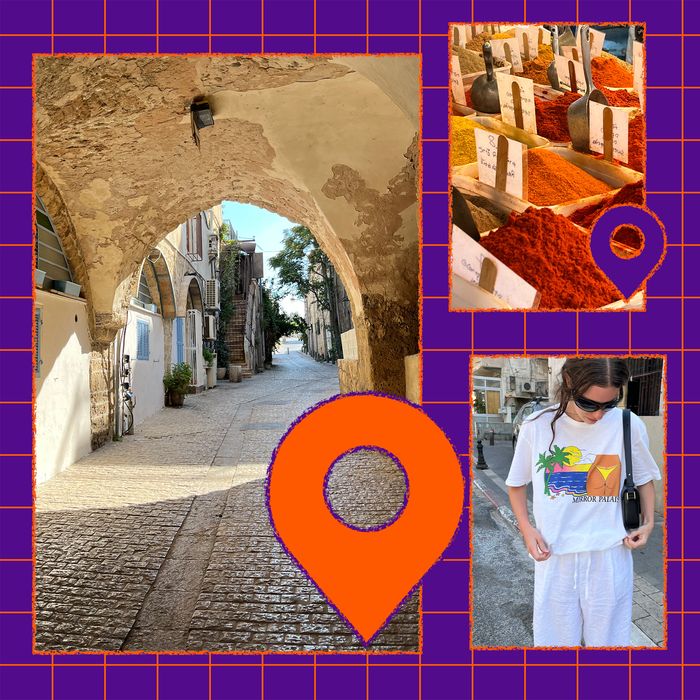 Photo-Illustration: The Strategist; Photos: Laura Reilly
Everyone knows that person who spends weeks sniffing around travel blogs, going deep into Tripadvisor rabbit holes, collecting Google docs from friends of friends, and creating A Beautiful Mind–style spreadsheets to come up with the best vacations and itineraries possible. In this recurring series, we find those people who've done all the work for you and have them walk us through a particularly wonderful, especially well-thought-out vacation they took that you can actually steal.
After getting engaged in April, Laura Reilly, a Strategist contributor who writes a weekly shopping newsletter Magasin, and Nir Sarig, a chef who's opening a modern Middle Eastern restaurant in New York, opted for a spontaneous City Hall wedding ahead of their end-of-summer trip to Israel. "The preplanned trip ended up being a sort of honeymoon," says Reilly. The couple's journey to Tel Aviv marked the first time Israeli-born Sarig traveled home since moving to New York in 2018. "The trip was a really important opportunity for him to reconnect with the food of his childhood and for me to experience it with him," Reilly says. They spent a blissful week returning to Sarig's roots, catching up with old friends, and eating — lots of eating. From devouring street food like sabich and burekas immediately upon arrival to visiting a new fine-dining restaurant helmed by one of Sarig's mentors, food was a definite highlight throughout the trip. Between meals, they spent much of their time at the beach and shopping, but even shopping led them back to food. "The food markets were the most exciting place to spend money," Reilly admits.
Day 1
2 p.m.: Land, hugs, kisses, sabich
We started our vacation in Rome and after a week there flew El Al airlines direct to Tel Aviv. Nir's mom picked us up at the airport (if you ask nicely, maybe she'll come fetch you, too!), and after a quick stop to drop our bags at her apartment in the nucleus of the city on Rothschild Boulevard, we walked a few blocks over to Sabich Hasharon (Nahalat Binyamin St., 61). Having our first meal be eggplant-stuffed pita topped with an egg had been the game plan since before we'd even booked our flights. Nir devoured his and contemplated a second. I got the "half size" (which was still, somehow, full-size).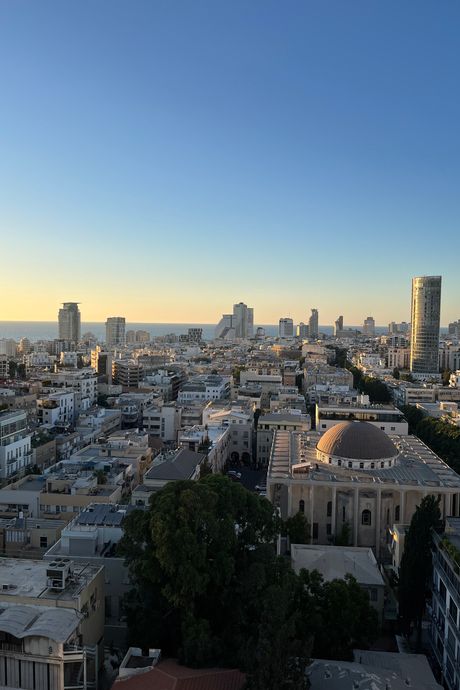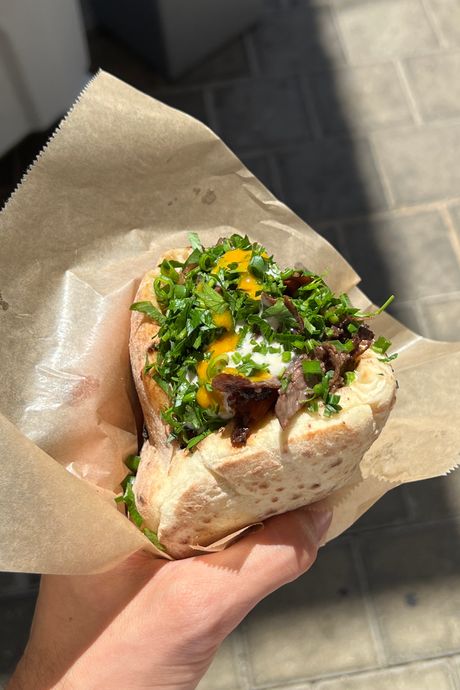 5 p.m.: Check into the Airbnb and impulse-buy a bunch of food from one of the city's most popular shuks
The first of the two Airbnbs we rented for the trip was in the Kerem HaTeimanim neighborhood, located flush against the Shuk Carmel, (HaCarmel St., 48), one of the city's most popular food markets. (No matter their formal name, everyone calls all outdoor markets shuks.) Thankfully the inside of the apartment was less frenetic. After we unpacked, Nir was still hungry, and I have an endless appetite for buying stuff, so we went a bit crazy shopping for snacks — walnut-stuffed dates, Tami tomatoes, giant figs — and spices as gifts for friends back in New York.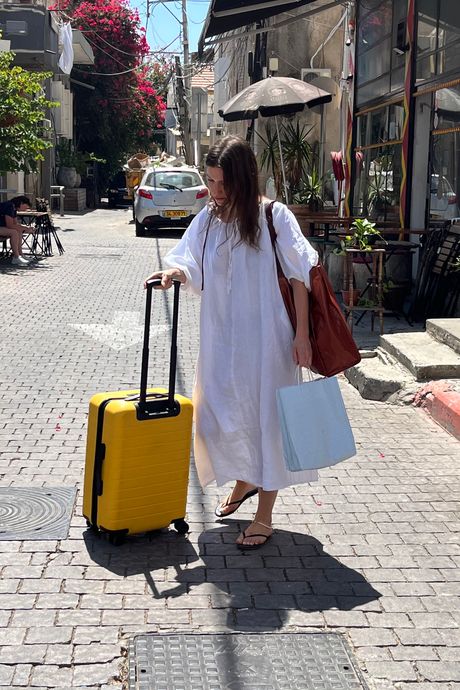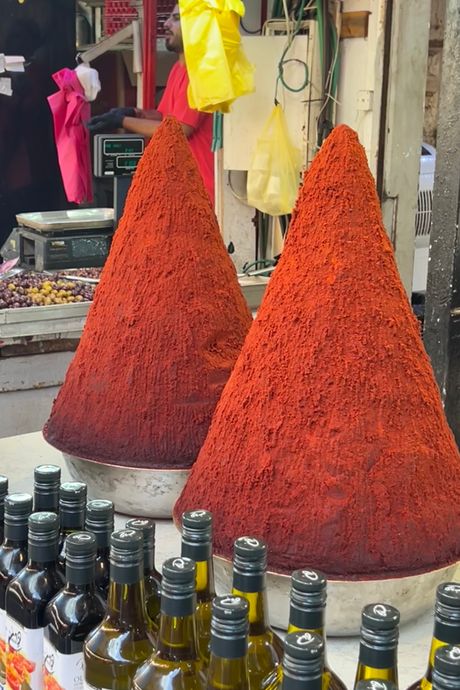 8 p.m.: Dinner at Port Said, jazz at Kissa
Dinner was at chef Eyal Shani's hipster spot Port Said (Har Sinai St., 5), the first of many of his establishments we'd visit on our trip. The number of people waiting to get in equaled the number already eating inside, but the 20-minute wait was well worth it. We were seated on an open terrace in front of an illuminated synagogue and marveled at the waiters weaving in and out delivering what seemed like never-ending plates of richly spiced vegetables and meats. The menu is tempting but can be a bit froufrou in its language: We decided on "tomatoes that stare you right in the eye" and "potatoes swirled in a cloud of parmesan." The waiters write your order on a corner of the paper tablecloth, then rip it off. We were very satisfied; the dishes were a celebration of simple ingredients and made a great argument for less complicated cooking. After dinner, we meandered through the Teder (Derech Jaffa, 9) — a closed-off courtyard that's turned into a party pop-up space — over to a new Japanese-style jazz bar, Kissa bar by Mirage, also run by Shani. Many Lillet-and-sodas ensued.
Day 2
2 p.m.: Do nothing at all until the Yemeni food calls
A bit fuzzy from the night before and lethargic from the 90-degree heat, we spent the morning in the Airbnb until hunger eventually drew us out. Nir took us to an insanely good little restaurant, the Yemeni (Malan St., 27), just down the street from our rental, where we ordered sheep's-head stew, Arabic salad, and pine-nut-covered hummus that's best eaten with onion slices so you don't fill up on pita alone (which you do anyway).
5 p.m.: Find the nearest beach
The thing about Tel Aviv is that wherever you are, the beach is always just a few blocks away. We went to one that was ten minutes from our Airbnb, spread out our borrowed towels, and took a nap right there on the shore as we listened to the melodic sound of beachgoers playing matkot (a popular Israeli paddleball game).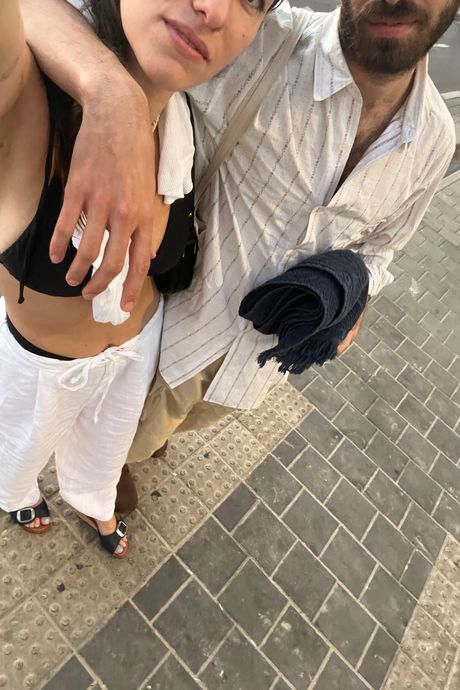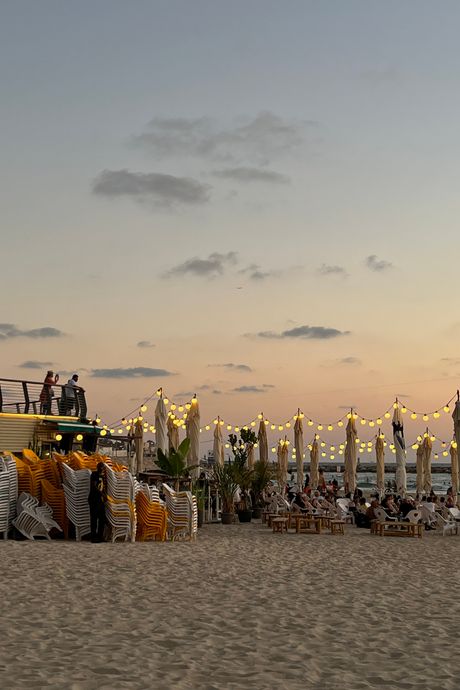 7 p.m.: Freshen up for dinner at Hiba
We cleaned up from the beach and took an Uber out to the Nahalat Yitzhak neighborhood, ten minutes from the city center, to eat at Hiba (Derech Menachem Begin, 144). The French-influenced Moroccan-and-Israeli fine-dining restaurant is aspiring to earn the country its first Michelin star, and it's owned by Nir's friend and former boss Yossi Shitrit, who was previously the culinary director at Mashya (Mendele Mokher Sfarim St., 5). We had the tasting menu with a bottle of wine. It was nearly impossible to follow Yossi's suggestion not to eat too much brioche when it arrived with a fermented bone-marrow butter. Even so, we managed just fine with the remaining 15 courses, including a dish with spiced, caramelized onion foam; raw fish nigiri decorated with vine leaves; and lamb spareribs with chickpea miso. After the meal, we took a private tour of the kitchen, complete with a custom-made digestif, and left with a small gift bag of spiced seed mix.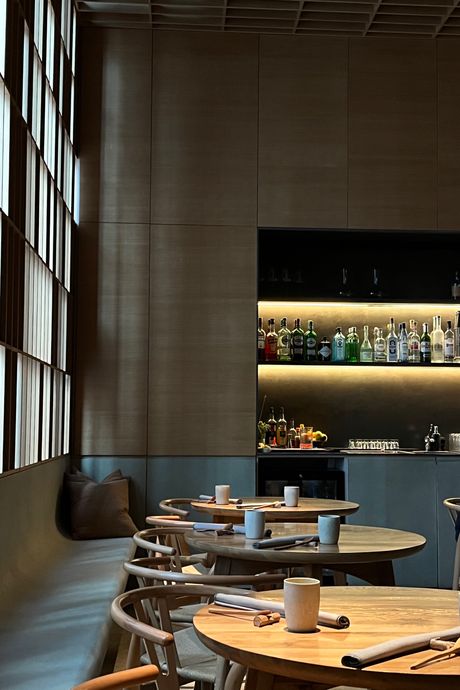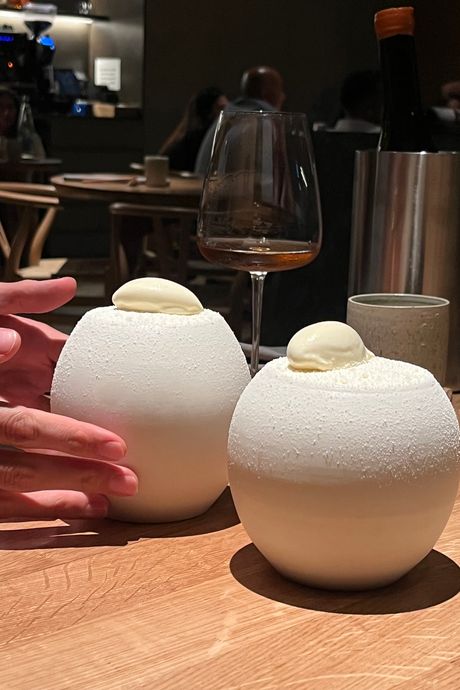 Day 3
10 a.m.: Embrace the vibe shift of Jaffa
We had booked another Airbnb in the Jaffa neighborhood for the second leg of our trip, so we packed up and took a 20-minute Uber south to our new lodging, which was surrounded by cafés and pottery workshops. Jaffa is a more ancient, low-key part of the city, which isn't as crowded with tourists, and all the newfound space and stone architecture inspired us to slow down even more.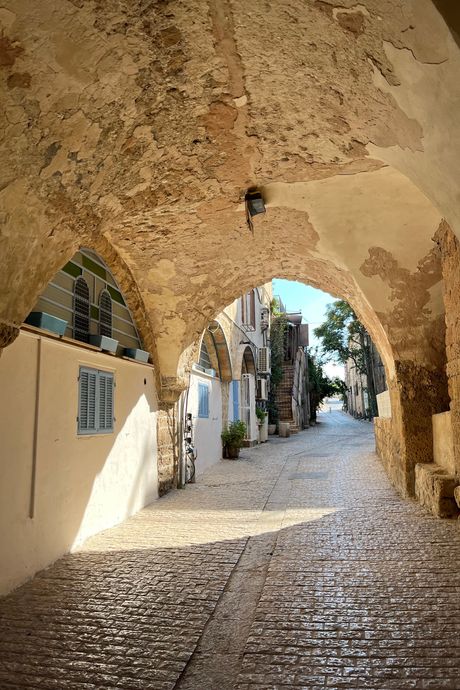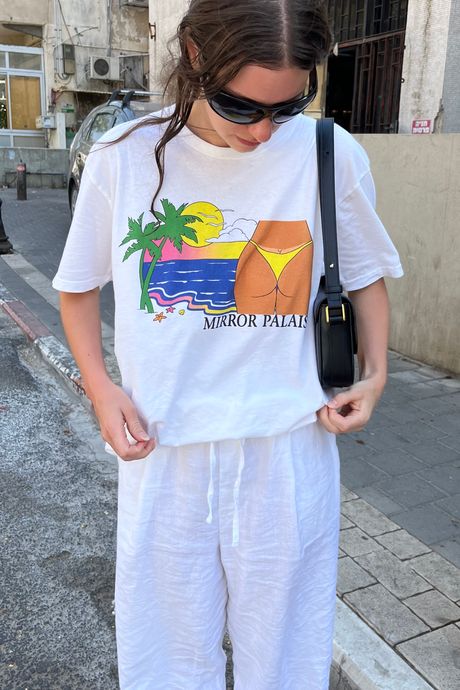 Noon: Kambo ceremony, or buy some vintage Gaultier if you'd prefer
Nir had made arrangements for a therapeutic kambo cleanse, which is said to purify the mind and body and is popular among Israelis. At practitioner and old acquaintance Meir Kordevani's apartment in south Tel Aviv (Mesilat Yesharim St., 93), Nir's bicep was burned with the tip of a lit incense stick, leaving four dots in a line, then frog venom was applied to the line. As expected, this made Nir vomit but also left him feeling calm and clear. Nir recommends this treatment, but it seemed too visceral for me, so I went shopping instead, taking a long walk to an earthy fashion boutique called Shine (Sderot Masaryk, 12). I also browsed archival Fendi and Chanel as well as vintage slip dresses at Love Me Two Times (Pinkhas Ben Ya'ir St., 8) before deciding on a Jean Paul Gaultier column skirt.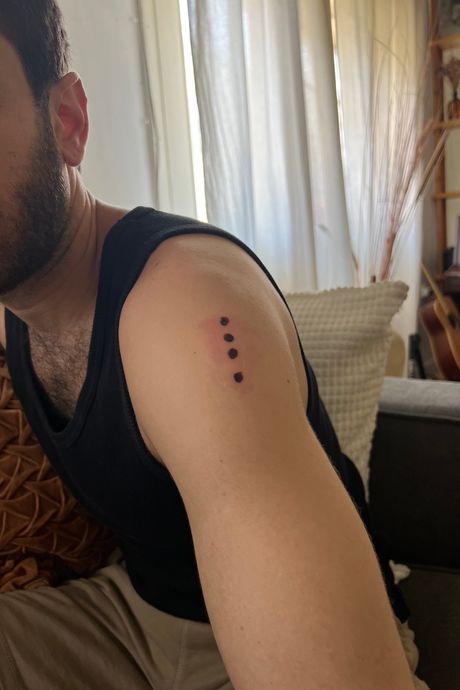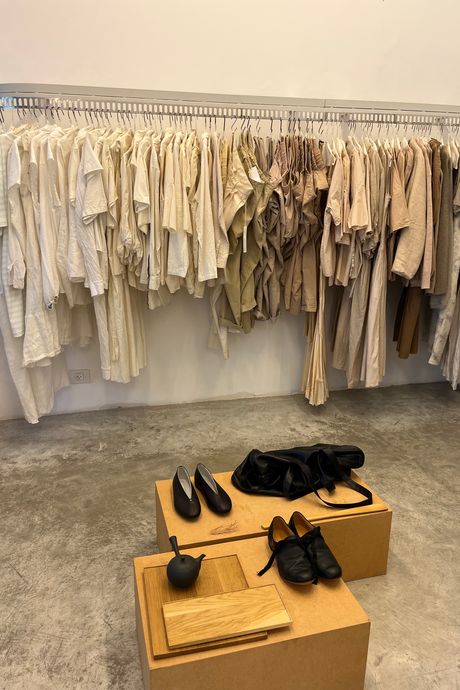 7 p.m.: Never stop eating, and wash it all down with natural wine
It's time to eat again. Tonight, dinner is at HaBasta (HaShomer St., 4), right off the Shuk Carmel near our first Airbnb. The open-air restaurant attracts a hot young crowd that is people-watching one another and did some excellent things with vegetables, including a really memorable okra dish. Afterward, we went to Bosser (HaHashmal St., 5), a small stylish wine bar and shop just a short walk from HaBasta, for natural wine. In Israel's hot climate, grapes tend to ripen earlier in the season, which means a more concentrated sugar level and higher ABV. The wines are traditionally quite rich, like a bossy Burgundy, but the natural-wine movement is drawing younger producers to a more delicate, acidic profile. We ended the night with two bottles of wine that were so good I can't remember what kind they were.
Day 4
8 a.m.: Roam around the city during the good light
Nir and I rented a scooter (the small Razor-like ones that are all over the city) and rode back to the shuk to get a few things for a dinner party later that evening. While he made his way around the stands sussing out the best figs and fish, I went off to wander untethered for a few hours, which always helps me make the most sense of a place. Mostly, I let the morning light guide my direction, but I stopped into a couple shops along the way. The best one was a small lingerie shop that I don't remember the name of with the most perfect cotton pointelle tops.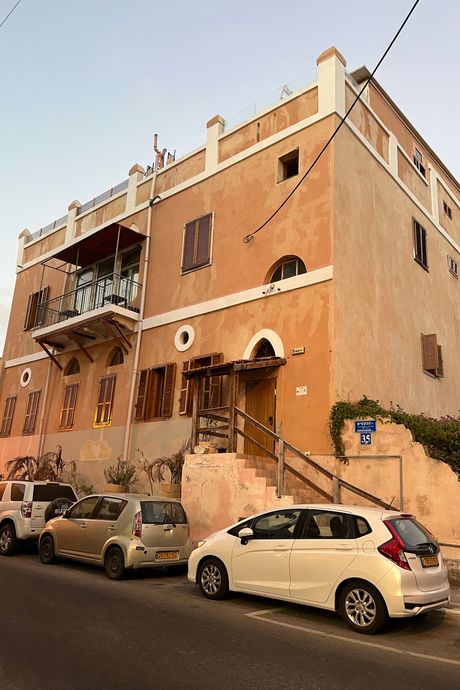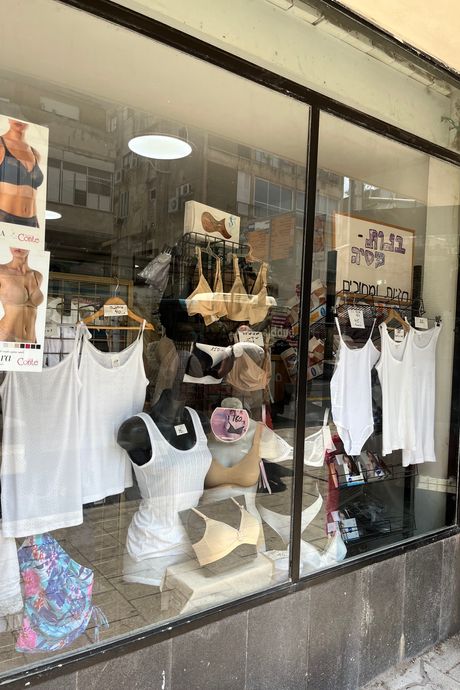 Noon: At which point bourekas change your life
Nir and I reunited midday for lunch at the Turkish street-food spot Dilek's (Hagana Rd., 33), which specializes in water bourekas, which are phyllo sheets cooked in hot water, then stuffed with spinach and cheese and baked. Months back, a homesick Nir had actually made them at our apartment based on what he saw in YouTube videos and cookbooks, and finally having the chance to taste the real thing, I'm in awe at how close his were to what we ate in Tel Aviv.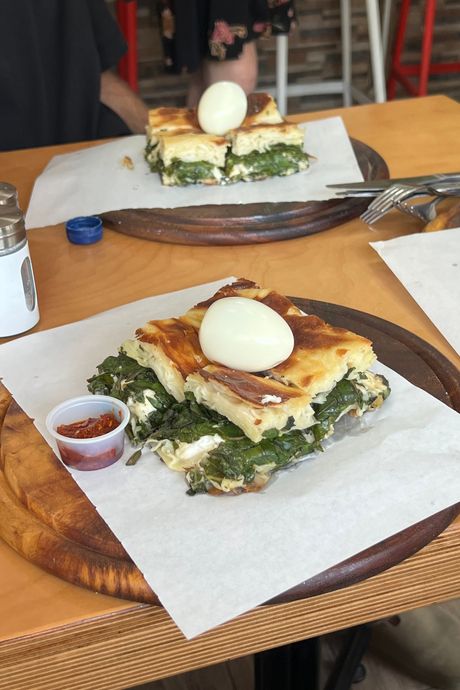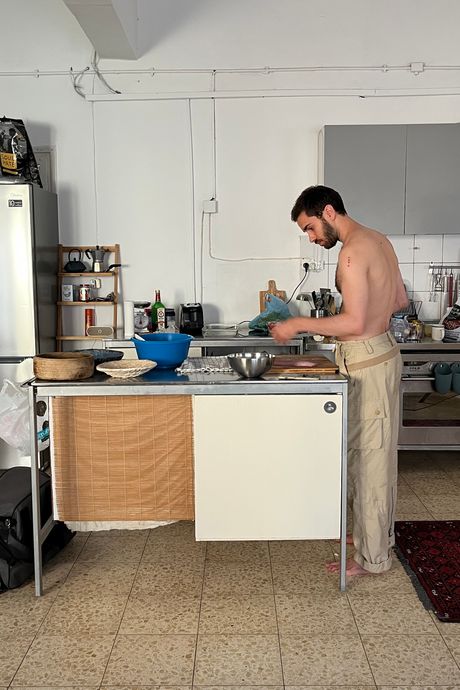 6 p.m.: Stop by a friend's film screening, then rush home to play host
Our friend, photographer Mayan Toledano, who is based in New York but spends nearly as much time in Tel Aviv, was screening her first feature, Smadar, on the roof at Liebling Haus (Idelson St., 29), a Bauhaus arts center. After the screening, we rushed home to host a dinner party we'd invited a mishmash of people from various parts of our life to: Tel Avivians, New Yorkers, Tel Avivians who had since become New Yorkers, and vice versa. Nir cooked, of course. It was a light menu of Jerusalem bagels, which are thinner and more oval-shaped than New York bagels; pistachio-and-cheese-stuffed figs; tomato salad with celery leaves; a hard cheese called yogurt stone; and yellowtail tartare with lychee, sumac, and almonds. Everything was made entirely from ingredients sourced at the shuk. Even with all of the incredible dining opportunities in the city, I highly recommend letting the market's heaping piles of fresh ingredients tempt you to cook, an experience that'll really make you feel like a local, even if you don't have one to show you around like I did.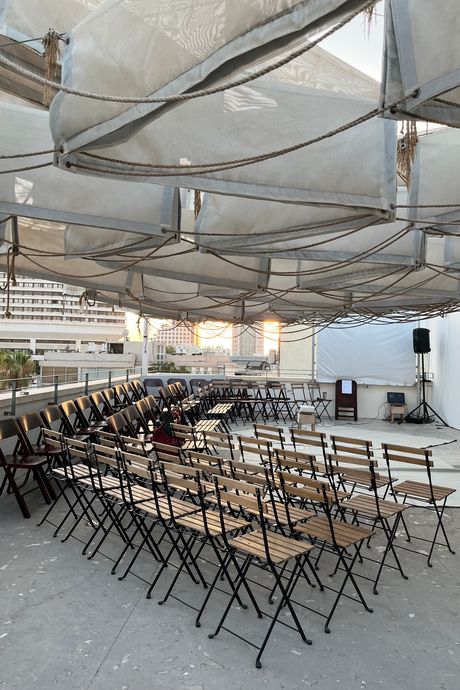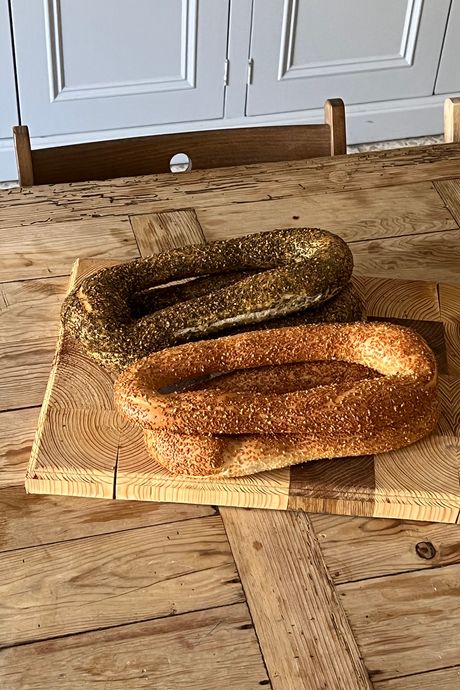 Laura's Tel Aviv packing list
This massive bag is so reassuring in its hugeness, so I consider it a packing necessity. It was especially valuable to have in Tel Aviv for those times we dumped out my laptop and other extraneous contents and filled it with our groceries from the shuk.
This set (which I have in white, but the color's no longer available) is ideal for a beach city like Tel Aviv, where you're sticky with seawater one moment and sitting civilly in a coffee shop the next. I also brought the linen gathered maxi dress from the brand.
Incredible, comfortable walking shoes that look elegant enough for a nice restaurant. Plus I love the way the minimal cork wedge references the early aughts without actually being a clunky platform.
I don't know why it took me so long to get a plain black bikini. I have one in every color but black. But I bought one for the trip, and it looked great with my tan.
We came straight to Tel Aviv from Rome, where we stopped at my favorite Italian shirting store, Schostal. I bought a pair of baggy pin-striped boxer shorts to wear around the house back in the U.S., but the heat and humidity in Israel had me going on coffee runs in just these and a T-shirt.
The Strategist is designed to surface the most useful, expert recommendations for things to buy across the vast e-commerce landscape. Some of our latest conquests include the best acne treatments, rolling luggage, pillows for side sleepers, natural anxiety remedies, and bath towels. We update links when possible, but note that deals can expire and all prices are subject to change.