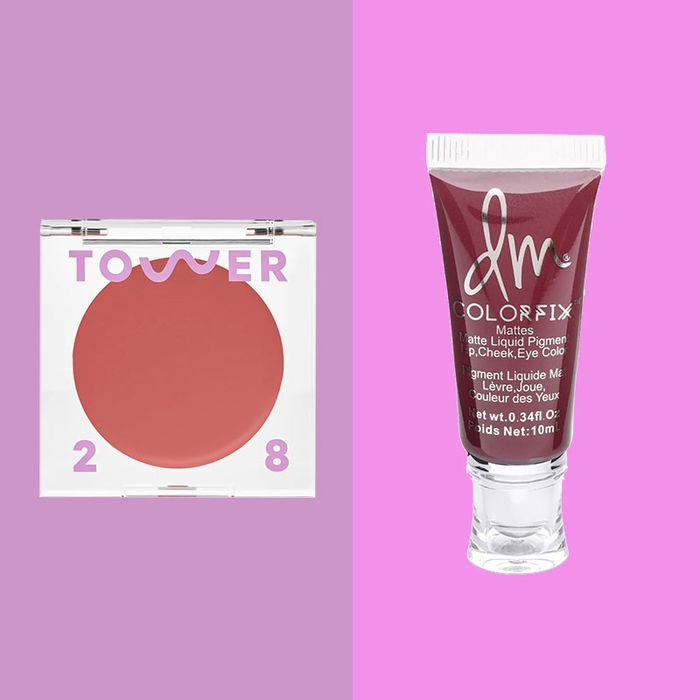 Photo-Illustration: retailers
To say that blush is making a comeback is to suggest that blush ever went anywhere in the first place — but it is having a moment. My feed is currently filled with cheekbones awash in berry and orangey hues, and I can't walk more than a few feet in Bed-Stuy without seeing an arresting shade of red running from cheek to temple. But unlike blushes of yesteryear, which tended toward the ultrapigmented and powdery, the blush I'm seeing is punchy yet natural and moves with the skin. The resulting look is your-skin-but-better that may make passersby wonder: Did you just come back from vacation or is that Glossier Cloud Paint?  
The obsession with cream blush has been building for a while now. In 2018, Rio reported that it was the most-asked question by her beauty-obsessed Instagram followers, and since then, the momentum has only continued to grow, as makeup trends tend toward skin-focused, glowy looks. "Everyone wants that sun-kissed glow," says Brooke Devard, a product marketing manager at Instagram and host of the Naked Beauty Podcast. "Cream blush gives you a dewy finish and feels more modern than powder blush." Makeup artist Karol Rodriguez describes them as a "highlighter and blush in one." This is due to the emollient texture of the formulas, which Rodriguez likes because it "reflects light and gives the skin an unbelievable skin-like, lit-from-within glow that powders simply can't achieve." Cream blushes are also more forgiving. Because of the texture, cream blush sinks into the skin rather than sitting on top of it like a powder, meaning it won't cling to dry patches or acne or emphasize skin texture.
In addition to giving skin a naturally flushed glow, cream blushes are notoriously easy to apply and difficult to mess up. All you need are your fingers and a sense of where to place the product. The one downside to cream blush is that it's, well, cream. That means it's subject to sliding and fading over time, especially if your skin is oily. Luckily, it's easily fixed. To make it last longer, Rodriguez recommends setting the blush with a matching powder blush or translucent setting powder. Then, to really lock it in, they recommend using a finishing spray to give the powder a skin-like finish.
Now that cream blushes are popular, it seems that there are endless options to choose from. To find the best ones we asked Devard, Rodriguez, and 12 more experts about their favorites, which we've rounded up, below.
Best overall cream blush
Tower28's cream blush was mentioned by four of our experts — clean-beauty enthusiast and content creator Stephanie Liu Hjelmeseth, director of creative development at Teen Vogue Mi-Anne Chan, makeup artist Jonet Williamson, and Devard. Like everything else the brand makes, the blush was formulated with sensitive skin in mind, and contains hydrating, soothing ingredients like green tea and aloe. It also comes in six versatile shades, ranging from a light peach (Rush Hour) to a rich berry hue (After Hours). "They're everything you want in a cream blush," says Chan, "easy to blend, great for travel, and have a lovely dewy finish." Her favorite shade is Magic Hour, which Tower28 describes as a sun-kissed, rosy nude. Hjelmeseth commented on the color payoff in particular, which she says is "just the right amount," and isn't too dense or sheer. As far as cream blushes go, it's also fairly long-lasting. Hjelemeseth says she can go most of the day without reapplication, and in that time, it doesn't turn greasy or sticky.
Best long-lasting cream blushes
Two of the makeup artists we spoke to name-checked the classic Glossier Cloud Paint, which arguably kicked off the trend in the first place. It has all of the trappings of a solid cream blush — it's consistent, comes in an array of stunning colors, and stays on all day, even, says makeup artist Shideh Kafei, without the extra setting powder or spray. "It's almost self-setting and lasts longer than most cream blushes," says makeup artist Delina Medhin. The brand recently expanded its shade range to include deeper, richer colors, which Medhin says work particularly well for women of color. It was also mentioned by model Roseline Lawrence, who has been using the shade Dawn for years. "Its been my go-to because it blends really well and looks great on my skin, especially with my gold undertones," she says.
"I love these on days when I know I'm going to be sweating a little more than usual but still want a nice glow," says Chan of the Axiology Balmies, which are available in an array of shades and have a slightly waxier consistency than Tower28 and Nudestix blushes. The crayon-shaped blushes are meant to be applied directly to the cheek (or wherever else) and contain ingredients like elderberry, hemp, and plum oil, which work together to hydrate while also adding a punch of color.
Best ultrapigmented cream blush
Fenty Beauty's Cream Blush was mentioned by two of our makeup artists, who like its versatility and shade range. "I love that I can apply it lightly for a slight, sunny drop of color or build it up for a super blown-out, editorial blush look," says Rodriguez. Personally, Rodriguez finds themselves using the shade Fuego Flush, but has been reaching for the shade Daiquiri Dip on set, particularly for clients with darker skin. "I love using it on the outer cheekbone area," they say. "I like to work it down from the outer corner of the eye to about halfway down the cheek, going in the direction of the corners of the lips." Celebrity makeup artist Scott Osborne, whose client list includes SZA, Rico Nasty, and Blac Chyna, is also a Fenty fan. "It's usually my go-to for cream blushes," he says. "The formula is super lightweight and non-sticky." It's also versatile enough for his male grooming clients, who are often going for an imperceptible look. "I'll take a little bit of Rose Latte and I pop it right on the male temples and higher point of cheeks."
If you're looking for something ultrapigmented that won't move, makeup artist Ehlie Luna recommends the Colorfix 24 Hour Cream Color from Danessa Myricks. It comes in a wide range of colors, including atypical, unique shades like blue, yellow, and gray. "A little goes a very long way," she says. "Half-a-pea size will give you blush and a wash of color on the eye," says Luna.
Best buildable cream blushes
Two of our experts mentioned the Rare Beauty cream blushes, which are available in two finishes —matte and radiant—and come in eight shades. "I like how it shows up on my dark skin," says Lawrence, who is partial to the shade Lucky, a rich hot-pink. The consistency, she says, is slightly creamier than the Glossier and works nicely as an eyeshadow and lip tint, too. Luna is also a fan, and recommends the brand's matte terra cotta shade, Love. "They definitely deliver," she says, "It has a nice, light texture that's buildable."
Undone Beauty's cream blushes take the guesswork out of application. Each blush comes with one shade in three finishes — sheer, medium, and opaque — so you don't have to worry about putting on too much or too little. They're a favorite of Osborne, who says it makes skin look dewy rather than shiny and looks great on bare skin and on top of a base.
Best drugstore cream blushes
If you want a more affordable dupe for Fenty's high-pigment blush, Rodriguez recommends e.l.f. Putty Blush in the shade Bahamas, which they describe as a "less intense, more wearable Fuego Flush." They also like to blend the Fenty and e.l.f. blushes, to create a bespoke shade. "I love mixing Tahiti with Fenty's Fuego Flush or Daiquiri Dip," they say. "I place it on the inner cheek and it adds a really sweet, almost romantic pink." Makeup artist Jaleesa Jaikran is also a fan and likes the shade Turks and Caicos. "I love the payoff," she says. "A little goes a long way."