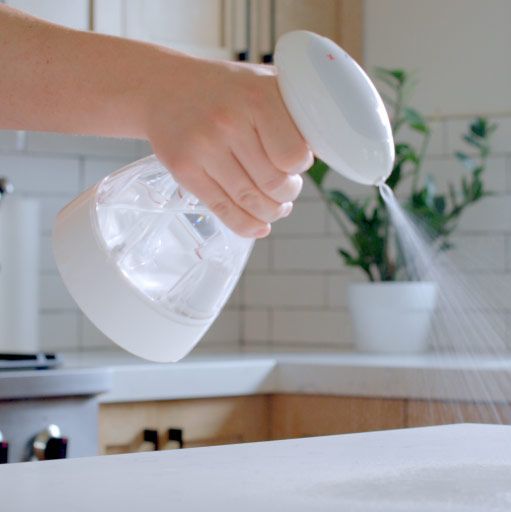 As people the world over continue to look for ways to live as hygienically as possible amid the ongoing pandemic, you might have noticed folks, including some celebrities, touting the magic of O3 Waterworks on social media. The so-called sanitizing spray bottle claims to harness the power of what's known as "aqueous ozone" to clean everything from kitchen counters to produce to pets, simply by filling it with tap water. Shannen Doherty is a fan (she calls it "one of my all-time favorite products"), as is health-and-wellness coach Melissa Wood-Tepperberg (who calls it an "all-in-one, all-purpose cleaner"). The simple science of it all seems too good to be true — and the celebrity endorsements a bit too promotional — so I reached out to a couple of experts to find out exactly what aqueous ozone is and what cleaning products that utilize it can do (and not do).
To find out more about aqueous ozone and its purported sanitizing ability, I spoke to two experts: geologist, soil scientist, and environmental consultant, Brian Oram, and Heidi Wilcox, a microbiologist who specializes in green cleaning and infection control. Scientifically speaking, Wilcox says, "ozone is oxygen (O2) that has gained another oxygen atom to produce ozone (O3)." She notes that "ozone in the gaseous form is very toxic to humans," but when it is infused in water, Oram explains it becomes aqueous ozone, a safe and "strong oxidizing agent that reacts with organisms and basically destroys them by damaging their internal structures and cell walls."
That means, according to studies cited by Oram, that aqueous ozone can break down a large array of bacteria, viruses, and protozoan, including E. coli and salmonella, in addition to odors and soil molecules. Wilcox explains that it's not a new sanitizer; in fact, aqueous ozone has been used to sanitize drinking water for more than 100 years and is still used for water purification today. It's approved by the USDA and FDA for washing fruits, vegetables, and even raw meat, and is also used as a commercial and industrial cleaning agent in places like hospitals and hotels.
But there is one thing Wilcox emphatically says it does not do: "Aqueous ozone does not kill COVID-19." She told us she's tested aqueous ozone against a coronavirus surrogate in a lab "and it failed." The reason for this, Wilcox explains, is that aqueous ozone is not a disinfectant — just a sanitizer. According to the CDC, disinfectants kill germs, while sanitizers lower the number of germs on a surface or object, which is why aqueous ozone is still fine to use as a regular household cleaner, as long as it's not your first line of defense in a household that's worried about COVID-19.
How
do
products
like
O3Waterworks
spray
bottle
use
aqueous
ozone?
Now that you know more about what it is, you might still be wondering how products like the one used by Doherty and Wood-Tepperberg actually use it. Oram says that, naturally, "ozone is generated in our atmosphere by electric charges going through the air that split up the oxygen, which then comes back together." Manufacturers like O3, he explains, "mimic that in a chamber," running water (hydrogen and oxygen) through a diamond electrode or some other charged agent that creates ozone. (If you want a visual explainer, the O3Waterworks website has a helpful graphic that shows how its bottles work.)
Our experts say that while aqueous-ozone-based cleaners should not take the place of, say, Clorox disinfecting wipes in your pantry, investing in a product like the O3Waterworks spray bottle would be a more sustainable way to sanitize your home than continuing to buy other surface cleaners made with harsh chemicals and packaged in plastic. "If you can't buy the stuff at the store and you can't make something yourself," an O3Waterworks spray bottle could be a great alternative, says Oram. I actually requested a bottle to try out after seeing it pop up on social media, and will say that while the science behind it sounds complex, the product itself is super-simple to use. Because its chamber requires electricity to create the aqueous ozone, you have to charge it first using an included cable. Once charged, all you do is put tap water into the vessel, pull the trigger, and spray on a surface. The company recommends letting the ozone-infused water sit for 30 seconds before wiping it off, claiming that doing so "kills 99.9 percent of common bacteria and pathogens."
I find that I reach more for my O3Waterworks bottle than my all-purpose Mrs. Meyer's spray cleaner for things like washing down my kitchen counter or my toddler's high-chair. Much like regular water would, it leaves no residue or odors behind, and this makes me feel better when, say, my son goes to eat food directly off of his high-chair's tray table (which I used to wash in the sink with soap and water).
The iClean Mini operates similarly to the O3Waterworks spray bottle. It also uses a diamond electrode core that converts water into aqueous ozone. The company claims that the deodorizer and sanitizer "kills up to 99.999% of bacteria and viruses."
The Strategist is designed to surface the most useful, expert recommendations for things to buy across the vast e-commerce landscape. Some of our latest conquests include the best acne treatments, rolling luggage, pillows for side sleepers, natural anxiety remedies, and bath towels. We update links when possible, but note that deals can expire and all prices are subject to change.