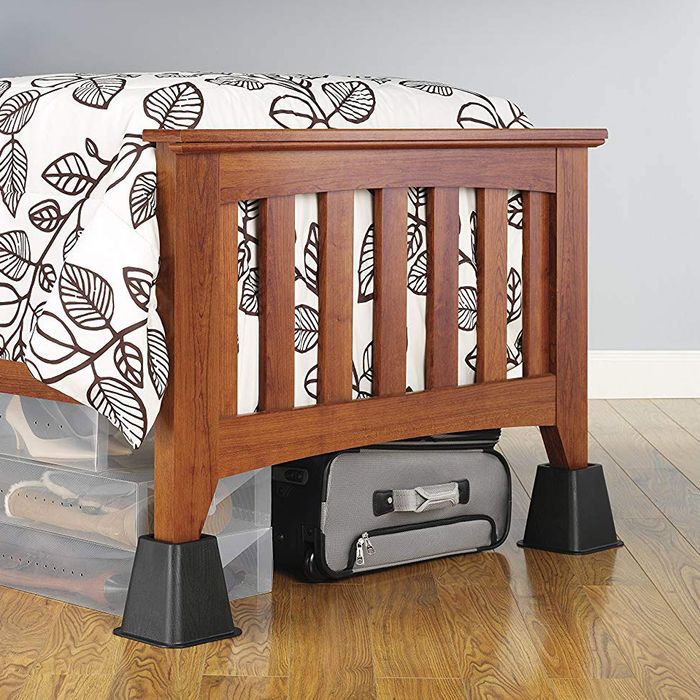 Photo: Courtesy of the Retailer
Here at the Strategist, we like to think of ourselves as crazy (in the good way) about the stuff we buy, but as much as we'd like to, we can't try everything. Which is why we have People's Choice, in which we find the best-reviewed products and single out the most convincing ones. (You can learn more about our rating system and how we pick each item here.)
And while we've written about lots of things for your bedroom — including cooling comforters, mattress protectors, and gadgets that help you sleep better — here we've rounded up the best bed risers, as praised by the most enthusiastic reviewers on Amazon.
Best-rated bed risers
These bed risers had the most reviews—almost 80 percent of reviewers gave them five-stars—and a very reasonable price tag. Shoppers called them "very sturdy" and said that, once they were put into place, the risers don't budge. "I have stood on the bed, jumped slightly, bounced, and rocked it around for a year now and they're still holding up," writes one. "Great purchase!" Another reviewer, whose son is a college student, used these to elevate his bed to create some extra storage space. "The increase in storage space under the bed was significant. These would be a great gift for a student living in a small room where space is at a premium," she writes. "The product is well crafted of sturdy polymer type plastic. Considering price, product is a great value." Others used them to combat nighttime acid reflux: "I have Gastro Esophagal Reflux Disorder and my doctor suggested bed raisers for the head of my bed so that I am on an incline. This has made a HUGE difference in my health," says one. "No longer do I have any issues with acid creeping up my throat while I try to sleep. Simple solution!" And several reviewers say they work particularly well to raise low-to-the-floor Ikea beds. "Purchased an IKEA Bed and it was just a little to low on the floor," says one. "These brought the bed up to where I did not feel like I was crawling on my knees on the morning to get out."
Best rated (less expensive) bed risers
Over 70 percent of reviewers gave these risers five-star reviews, and the low price was a big selling point. "Sturdy. Best price," says one shopper. "We love the extra storage and changing the bedding, the accessories, and the height has given the room a whole new look. We had been considering buying new furniture, but not now." Others write, "Very nice and excellent price," and "It feels good to sleep up high, totally feels like an expensive upgrade for only a fraction of the price. Good buy!" And at 5.25" tall, these risers gave shoppers plenty of storage space under their beds. "I am so happy with all the new storage room I have under my bed, which is so helpful in a small apartment," reports one reviewer. Another says, "These worked like a charm. I have created more space for storage and feel much better with less clutter. Now everything has a place and everything is in its place."
And now some micro-picks for every type of bed riser you might be looking for.
Best adjustable bed risers
Reviewers love that this pack of risers comes with height options of three, five, and eight inches. One writes, "All good, sturdy and do the job. I like that it gives you options for three or five or eight inches. We went with 5" to raise of our bed which was plenty, now we still have the 3" rises to use on other beds or furniture." The multi-height pack also worked well for shoppers who wanted one end of their bed elevated higher than the other. "I have heard for years that elevating the head of your bed really helps acid reflux when sleeping," writes one. "Amazingly, this simple solution really works…I put the two larger ones at the head of my bed and the two shorter ones under the middle supporting posts and it works perfectly. I highly recommend these." And other shoppers praised the sturdiness of the risers. One says, "These risers are the bomb. Strong, durable, steady…They are twice as tall as my old ones and the material is way thicker and feels much stronger."
Best (less expensive) adjustable bed risers
Reviewers praised the quality of these adjustable risers for the price. One shopper says, "High quality, low price! I used just the 3" to raise an espresso machine, so these can be used for many different applications." Another says, "Took all of five minutes to set up and they are awesome. A great price too. The tallness makes your bed feel expensive LOL." And shoppers found that changing the elevation height with these was easy. "The stackability is a great feature; effectively giving you three different height options from the same product," writes one. "I would recommend them to anyone in need of risers, especially if you aren't quite sure how high you'll need to raise something and want extra flexibility."
Best 3-inch risers
Shoppers looking for a slight elevation to their bed praise these 3-inch risers. "Three-inches high is perfect for me to crawl into bed and give ample storage space," writes one reviewer. "Love them!" Another shopper writes, "Recently had both knees and one hip replaced. Getting on and off the couch was difficult. Just the 3 inches was just enough to allow me easier access. Great product." And one reviewer, who used these with their couch, found that they held up over time: "Over a year later and they are still holding strong. My extra-tall inlaws sat on my couch at Christmas and they loved the extra height. Made it much easier for my father in law to get up off the couch."
Best 5-inch bed risers
Shoppers looking for even more of a lift liked these 5-inch risers, which gave them ample under-bed storage space. "Worked perfectly," says one. "Wanted them to increase storage room under the bed. Now am able to put plastic totes up to 13" tall under the bed." Reviewers who lived in small apartments found these especially useful. "I love, love love these!" writes one. "I love the height I get. It gives me extra room for storage underneath my bed, especially having limited room for space in a small apartment…The bed being higher gives that look of 'class.' A+."
Best heavy-duty bed risers
Lots of reviewers praised these risers, calling them "heavy duty" and "strong and sturdy." One writes, "Hands down the best riser I have found. I used them to raise the head of my queen sized bed. I weigh 280 lb and I have a metal frame, a box spring and the queen mattress. No problems whatsoever and I know for sure it's not going to crack and break in the middle of the night." Another says, "These have to be the best bed and furniture risers I've ever seen. They are exceptionally well made…They are made of solid steel, and they are designed to hold A LOT of weight-—you don't have to worry about these things cracking!" Shoppers also noted that these won't scratch your floor. One says, "These are very stable with a wide reinforced plastic foot, foam pad for the floor, and foam pad inside the cup at the top of the riser…Once assembled, included are foam plugs to insert into the counter-sunk bottom which are flat and flush to the bottom of the pad, thus protecting the surface of the floor."
Best stackable heavy-duty bed risers