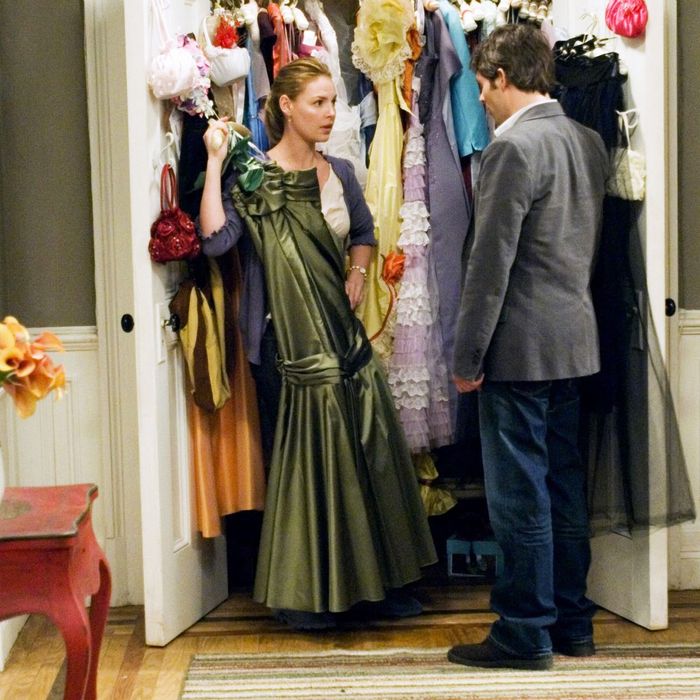 Photo: AF archive / Alamy Stock Photo/Alamy Stock Photo
All too often, bridesmaid dresses are itchy and unflattering, and come with a price tag — not to mention a cost per wear — that's nothing short of offensive. But it doesn't have to be this way. Go-to silhouettes are shifting, and deliberate mixes of hues, patterns, or styles instead of cookie-cutter identical gowns are increasingly becoming the norm. According to Pinterest's annual trend report, searches for "nonmatching bridesmaid dresses" increased 19 times over the past year, says Larkin Brown, Pinterest's in-house stylist and head of core research. "Less is more when it comes to nuptials this year, from smaller gatherings to more minimalist wedding dresses," she shares, creating a "more casual, minimalist approach" to bridesmaid dresses, too.
Whether you opt for matching or not, the options for perhaps less traditional bridesmaid dresses have never been more plentiful. With that in mind, we reached out to more than a dozen bridal pros to find out the dresses they recommend — nearly all of which you'd be thrilled to wear again. (The exception? One is returnable.)
Bridesmaid Dresses Under $100
Anna Price Olson, associate editorial director at Brides, recommends this site, which she says is a reliable source for "really romantic, floral styles" well under $100 that actually look great.
Bridgette Bartlett Royall, founder of Black Bridal Bliss, suggests non-bridal brands and retailers for bridesmaid dress options as well, like "department stores, specialty shops, even fast-fashion chains" such as ASOS, Zara, and H&M for "attire that can work beautifully for a wedding." Olson says the ASOS Design Collection is "a particularly good option if you are looking for a super on-trend look; hello, puff sleeves!" Writer and editor Laura Lajiness, who frequently covers bridal fashion, is also fond of ASOS for bridesmaid looks, thanks to its "really strong wedding edit, with options for petite, tall, and plus sizes," she says. "Don't be afraid to embrace trendy silhouettes like a puff sleeve or asymmetric neckline, but I think it's nice to balance them out with other classic or minimal silhouettes in the mix. Too many trends at once will be distracting."
Olson also name-checked Azazie as a solid bet for affordable and size-inclusive selections of more traditional bridesmaid-y styles. This dress is available in nearly 75 different colors.
This online retailer is another reasonably priced option with "tons of affordable dresses in their wedding shop, from trendy to classic," says Lajiness. Some styles are available in slightly extended sizing, up to a size 3X, like this sweetheart style in a thick, stretchy knit, a nice alternative to standard poly chiffons. Olson says Lulus is a bridesmaid-friendly retailer she often "recommends to friends who are looking for a dress in a particular color palette or length." She adds that "their styles will do the job without breaking the bank."
Lajiness likes the "fun, feminine dresses that are perfect for bridesmaids" from this widely available brand, like this lace midi. "They're always on-trend, not too expensive, and are sold through many retailers, giving bridesmaids plenty of options when shopping," she says.
"Watters is a great wedding retailer with a vast bridesmaid-dress assortment" across its portfolio of brands, which includes Wtoo, and some styles are offered in extensive sizes (from 00 to 26W), Lajiness says. "These definitely skew more traditional, but the brand has started incorporating trends and modern touches more frequently, and they're perfect for weddings with a formal dress code," Lajiness says. "A big consideration when shopping traditional bridal retailers is the time involved in ordering bridesmaid dresses, but Watters offers ready-to-ship dresses" for some styles, like this sleek high-neck halter with a low back.
The only thing worse than having to buy an unremarkable-to-ugly dress you'll only wear for a day is shelling out hundreds of dollars for that dress. "For 20-something bridesmaids on a budget, I think what Birdy Grey is doing is genius," says Eimear Lynch, author of The Bridesmaids: True Tales of Love, Envy, Loyalty … and Terrible Dresses. "You buy a dress for $100, and when you're done with it, send it back so a teen in need can wear it to prom; I have never reworn a bridesmaid dress, so I would have loved it if this company was around when I was in back-to-back bridesmaid mode," Lynch says. She also likes that the wide variety of styles that should appease even the pickiest of bridal parties: "They have a crazy amount of options, so it's perfect for a choosy bride," Lynch says. Olson also suggests this "very popular" brand for affordability, as well as size inclusivity and speediness (no small feat considering the monthslong lead times typical in the bridal market, bridesmaid dresses included). "These are more traditional long wedding looks, but they'll mail you swatches for free, so it's a great option if you're matching or creating a certain color palette," adds Olson.
Bridesmaid Dresses Under $200
"You get so much look for the price tag," Olson says of WAYF's dresses. "They have particularly fun floral prints that are perfect for spring and summer," and while her favorite of the moment — the long, ruffled Campbell dress — is sold out, consider this V-neck rose-festooned option with a breezy slit. "If you're mixing florals, it looks most cohesive when you have a decent-sized bridal party of at least four or five people, because it allows there to be a little overlap in terms of size and scale of print," says celebrity and bridal stylist Micaela Erlanger. Think along the lines of what Emma Roberts wore to her longtime stylist and close pal Brit Smith Hines' 2019 wedding, which had a "California Formal" dress code: "All the girls were the prettiest floral prints, and they were all different," Erlanger says.