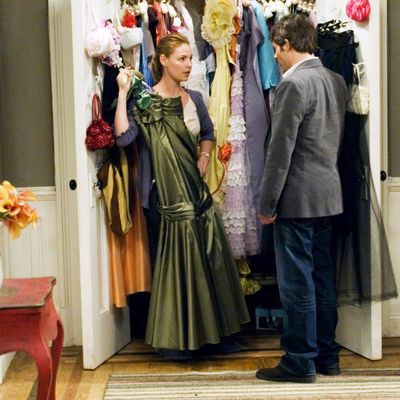 Photo: AF archive / Alamy Stock Photo/Alamy Stock Photo
All too often, bridesmaid dresses are itchy and unflattering, and come with a price tag — not to mention a cost per wear — that's nothing short of offensive. But it doesn't have to be this way. Go-to silhouettes are shifting, and deliberate mixes of hues, patterns, or styles instead of cookie-cutter identical gowns are increasingly becoming the norm. According to Pinterest's annual trend report, searches for "nonmatching bridesmaid dresses" increased 19 times over the past year, says Larkin Brown, Pinterest's in-house stylist and head of core research. "Less is more when it comes to nuptials this year, from smaller gatherings to more minimalist wedding dresses," she shares, creating a "more casual, minimalist approach" to bridesmaid dresses, too.
Whether you opt for matching or not, the options for perhaps less traditional bridesmaid dresses have never been more plentiful. With that in mind, we reached out to more than a dozen bridal pros to find out the dresses they recommend — nearly all of which you'd be thrilled to wear again. (The exception? One is returnable.)
Bridesmaid Dresses Under $100
Anna Price Olson, associate editorial director at Brides, recommends this site, which she says is a reliable source for "really romantic, floral styles" well under $100 that actually look great.
Bridgette Bartlett Royall, founder of Black Bridal Bliss, suggests non-bridal brands and retailers for bridesmaid dress options as well, like "department stores, specialty shops, even fast-fashion chains" such as ASOS, Zara, and H&M for "attire that can work beautifully for a wedding." Olson says the ASOS Design Collection is "a particularly good option if you are looking for a super on-trend look; hello, puff sleeves!" Writer and editor Laura Lajiness, who frequently covers bridal fashion, is also fond of ASOS for bridesmaid looks, thanks to its "really strong wedding edit, with options for petite, tall, and plus sizes," she says. "Don't be afraid to embrace trendy silhouettes like a puff sleeve or asymmetric neckline, but I think it's nice to balance them out with other classic or minimal silhouettes in the mix. Too many trends at once will be distracting."
Olson also name-checked Azazie as a solid bet for affordable and size-inclusive selections of more traditional bridesmaid-y styles. This dress is available in nearly 75 different colors.
This online retailer is another reasonably priced option with "tons of affordable dresses in their wedding shop, from trendy to classic," says Lajiness. Some styles are available in slightly extended sizing, up to a size 3X, like this sweetheart style in a thick, stretchy knit, a nice alternative to standard poly chiffons. Olson says Lulus is a bridesmaid-friendly retailer she often "recommends to friends who are looking for a dress in a particular color palette or length." She adds that "their styles will do the job without breaking the bank."
Lajiness likes the "fun, feminine dresses that are perfect for bridesmaids" from this widely available brand, like this lace midi. "They're always on-trend, not too expensive, and are sold through many retailers, giving bridesmaids plenty of options when shopping," she says.
"Watters is a great wedding retailer with a vast bridesmaid-dress assortment" across its portfolio of brands, which includes Wtoo, and some styles are offered in extensive sizes (from 00 to 26W), Lajiness says. "These definitely skew more traditional, but the brand has started incorporating trends and modern touches more frequently, and they're perfect for weddings with a formal dress code," Lajiness says. "A big consideration when shopping traditional bridal retailers is the time involved in ordering bridesmaid dresses, but Watters offers ready-to-ship dresses" for some styles, like this sleek high-neck halter with a low back.
The only thing worse than having to buy an unremarkable-to-ugly dress you'll only wear for a day is shelling out hundreds of dollars for that dress. "For 20-something bridesmaids on a budget, I think what Birdy Grey is doing is genius," says Eimear Lynch, author of The Bridesmaids: True Tales of Love, Envy, Loyalty … and Terrible Dresses. "You buy a dress for $100, and when you're done with it, send it back so a teen in need can wear it to prom; I have never reworn a bridesmaid dress, so I would have loved it if this company was around when I was in back-to-back bridesmaid mode," Lynch says. She also likes that the wide variety of styles that should appease even the pickiest of bridal parties: "They have a crazy amount of options, so it's perfect for a choosy bride," Lynch says. Olson also suggests this "very popular" brand for affordability, as well as size inclusivity and speediness (no small feat considering the monthslong lead times typical in the bridal market, bridesmaid dresses included). "These are more traditional long wedding looks, but they'll mail you swatches for free, so it's a great option if you're matching or creating a certain color palette," adds Olson.
Bridesmaid Dresses Under $200
"You get so much look for the price tag," Olson says of WAYF's dresses. "They have particularly fun floral prints that are perfect for spring and summer," and while her favorite of the moment — the long, ruffled Campbell dress — is sold out, consider this V-neck rose-festooned option with a breezy slit. "If you're mixing florals, it looks most cohesive when you have a decent-sized bridal party of at least four or five people, because it allows there to be a little overlap in terms of size and scale of print," says celebrity and bridal stylist Micaela Erlanger. Think along the lines of what Emma Roberts wore to her longtime stylist and close pal Brit Smith Hines' 2019 wedding, which had a "California Formal" dress code: "All the girls were the prettiest floral prints, and they were all different," Erlanger says.
"If you want to go the traditional bridal route, it doesn't get better than BHLDN," Lajiness says of the Anthropologie wedding offshoot. "The retailer carries a great mix of established and emerging labels that suit all types of weddings," she adds. As for silhouettes, Lajiness loves a "timeless" slip dress because it's "the most versatile bridesmaid dress style, hands down," she says. "A slip dress feels like a modern wardrobe addition most women would be happy to buy and wear many times after being a bridesmaid." This is BHLDN general merchandise manager Lori Conley's personal favorite because of its "sleek '90s inspired midi" shape and flattering cut. "The fabric is draped on the bias, which means it hugs your curves perfectly," she adds.
For petite bridesmaids, Conley likes this empire-waisted style "to help create the illusion of extra height and an elongated torso," she says. She suggests avoiding "full voluminous skirted styles," which "can overwhelm a petite frame."
"Stretch crepe and jersey fabrics are flattering on all body types, but especially for plus," Conley says. This style is her "go-to suggestion" for plus size bridesmaid options because "it has beautiful coverage, super flattering draping, and it's so comfortable on."
Olson likes the "satin dresses in a range of colors" from Show Me Your Mumu. "The new square neckline is an updated look for bridesmaids in this price range," Olson says of the Claire Midi style, since most sub-$200 bridesmaid dresses are riffs on the same two or three necklines. She also likes the maxi-length, shoulder-flaunting Jasmine dress with its "especially flattering" halter neckline.
"If someone is petite or has a figure where they are proportionately different on the top than the bottom, let them try some separates," suggests Carrie Goldberg, digital weddings and travel director at Harper's Bazaar, like this swingy set that allows for some customization (on things like fabric, color, neckline, and length). Lajiness likes this made-to-order online brand for "everything from black-tie-worthy gowns to trendy silhouettes and more casual dresses for laidback celebrations."
Bridesmaid Dresses Under $300
For mix-and-match bridal parties, Olson recommends Fashion Bunker for "all the cool up-and-coming Australian brands, like Keepsake and C/MEO Collective," she says. It's a good place to find multiple styles in a cohesive colorway, like this sculptural, solid-hued one-shoulder pick, which would work great with the floral, puff-sleeved and patterned Parallel minidress in the same fiery shade. Writer Kaitlin Menza says she's spotted a shift towards color codes instead of dress codes, like this wedding in Mexico she wrote about for the Cut: "The bride memorably directed her friends to dress like Aperol spritzes, which resulted in a range of materials, silhouettes, patterns, even a shirt and pants that was so organic and cool," Menza says.
"One-shoulder styles are back, and this length makes it perfect for a casual garden wedding, or dressed up with a pair of shoes for something more formal," Olson says of this structured C/MEO style, which was another Fashion Bunker find. Or, go with a pleated, bold-shouldered style from the Aussie label, which she suggests for "great prices for the look you get," she says.
"Amsale does really sleek and modern bridesmaid dresses in the main line," says Lajiness of the structured satin and crepe dresses like this sophisticated cowl-neck gown with a slit, which are well suited to formal nuptials. The brand's Nouvelle line has a slightly more casual bridesmaid selection in lighter weight, less-luxe chiffon at a lower price point of $190 a pop.
"I'm super into this brand right now," Olson says of Bec + Bridge. "These are definitely more statement pieces that could work great for more of a fashion-forward" bride and wedding, replete with details like cutouts and draping that feel more elevated than standard bridesmaid look.
Royall loves Pantora Bridal for bridesmaid dresses. "Designer Andrea Pitter Campbell makes the experience of selecting bridesmaid dresses in her chic Brooklyn studio accessible and fun for all involved," Royall says. "Her bridesmaids dresses are inclusive of a range of sizes and price points. There is truly something for everyone," even if your bridal party's sizes and heights "might range from two to 22, and petite to over six feet tall," she says. This halter style is a current favorite of Royall's because it's "universally figure flattering — the front ruching helps hide love handles — and it's actually something most bridesmaids will want to wear again."
Olson suggests bridal brand Grace Loves Lace if you're on the hunt for "dresses that cater to more minimalist aesthetics," like this slinky bias-cut recycled satin dress with a cowl neckline. Color-wise, Conley is seeing many bridal parties going with green lately, "whether that's a deep rich tones like emerald" for a fall event or a "perfect, dusty pastel" sage — like this dress that almost appears silver in some lighting — for spring and summer nuptials.
For brides "after a more uniform look," Goldberg likes Jenny Yoo's "super wide range of styles, textures, and prints," while Conley praises that the designer's dresses are "incredibly tailored and fit like a dream." "I love a luxe charmeuse or velvet for a more formal event," Conley says. Brown says Pinterest searches for "rich earth tones" are booming, specifically "terra cotta," for which searches increased 13x from 2020 to 2021, and "jade" (9x increase in searches). "Some of the colors trending for bridesmaid dresses feel a little unexpected," Brown says of these subdued hues that are a far cry from Easter egg pastels of weddings past.
Olson likes For Love and Lemons as "a fun brand for mix-and-match" bridesmaid dresses, like this floral pick. "Corset styles are hot right now, and this dress is romantic and not-too-sexy," Olson says. "I love the button detailing, too."
Bridesmaid Dresses Under $500
"A bride feels special in Marchesa, and the same goes for a bridesmaid in Marchesa Notte," Olson says of the brand's ethereal options, like this floaty floral maxi that "feels very bridal in the most fashionable way."
For full busts, Conley recommends sticking with "dresses that allow for support or can be paired with a bra" and steering clear of "deep plunging necklines that can feel too showy for most fuller busts, or high necklines that can lack definition." This Jenny Yoo dress's "scoop neckline is the perfect in-between option" for bigger boobs.
British brand Rixo, beloved for its prints, comes recommended by both Lajiness and Olson. The brand just launched a bridesmaid collection in late April, unique for its "sustainable fabrics, versatile colors, and neckline options," Olson says. The silhouettes "just feel fresh and exciting," she adds, like this high-neck halter with a fluttering midi hem.
"If you want something with a fashion-forward bent and a slim fit, Reformation is a great starting point," says Goldberg; Olson is also a fan of the brand's "sustainable materials and of-the-moment pieces," like this tube dress with removable straps and a thigh-high slit.
As for bridesmaid options above a size 14, Lajiness likes 11 Honoré's "fantastic edit of occasion dresses, all offered in plus sizes," including Mara Hoffman, one of her go-to brands for dressy looks "with a modern feel, and they all work well for bridesmaids."
Lynch raves about Whistles, "a high street English brand that has a smaller presence" stateside, though they do ship to the U.S. "I never buy things I plan on wearing just once, and my price per wear for everything Whistles is so low: I have a black Whistles jumpsuit I've worn to a wedding, a baptism, dinners, the list goes on," Lynch says. She suggests first combing through Whistles' dress section for options, and there's also a bridesmaid section to choose from.
Erlanger and Caroline Maguire, Shopbop's fashion director, both recommend Jonathan Simkhai for not-boring bridesmaid looks like this sequined number. "Depending on the season, I would opt for either a long-sleeve or spaghetti strap style," Maguire says. Sparkly getups can work surprisingly well in a more subdued palette, Lynch notes. "For my brother's wedding, my sister-in-law asked us bridesmaids to wear whatever we wanted within the category of 'festive neutrals,'" she says, meaning anything from gold to champagne to bronze. "Everyone found something easily."
Erlanger likes LoveShackFancy for great floral prints, as does bridal stylist Gabrielle Hurwitz and Morgan Curtis, designer of lingerie brand Morgan Lane. "I absolutely love the fun pinks and girly vibes of LSF and I think they work perfectly for a summer wedding," Curtis says. The label is a great example of a non-bridal-specific brand that lends a fresh touch to a bridal party look, per Hurwitz. "I love when brides and grooms think outside the box and look to ready-to-wear designers for their bridesmaid dresses," she says. "Some of my favorite bridesmaids dresses haven't been bridesmaids dresses at all," from brands like LoveShackFancy, Markarian, or Self-Portrait.
Bridesmaid Dresses Over $500
"Khaite is all about statement sleeves, through and through," Erlanger says; she also suggests Miu Miu and Danielle Frankel for excellent exaggerated sleeves. "The best bridesmaid dresses I've seen are unexpected, like voluminous sleeves, or loose but still flattering fits," says Brenna Simmons, founder and creative director of new bridal line Nordeen. "Looks that make you gasp, but still help highlight the bride."
"The biggest misconception is thinking that bridesmaid dresses are supposed to be subdued and simple so that the bride can shine on her day," Maguire says. "I actually think this is quite the opposite! You want your group to look stunning while standing up there with you," she says, like this lustrous green silk dress from one of Maguire's favorite designers for bridesmaid-worthy looks.
For bigger budgets, Goldberg, Olson, and Erlanger all name-check this Aussie brand. "Zimmermann is a brand that does florals really well," Erlanger says. And though the price points are steep, "if you're having a select few bridesmaids, I think that can merit a really special dress, even if the bride gives it as a gift that can be worn again and again," Olson says.
"I love a midi-length dress because it works on all different heights" of bridesmaids, and it's a length that's a lot more re-wearable post-wedding than a traditional gown, says Maguire. The Vampire's Wife is one of her top recommendations for "amazing designers creating beautiful cocktail dresses or gowns that can double up as bridesmaid dresses," along with Azeeza, Jonathan Simkhai, Self Portrait, and Saloni. (This particular print is only available in a size ten, but the Vampires Wife Falconetti dress comes in loads of other others and patterns.)
Erlanger likes "bridal parties that feel authentic, really personal, and maybe even a little unexpected. A trend that we're seeing a lot right now is mixed patterns, whether that's floral or otherwise. It gives personality to your wedding, when done correctly and artfully, and gives rare dimension to the photos. It can be done really beautifully, though it takes a certain level of skill and taste and curation," like Italian stylist Erica Pelosini's 2014 wedding in Capri, where her bridesmaids wore vibrant floral Mary Katrantzou minidresses (as one of multiple bridal party looks). "That wedding is an example of how you can match, but still make it really chic and fashion forward; throw a funky shoe in the mix," Erlanger says. "It was perfect: for her, who she is, for who her friends are, and was perfect for Italy."
"You can count on them for beautiful floral prints, season after season," Erlanger says of Brock Collection. The brand is also high on Goldberg's list "when searching for investment pieces that make great bridesmaids dresses," along with Johanna Oritz, Zimmerman, and Markarian.
"Think outside the box: You can wear a jumpsuit, a tuxedo, a short asymmetric dress. It doesn't have to be some horrible chiffon or jersey wrap, multi-way long dress," Erlanger says, adding that "Galvan has amazing jumpsuits." (While owning one will run you four figures, you can borrow this similar slinky wrap version for the weekend from Rent the Runway for a lot less.)
Markarian is another "tried and true" favorite of Erlanger's for floral bridesmaid options. She loves the brand's "great puff sleeve," featured on this one-shouldered showstopper. "If you're working with a big budget or have bridesmaids willing to splurge, Markarian and Brock Collection are my two favorites — their designs are so dreamy and romantic," Lajiness says, who suggests checking on The RealReal for more wallet-friendly prices on these brands. "We get quite a few inquiries on how to properly approach choosing dresses for bridesmaids," says Markarian designer Alexandra O'Neill. "One of my favorite ways to go about it is to pick two or three different fabrics depending on the number of bridesmaids and have the girls choose their own silhouettes; everyone has a different body type, so I think it is nice to let the girls choose something that they feel most confident in and will also want the wear again."
The Strategist is designed to surface the most useful, expert recommendations for things to buy across the vast e-commerce landscape. Some of our latest conquests include the best acne treatments, rolling luggage, pillows for side sleepers, natural anxiety remedies, and bath towels. We update links when possible, but note that deals can expire and all prices are subject to change.