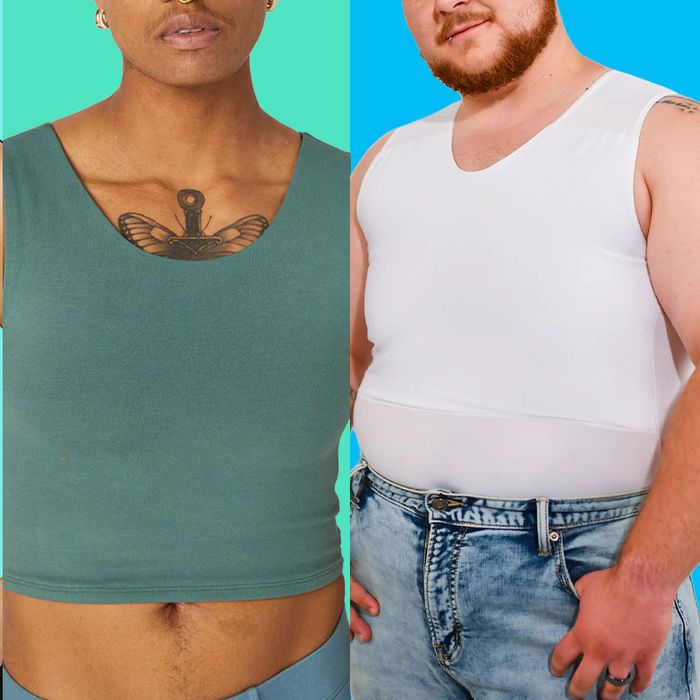 Photo-Illustration: The Strategist; Photos: Retailers
Binding is about loving the way you look and feel, but finding an approach that works for you is a series of balancing acts: between compression and comfort, between the full-coverage of your favorite chest binder and the plunging neckline of your new top, between the mental-health benefits of gender euphoria (and for some, increased safety moving through the world as a trans person) and the risk of physical injury if you wear a binder that is too tight or keep it on for too long.
The good news is that there has never been a better time for anyone across the gender spectrum to shop for a binder. The number of commercially produced chest binders — which can be safer and easier to wear than improvised ones — has exploded in the last decade, propelled by queer- and trans-owned businesses founded in response to personal and community experience.
Of course, different binders have different strengths, and not every binder is right for every person. Some offer more compression, others greater comfort. Some stay discreet, while others show themselves off. Some are safe for exercise and all-day wear, while others are best for only eight to ten hours at a time. Tank models were the go-to among panelists with larger cup sizes, while several people in the A- to D-cup range swore by taping. Different styles may suit different accessibility and health needs, too.
The variety can be dizzying, whether you're trying binding for the first time or have been doing it for a while and struggle to find something that works for you, so I talked with 22 experts, 16 of whom have personal experience binding, about the pros and cons of different options.
The main piece of advice I received over and over — from medical experts, designers, and folks who experienced binding injuries — is that we all need to listen to our bodies. As Dr. Helene Hedian, M.D., director of clinical education at the Center for Transgender and Gender Expansive Health at Johns Hopkins, emphasized, it's a good idea to follow some best practices. Focusing on fit, pacing yourself, taking off days from both binding and taping, being kind to your skin, and avoiding any tight binding during things that stress your breathing (like singing, exercising, or being sick) will ensure you're binding in a way that is going to maximize its benefits.
That will take some trial and error, and most companies have generous exchange (but rarely return) policies, as well as good customer service, to help you figure it out. There are also lots of resources available online, including guides from the Cleveland Clinic, Callen-Lorde, and TransHub, to help you bind safely. Whatever your preference, these new options make creating a flatter chest profile as safe and fun as it's ever been. Here are our picks for the best binders to fit different needs, styles, and outfits.
Best firm-compression binder
Gc2b binders came up in almost every conversation and were the most recommended among our experts, who mentioned both the tank and half-tank styles. They're made with a firm internal front panel that will create the "flattest contour possible," while the "elasticity in the back panel provides really great movement for shoulder blades and ribs," said Frances Reed, a licensed bodyworker and binding expert.
They were also the most polarizing binder we heard about, and several people told us that the binders were too tight for frequent use. After experiencing sharp chest pain while wearing his gc2b binder at a multiday hackathon, Emmett Chen-Ran, a senior product manager in San Francisco, reserved it for formal occasions. Since I am obsessed with comfort and had stories like these on my mind, I sized up in gc2b: My 34-inch chest suggests a small or a medium, but I ordered a large. It's both my most comfortable binder and gives me the flattest chest profile.
Best medium-compression binder
For Them, whose reversible designs offer two necklines, is the only binder Finley Caciola keeps in their closet because it balances compression with comfort. "My endurance and stamina for binding is very low, due to a history of bad binding," they said. "The For Them was love at first try. It's somewhere between a traditional binder and a sports bra; you trade maximum bind for maximum safety and comfort."
For Them offers the most inclusive size range we encountered among off-the-rack medium-compression models, though no one with a large cup size recommended the brand to me, and Caciola also noted that it receives "extremely mixed reviews from larger-chested folks." But if you're looking for a silky-smooth, breathable, and elegant binder with moderate compression, the For Them is a great option.
Best "nude" binder
Flavnt (pronounced "flaunt") Streetwear changed the market when it started making its "bareskin" binders in 2016. Teresa Morcho, founder and CEO of the Stud Model Project, remembers that "it was a huge deal" because until Flavnt's inclusive range of skin-tone binders, "my darker-skin models just couldn't find binders that fit their skin tone."
Flavnt's half-tank binders come in seven colors and feature thin straps, a non-stretch quick-drying compression panel (read: shirtless swimming!), and plenty of stretch along the back and shoulders. As the company notes on its website, the Bareskin "has more give compared to other binders on the market," which some commenters have noted gives them a slightly less "flat" appearance than the gc2b. But it's still a fantastic option if you're looking for a topless look when swimming or for something that will disappear beneath your shirt.
One word to the wise: These binders are popular and often out of stock, but the company does a good job of communicating when more will drop.
Best sleep-safe binder
Born out of personal experience and based on extensive research and community feedback, Urbody prioritizes function, comfort, and health in its design and fabrication. Its binders came highly recommended by Finn Brigham, director of project management at the Callen-Lorde Community Health Center, and Kelly Moffat, co-founder of Kirrin Finch. With a slightly looser fit, a more moderate level of compression, and incredibly soft fabric, Urbody's meticulously designed tanks and half-tanks are "safe to wear for exercise" (and its cotton half-tank models — yes, cotton! — are safe for sleep while still providing medium compression).
Best sensory-friendly binder
Designed with neurodivergent trans people in mind, Amor Sensory's binders eliminate many barriers — like tight elastic, constricting bands, scratchy fabric, bulky seams, and aggravating labels — that can make binding unbearable. While these binders are expensive and the small company often has very limited stock (and currently, most of its colors are only available for preorder), Amor Sensory is one of the brands that Reed, a bodyworker, recommends most to their clients who have struggled to find a comfortable binder in the past, especially autistic people and folks with sensory-processing disorders. "It's bonkers how soft it is," they told us. (This exceptional work comes with a hefty price tag — so if they're outside your budget or unavailable, Urbody's premium fabric and attention to details like less irritating seams and label-less designs make its binders another sensory-friendly option.)
Best breathable binder
Reed recommends the B.UR.SLF Breathable Binder, with its mesh back and single-layer front panel, as a good medium-compression option for people who run hot. Caciola, who works for the Phluid Project (which stocks B.UR.SLF binders), explained that its hook-and-eye side closure can be transformative for people for whom "over-the-head binders are not accessible or viable." Reed also noted that side-entry binders like these are great if you'll be wearing it for a long day because you can discreetly take a break by unhooking the closures under your shirt.
Best custom binder
Shapeshifters aims to make "fun clothes out of fun fabrics," according to cofounder Eli K. Coughlin-Galbraith. The brand's from-scratch binders are a great option if you're dreaming of something new, whether that's custom measurements, length, closure options, or limitless patterns via Spoonflower. Given the degree of customization, its typical four-week turnaround on custom orders is remarkable and its higher price tag understandable. If you have a sewing machine or a lot of hand-sewing patience, Shapeshifters will send you fabric and a pattern customized to your measurements for $30 to $35, depending on the fabric.
Best (less expensive) custom binder
Reed recommends Origami Customs binders, especially for folks with a "small rib cage and big chest." In addition to free custom sizing, the brand offers an array of styles, fabrications (including breathable mesh), vibrant colors, and playful patterns. Its six-to-eight-week turnaround is a bit longer than that of Shapeshifters, with a lower price tag and somewhat fewer customization options, including a more limited selection of nude shades.
Best compression top
Compression tops are not quite binders and not quite sports bras. These lower-compression garments tend to smooth out — rather than flatten — your chest and are a lot less bulky than most sports bras. And the compression tops from TomboyX are among the best in this category. "They're affordable, comfortable, and tend to keep their elasticity for a while," said Jade Fox, a style influencer and creative director based in L.A. While you would have been able to see a sports bra underneath a silk blouse I wore to an Easter lunch, the sleek fabric and smooth seams of TomboyX's compression top vanished beneath the thin shirt.
For many, compression tops work great for daily wear — and even if they don't offer enough compression for all your needs, they can be a great tool in your healthy binding arsenal. Various health-care experts recommended options like TomboyX compression tops, which come in tanks and three styles of half-tanks, sports bras (especially "longline" models), or sports compression shirts as an affirming possibility for off days or when minimal compression will do the trick with a baggy or thick shirt.
Best binding tape
Tape, in this case, refers to body-safe tape designed for movement — such as TransTape, which comes in several widths; KT tape; or another kinesiology tape — rather than athletic or duct tape, which can cause injuries and major skin irritation. And several panelists highlighted it as a great binding option. Mere Abrams, cofounder of Urbody, told me that it can offer "a sense of freedom" to do all the activities — like singing and dancing — that you love, and to feel affirmed in outfits with low necklines, crop tops, or thin fabrics. Jacqui Bardelang said that tape's flexibility, movement, and dependable coverage allows for "worry-free stripping" when performing in drag as Sigi Moonlight. Several experts praised taping for its accessibility. Friends who experience panic attacks value its less restrictive feel around the chest, and Reed mentioned taping as a good option for people with asthma because it puts less pressure on your ribs and lungs.
Our most glowing review came from Logan Adams, a disabled trans activist, who found "accessibility and freedom in binding with KT tape" after traditional binders were "torturous" due to limited mobility and spine pain. In his words: "Trans tape works so well. But it actually worked a bit too well for me: I have limited use of my hands and would have a hard time removing it. So KT tape was the perfect balance. I could be flat for days, shower and swim with my chest taped, and take it off easily when I needed to."
Taping may not work for everyone, though. Several larger-chested panelists found taping both less effective and less practical than other methods. Shannon Schneider, the founder of Queer Climbing Columbus and associate product manager at CoverMyMeds, said that before he had top surgery, taping created a "Grand Canyon" effect on his chest — spreading breast tissue out to the sides while leaving a large gap in the middle. Morcho of the Stud Model Project added that while regular binding with tape is "not practical" for larger-chested people because of the time and amount needed to achieve the desired look, models do often use it for specific photoshoots when a traditional binder might be too bulky or restrictive.
Whether you tape regularly or occasionally, it can be brutal on your skin. Some remove it with baby oil, others with lotions, and TransTape sells its own line of skin-care products to protect and soothe your skin. And, as with any binding, do take off days.
The Strategist is designed to surface the most useful, expert recommendations for things to buy across the vast e-commerce landscape. Some of our latest conquests include the best acne treatments, rolling luggage, pillows for side sleepers, natural anxiety remedies, and bath towels. We update links when possible, but note that deals can expire and all prices are subject to change.