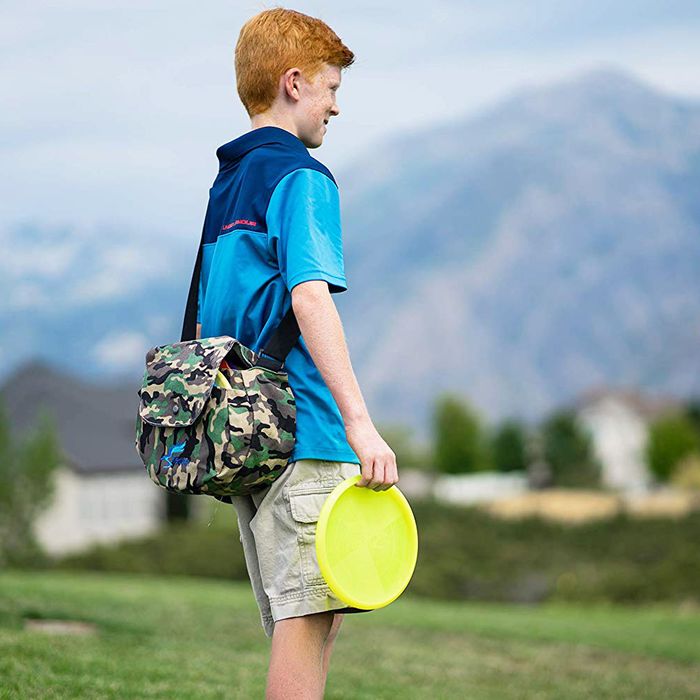 Here at the Strategist, we like to think of ourselves as crazy (in the good way) about the stuff we buy, but as much as we'd like to, we can't try everything. Which is why we have People's Choice, in which we find the best-reviewed products and single out the most convincing ones. (You can learn more about our rating system and how we pick each item here.)
And while we've written about lots of sports equipment and bags before — including one cheap but expensive-looking gym bag, the best gym bags, and the best workout clothes, accessories, and equipment — here, we've rounded up the best disc golf bags, as praised by the most enthusiastic reviewers on Amazon.
Best-rated (and less expensive) disc golf bags
Dozens of five-star reviewers use the word "great" to describe this disc golf bag, like one who calls it a "great buy." They continue, "Comfortably fits six discs, with plenty of room to spare. I'd say it would fit nine tightly." Many reviewers note that this bag only fits six discs, but that's not a bad thing. As one reviewer explains, "I love disc golfing, but I'm no pro by any stretch of the imagination. So, 6 discs is perfect for me!" And even more advanced disc golf players like the smaller size, like one who says they "needed a sturdy, nine to eight disc bag to take with me whenever I am traveling by air." "Durable" is another word that comes up in lots of reviews. One reviewer says they're "going on over a year of abuse and throwing the bag around," and writes, "It has maintained its integrity through it all, from snow and rain to aggressive heat. Still has no [tears] and has held up very well. Holds just the right amount of discs to do everything you need." A few complain that it's not the most sophisticated design, but this reviewer sees that as a positive, explaining, "Minimalistic, sure, but everything is well thought out from the grommet hole in the drink pouch to the velcro strap that holds the top flap out of the way for unencumbered access. They obviously put a lot of thought into the design and probably refined it with feedback from real players by the looks of it."
And now for some micro-picks for every type of disc golf bag you might be looking for.
Best disc golf bag with towel holder
The towel holder is the stand-out feature on this disc bag, according to reviewers. "First of all, the most underrated thing on this bag is the towel holder. I can't express how nice it is to have a towel holder on the outside of your bag. Anytime you go discing when the grass is wet, whether it be from dew, rain, etc, you have to wipe your disc off before you can throw it again," one player says. Another calls it an "amazing bag for a casual player," explaining, "I carry 9 or 10 discs in it including my putter in the front pocket." One more admits that the dividers were "a little challenging to set up properly," but adds, "Once I sorted that detail out, this bag was perfect for my purposes." And as this reviewer concludes, "It has a great, comfortable strap and is very stable when you set it down; it does not tip over. Oh yes, did I mention the sweet pouch for your putter on the outside? The dividers are removable and adjustable. All in all, everything I needed in a bag and the quality is great."
Best disc golf bag for beginners
"For a starter bag, it does its job perfectly," writes one customer, adding, "If someone wants a bag to do more, then they need to buy a different bag (probably more expensive)." Another reviewer calls it a"great first bag for those getting started in disc golf." They explain, it "holds up to 12 discs, which is plenty for me as I start my disc golf 'career.' One may outgrow this bag over time, but it will always be there to tote a set of discs for a recreational round or to take a few discs out to try them out or practice." And as this "newbie disc golfer" concludes, "I didn't want a huge bag to lug around. This is a great small bag that easily fits the 6 discs that I use on a regular basis, and has a spot for a water bottle, and a little zippered pouch for your phone/keys/etc. Stands on its own, which is great when I set it on the ground to make the next throw."
Best disc golf bag with insulated drink holder
The insulated drink holder on this disc golf tote was a big selling point for reviewers, and for one customer, the reason was simple: "The insulated drink holder kept my drink cold." Another describes the insulated water bottle holder as "great," adding, "And the little zipping pouch on the inside of the lid flap is perfect for cell phones and wallets. It has room for all the stuff you tend to bring disc golfing while also not being too big or bulky." Many more also appreciate the size of this bag. "It isn't huge but has a lot of space for discs and accessories," writes one. "I'm carrying 11 discs and can comfortably fit a few more. I like to keep the bag open so I can easily choose discs. Overall, it's a great bag, especially at the $20 price tag." One customer even points out how comfortable it is, explaining, "This bag is so comfortable to carry that sometimes I even play with it still strapped to my shoulder. Buy it and go sling some discs around in comfort."
Best disc golf bag for advanced players
"Large. Comfortable. Cooler. Pockets-galore," writes one ecstatic reviewer, adding, "I want to keep this bag a secret, so I debated writing this review. A gem that few bags can compare to at an amazing price point. It is not just a beginner bag, it can easily hold 20+ discs, a few cold waters, quite a few cold sodas, phone, wallet, keys, speaker and more. I'm impressed if you can't tell." Another reviewer, who has "been playing disc golf for over 30 years around the nation," says, "I've used many bags and this backpack bag does the job fine. I found the cooler part to be a kinda silly idea at first but then it hit me. I took a freezer gel pack used for icing injuries, froze it then put in the cooler with a damp towel. On a hot day take the towel out and put on the back of your neck to cool you down. In my opinion, it's certainly worth the money." And as this reviewer concludes, "This bag has it all. Solid construction that still manages to be light as a feather. Excellent beefy stitching. This one won't fall apart in a year like my recent products from the vendors who have been at this longer. To put this bag in disc golf terms, they parked it."
Best disc golf bag with cooler
Players enjoy the cooler attachment on this disc golf bag, including one who calls this the , "Perfect bag for long days of discing. Cooler works great and holds enough for a full 18 holes, no problem." Another points out that the description "says it has enough for six 12-ounce cans," but as he explains, "It has a little more room than that. I actually fit a delicious turkey sandwich (NY Deli style, not a standard wonder loaf bread sandwich, this is important) and a Red Bull on top of my six-pack of beer which kept the sandwich perfectly refrigerated until the moment of consumption. I no longer have to carry around a second little 'cooler bag' for my beer and snacks on the course." Many even note that when the bag is packed, it's still comfortable to wear, like one who says, "Stays balanced on your shoulder with or without a few canned beverages in the cooler. Also, cracked my last drink on the 18th and was still cold without adding ice to the bag."
Best compact disc golf bag