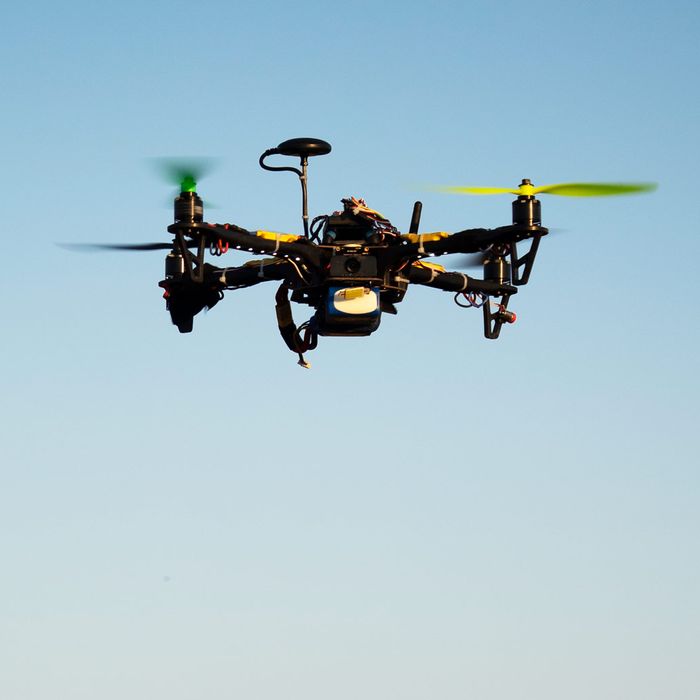 Photo: SOPA Images/LightRocket via Getty Images
Drone photography has never been more popular or widespread. There's a broad collection of models available across different budget tiers, more and more brands all the time, and a blossoming array of features and functions. Which drone should you buy then? We tapped a collection of experts to help you cut through the clutter and find the best drone to meet your needs.
But first: Before buying a drone, be sure that you know the requirements, and potential restrictions, involved. "You must register your drone with the FAA if you're going to be operating it in the USA and it weighs more than 250 grams — about a stick of butter," says Josh Ziering, founder of Kittyhawk, a drone companion app that tells you if your airspace is permissible to fly in. "Operating a drone responsibly also means having situational awareness. For example, you can't ever fly in certain areas — like Washington, D.C. — or if there is a 'Temporary Flight Restriction.'"" You'll also most certainly want a drone with GPS and flight stabilization. "This makes it much easier to fly," Ziering says. "A drone without flight stabilization is like driving a stick-shift car while juggling." With those fair warnings in mind, here are the drones to buy.
Your ideal first drone
"The first and most important piece of advice that I can give any aspiring drone owner is to not just go out and buy a fully functional drone; buy a cheapo one so you can learn how to fly them first," says Patrick Gavin, a Minneapolis-based journalist and filmmaker. These entry-level drones are lacking what Gavin calls all the "real bells and whistles," and even a camera, but that's the point. "You absolutely will crash a drone at some point or another, everyone does, and more than likely, you'll do just that during your first week of trying these things." Spend a minimal amount of money on something you're comfortable potentially breaking. Gavin recommends the Blade Nano QX RTF Quadcopter for the job of learning the basics of flying a drone and remote-control operation.
The best portable drone
A lot of drone users want to be able to travel with their drone, which means overall size, folding capabilities, and weight are all factors to consider. "Portability is important, and there are a number of folding drones available on the market right now," Ziering says. Mostly, though, he says you'll want to consider the weight of the drone. "Just because it folds up into a small area doesn't mean it's going to be light. If you're into traveling with your drone, make sure you take this into consideration."
Gavin looks for portability when he's taking his drone to shoots, and uses the DJI Mavic Pro. "I now use the DJI Mavic Pro, which can shrink down nicely when you fold in its legs," he says.
To keep both cost and size down, he has another suggestion. "The DJI Spark is even smaller, and even though it's not a high-end drone, I'm tempted to buy that, too, just for its portability," Gavin says. "Remember that drone-flying is akin to that oft-quoted axiom about photography, 'The best camera is the one you have on you.' You can have the nicest drone in the world, but if you don't actually have it on you because, say, it's too big to fit in a backpack or it's just too much of a pain in the butt, you're going to miss shot after shot."
The best drone for photography
Tyson Wheatley, a commercial travel photographer living in Queens, has steadfastly only used DJI drones for his work. "They're the only ones I've owned and flown," he says. "The DJI Phantom 4 Pro is still probably the best value/performance drone on the consumer market for serious photographers, with better image quality, higher resolution, and flight stability."
Remember, your drone is actually first and foremost a camera. "I think of drones as cameras — it's one of several tools I have in my arsenal to help me get a project done," Wheatley says. "I use them to give me a different perspective or to reach locations that I can't get to by foot or a ladder. Sometimes, I use them simply as a location-scouting tool. I've even used them just to get a bird's-eye view of weather on the horizon as I plan my shoot."
The best all-around drone
While Wheatley is a big fan of the aforementioned DJI Phantom 4 Pro, he points out one drawback. "It's a bit bulky, and honestly can be a pain to lug around when traveling, especially overseas," he says. That's why his best overall pick is the DJI Mavic Air Pro 2. "DJI seems light-years ahead in the consumer drone market, and its latest Mavic Air Pro 2 addressed a lot of concerns I had with the previous Mavic," Wheatley says. "So much so, I strongly believe it's the best overall drone on the market right now — and definitely the one I'd recommend to anyone, amateurs and pros alike."  Wheatley cites improved battery life, easy-to-use controls, onboard memory, preprogrammed flight paths, and unmatched portability as reasons why he loves the Mavic Air Pro 2. "It's light and small; it folds down into a shape you can fit into your camera bag along with your other photo gear," he says. "That goes a long way in determining whether to pack a drone for a project."
The best drone software
There's always a deal to be found, but if it looks too good to be true, it might be. Choosing a reputable brand that you can depend upon for ongoing software support and updates is crucial. "You'll want a drone that's made by a company to support it," Ziering says. "For example, if a new version of your phone's software comes out, is a "fly by night" drone company going to update their command and control app to support it? You're not just committing to the hardware, but also the software." Ziering, like our two photographers then, also recommends DJI. "Their software supports iOS, Android, and they can even be flown with third-party applications that enhance functionality beyond what DJI offers," he says.
He suggests a model such as the Mavic Air. "You should expect to spend at least $700 for a pro-grade drone," Ziering says. "Remember, you're not just buying a drone, but you're also buying a high-end camera."
The Strategist is designed to surface the most useful, expert recommendations for things to buy across the vast e-commerce landscape. Some of our latest conquests include the best acne treatments, rolling luggage, pillows for side sleepers, natural anxiety remedies, and bath towels. We update links when possible, but note that deals can expire and all prices are subject to change.
Every editorial product is independently selected. If you buy something through our links, New York may earn an affiliate commission.