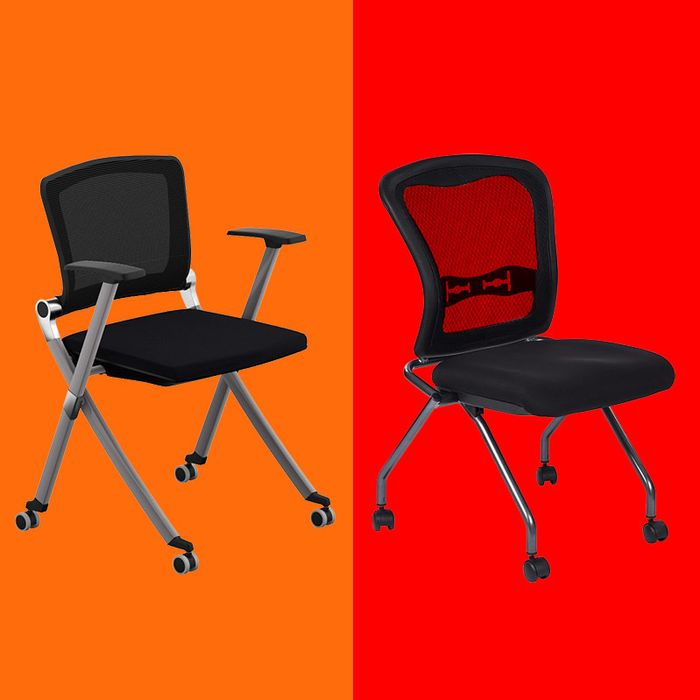 In our advice column, Ask the Strategist, we take your most burning shopping questions and survey friends, call up experts, and draw on our own personal experience to answer them. As always, please email any online-shopping-related queries to strategist@nymag.com with the subject Ask the Strategist — we're here to help.
I am in desperate search for an ergonomic desk chair for my tiny apartment that is collapsible/foldable/can somehow fit in a closet. I'm working from home for the foreseeable future (forever?) and I will soon have a hunchback if I don't find a solution!
Ah, WFH back-slash-neck-slash-shoulder pain. Our Strategist Slack channel has been filled with similar complaints these past few months, so you are definitely not alone. Since we started quarantining in March, I've spoken to lots of chiropractors about the best ergonomic office chairs of all styles. Summing up their conventional wisdom, chiropractor Dr. Randi Jaffe says that "a good chair is worth giving up some apartment real estate for" because working from just any old chair for a prolonged period of time can cause a whole host of issues. Of course, if you are dealing with a tiny space, the ne plus ultra of ergonomic chairs, Herman Miller's pricey Aeron Chair (or the Dot-Com Throne, as New York Magazine once christened it) is obviously not an option. While there are many less expensive alternatives, finding one that's also foldable is a taller order. So I went to Jaffe and two other chiropractors to get their two cents, and rounded up some other products that they and Strategist staffers and contributors have also said will make existing seating a bit more ergonomic (in case you have a chair that maybe just needs a bit of a zhuzh).
According to Jaffe, "It is hard to create a chair with all the bells and whistles — think adjustable armrests, adjustable height, a swivel option, good lumbar support — that also folds up." While you're not going to find, say, a foldable Aeron chair on this list, there are some options if you're willing to compromise. This chair, which she recommends, "has a lot of positives, especially good lumbar support," and a flip-up seat for easier storage. The cons are that it does not have armrests and the height is not adjustable.
Photo: retailers
On the other hand, this flip-up chair has "armrests (although they are not adjustable), and also some lumbar support," Jaffe says. While she notes that "the height of the chair is not adjustable," she says it is almost certainly a more ergonomic option than what many people may be sitting on right now, "like on a couch of the edge of a bed, which makes a chiropractor cringe." Another pro of this chair: It allows you to keep your knees and hips at 90-degree angles, which is good for your posture, she adds.
Photo: retailers
According to Dr. Rudy Gehrman, the founder of New York City–based wellness center Physio Logic, this chair will also "give you more of an upright posture, which is referred to as the 90-degree sitting rule." Like Jaffe, Gehrman says you want "your knees, hips, and elbows to all be bent at 90 degrees." The chair has armrests, flips up, and has wheels, along with a breathable, flexible mesh backrest that slightly reclines. This will allow you to take stretch breaks throughout the day, something doctors say is crucial to keeping everything aligned. This chair is also, dare we say, the nicest-looking of the chairs on this list, and you can even customize the seat cushion (which comes in seven other colors).
While not foldable, this kneeling chair is another ergonomic option to consider for small spaces because it has an adjustable height, with the lowest height being just 21-inches, so it can easily be stowed out of site (whether in a closet or under a desk or table). Jaffee recommends kneeling chairs to pretty much everyone — except folks with knee or leg issues, whom she says should probably steer clear of them. "It may take some getting used to, so easing into it is a good idea — try it for shorter periods initially," she says.
Though (obviously) not a chair, "one of the best options for a small space is an ergonomic stool," according to Jaffe. Not only is it easier to store, but a stool also encourages active sitting so you can maintain good posture and build core and back strength as you Zoom. This has 10 inches of adjustable height, so you can adapt it to your body and whatever desk setup you may have.
If the above options won't work (for either your space or your budget), there are plenty of accessories to explore. These accessories won't completely make up for a not-great chair, but they can make your seating situation much more comfortable. One of the most essential elements of an ergonomic office chair is lumbar support. If you want to add some to whatever chair you currently have — including one that folds — writer Maureen O'Connor recommends this attachment, which she uses. "It comfortably curves into the lower back near the base of the spine," she explains, adding that "it's a gentle nudge to sit up straight and can be strapped onto the chair of your choice — and, most critically, removed whenever you want."
Dr. Adam Lamb of New York City–based practice Lamb Chiropractic, told us about this cushion, which can also be used with a folding chair you already own. You can sit on to make that chair more comfortable on your bottom, or attach it to a chair back for lumbar support.
Sitting on a balance ball or balance-ball chair is another excellent way to engage your core muscles, improve your balance, and encourage good posture. But unless you're committing to inflating and deflating the ball every week — which, I'm guessing, you're not — a proper balance-ball chair (or ball) won't work for small spaces. What will work is a half-ball balance disc, like this one that Jaffe recommended in our guide to the best (non-folding) ergonomic office chairs. It can be placed on any regular chair's seat and offers a lot of the same benefits as a proper balance-ball chair or ball. Plus, it's small enough to be stored practically anywhere when not in use.
Strategist newsletter editor Mia Leimkuhler, who worked from home pre-pandemic, summed up the major con of a dining-room-turned-home-office thusly: "The main disadvantage is the lack of a proper office chair, because my back and butt start to hurt after sitting for eight hours in a chair that is not designed to be sat in for eight hours." But the Purple Royal Seat Cushion transformed her work-from-home life. "It was like I was held up — nay, massaged — by a thousand interlaced fingers: firm with just a bit of squish," she writes. Purple's seat cushion, made from hyper-elastic polymer, "cups the butt and tailbone even as you shift about and change positions (I'm a squirmy sitter)," to make any chair more comfortable, Leimkuhler adds. "The Royal cushion is what I rely on to transform an ordinary dining chair (and barstool and couch or even sometimes the floor) into a very pleasant place to work."
The Strategist is designed to surface the most useful, expert recommendations for things to buy across the vast e-commerce landscape. Some of our latest conquests include the best acne treatments, rolling luggage, pillows for side sleepers, natural anxiety remedies, and bath towels. We update links when possible, but note that deals can expire and all prices are subject to change.