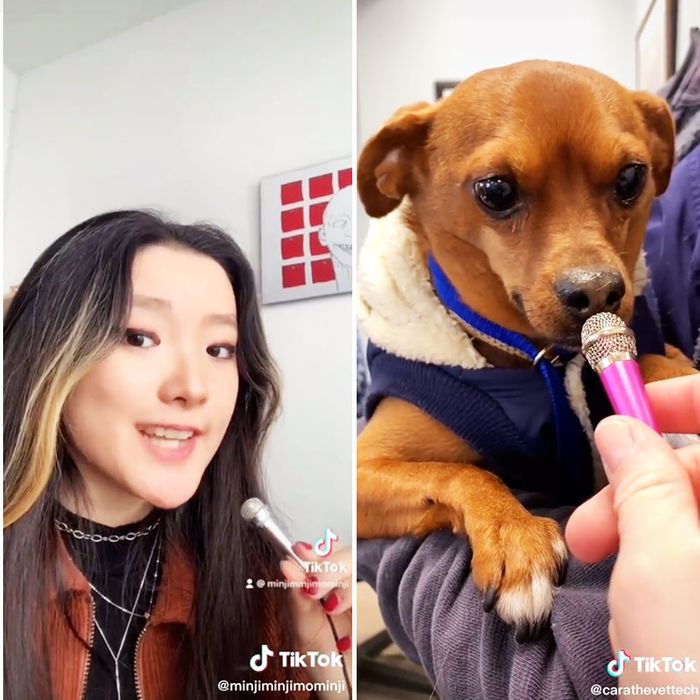 From left to right: Christina Najjar (@itsmetinx); Minji Kang (@minjiminjimominji); Cara the Vet Tech (@carathevettech).
Photo-Illustration: TikTok
When I first downloaded TikTok, my friends immediately told me to follow Tinx. They knew I'd appreciate her commentary on red-carpet fashion and rich moms — but they couldn't have known that I would grow absolutely obsessed with her mini-microphone.
The creator, whose real name is Christina Najjar, is known for her comedic videos in which she talks in front of a green screen, faithful mic in hand. At first, I thought it was just Najjar's recurring bit, but then I began to see them all over my FYP — or "For You Page" — whether it was someone doling out advice or holding it up to their cat who hissed on cue. When my boyfriend bought his own mini-mic because he, too, saw them all over TikTok, I knew I had to investigate.
There are two distinct types of mini-microphones on TikTok: a shrunken microphone that looks like something an American Girl doll might sing karaoke with and a lavalier-style mic à la television broadcasters. Najjar uses the latter. "I call him Mini Mic, and he feels like a full character in my life," Najjar told me when I reached out to learn more about the trend. She bought her tiny microphone after picking up momentum on the platform toward the beginning of quarantine. "I just thought, What could enhance my content? And it really stuck," she adds.
The appeal of a mini-microphone is twofold, according to the TikTok creators I spoke to: Not only does it improve their sound quality, but it's also aesthetically amusing. "I thought this could be perfect to produce 'speaking to camera' videos with a humorous touch," says influencer coach Lissette Calveiro of her mic. Minji Kang, who calls herself the "CEO of tiny mic" in her bio, thought it was a step up from using her headphones' microphone for her talking-based content. "I think it looks nicer than holding the earphone mic up to your face to talk, so it's definitely helped me improve the aesthetic and audio aspects of my videos," she says. It also looks "really consistent" in the thumbnails, Kang adds.
Aesthetics aside, all seven of the creators I spoke to say the microphone has increased their engagement, which is a main reason they continue to use it. Najjar and Kang mentioned that, while their followers expect to see them with their microphones now, people coming across their content for the first time are "enticed," as Najjar puts it. "It signals that I've thought about and care about the content I'm putting out there," Najjar says, which makes people spend more time with her videos. Kang also notes, "If you see a tiny mic, the content that the creator makes is going to mostly be talking based or something that's audio dependent, so it's a good indicator for people who like that kind of content to stick around and maybe give the creator a follow."
Because creators must catch a viewer's attention in as little as one second, Liv Charette, a Nashville-based musician who plays song association with her mini-microphone, believes that the microphone is the key to her success. Instead of singing right away, Charette waits until she is passed the microphone by her manager to build the suspense for the viewer waiting to hear her sing. Ultimately, people watch her video for a longer period of time, which boosts her on the FYP. Because people swipe before they'll even give your video a chance, she explains, anything to pull the viewer in is worth it for her. Cara the Vet Tech, who interviews animals at her work with a tiny microphone, uses similar tactics for her videos, saying that the videos in which she uses the mini-microphone always generate more likes and views. Cara notes that people wait to see whether the animal will bite or lick the microphone, which increases her viewers' watch time and thus makes it more likely to be shown to a larger number of people. Calveiro agrees: "I tend to get a lot of comments from people saying, 'It's the mini-mic for me,' or pointing out that they watched the video in full because they were entertained by the microphone," she says, which further promotes her content on the FYP.
It's impossible to pin down where the trend began, but Charette and the content creator mononymously known as Marz both say they first spotted a mini-microphone in Cara the Vet Tech's pet videos. Cara says she first bought one after seeing TikTok creators who were "ranting with a tiny microphone"; she tested it out on an English bulldog — who adorably snorted into the mic — and has been using it since. And while Najjar doesn't claim to be the first person to buy a mini-microphone for talking-based TikTok content, she has certainly become known for it. Jilly Hendrix, a popular creator who interviews strangers on the street with a mini-microphone, credits Najjar as her inspiration for buying one. "I was always walking around with these crazy-large mics that were hard to transport. One day I did an interview with Tinx using her small mic and thought, Wow this is the future."
The Mini-Microphones to Buy
Photo: retailer
Najjar says this was the first one she saw on Amazon, and it was cheap enough that she could replace it if she lost it. "I'm not tech savvy at all, so this one is really easy. You just simply plug it into your phone and it works." Najjar also appreciated that it had a sophisticated look, as opposed to the ones that look like doll-size microphones, which we recommend below. And while it can clip onto your shirt, Najjar prefers to hold it. "People tell me all the time I hold it too close to my face or I don't need to hold it at all, but he's my baby, and I need to hold him."
Both Charette and Kang own this Kikkerland microphone. Charette received hers as a gift from her mom before she even had TikTok, and Kang bought hers along with her books for classes one semester. "The mic's audio quality is actually pretty decent for something that cost me less than $15," says Kang. "It has a dual aux port so I can plug in my headphones to listen to what I'm doing as I film, which is great since I like to go back and forth constantly when I film and edit."
Photo: retailer
Cara likes this one because it's quite durable. "My mini-microphone has survived every lick, sniff, and chomp," she says. She just got a new one because after a year and a half of use, the sound started to go, but she was impressed with its longevity for how cheap it is. It's also the only microphone of this style we recommend with noise-cancellation qualities, and it has a 59-inch cord length.
Photo: retailer
Calveiro likes the simplicity of this one. Unlike the ones that Cara, Charette, and Kang use, this one is marketed specifically for using with animals. It has a 57-inch cable, whereas the Kikkerland one is only four and a half inches, and it comes with a stand, too. And in case you're prone to losing things, this is a two-pack.
Photo: retailer
If you don't need two, this single mic, which was recommended by Marz, has the same features and accessories as the option Calveiro uses.
Photo: retailer
For her on-the-street interviews, Hendrix likes this one. It's a bit more professional-looking, like Najjar's favorite, but it has a long cord, which is why Hendrix prefers it. "You can reach a lot of people with this microphone," she says.
The Strategist is designed to surface the most useful, expert recommendations for things to buy across the vast e-commerce landscape. Some of our latest conquests include the best acne treatments, rolling luggage, pillows for side sleepers, natural anxiety remedies, and bath towels. We update links when possible, but note that deals can expire and all prices are subject to change.