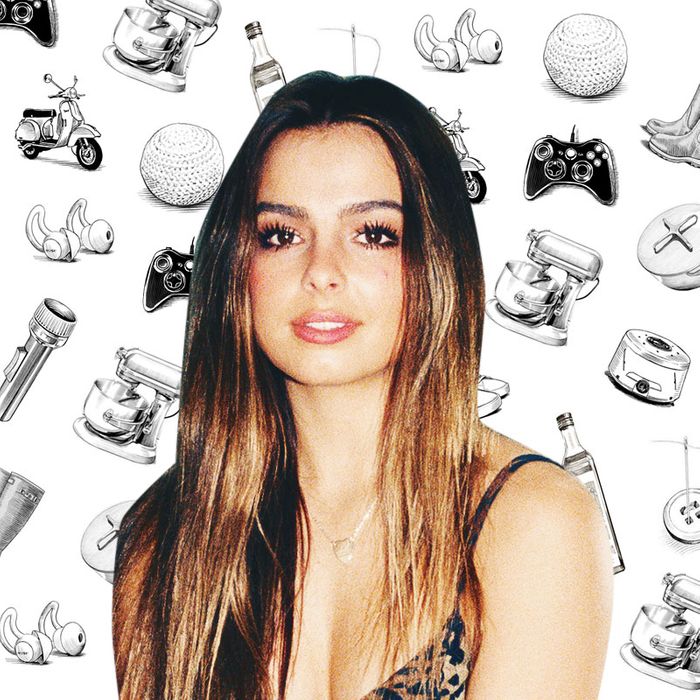 Photo-Illustration: Bryant
If you're like us, you've probably wondered what famous people add to their carts. Not the JAR brooch and Louis XV chair but the hairspray and the electric toothbrush. We asked TikTok star Addison Rae — who, at the time of publication, has more than 55 million followers on the platform and just launched a clean-beauty brand called Item Beauty — about the hair straightener, slippers, and body lotion she can't live without.
I wear these everywhere. I bought them a few months ago, and I've literally worn them every single day since. They're so cute and they're insanely comfortable. I like that they have the band in the back because, first of all, they stay on my foot. Second, I feel like the band almost makes them less of a home slipper and something I can wear casually out of the house. I can't dance in them because they have a little bit of a platform, but other than that, I seriously wear them all the time.
This is my favorite toothpaste. I've used it for so long, ever since I randomly bought it at a Dollar General store while on a trip. I really like the taste of it. I didn't pick it because it has baking soda, I just kind of stumbled on it. Maybe the baking soda is why it really works? I don't know, I just feel like it works the best.
My hair is pretty much in between curly and straight. It naturally has a good, beachy wave. But since I dyed my hair dark, I think it looks really good when it's completely straight. I don't straighten it every day, but probably every other day. I like hair tools that can get really, really hot and this straightener just gets so hot — and it stays hot — which is really good for my hair because it's super thick. It holds pretty well after I straighten it with this.
I have a skin-care routine that I do every morning: It's a moisturizer, a serum, then always a body lotion. This one is really good because it's clean. I always try my best to get clean products. Not all of my products are clean right now, but it's something I'm working towards. This is really light; it's not super thin where you rub it and it feels like nothing went on, but it's not too thick where you feel like there's a whole layer on you. It's right in between: I don't feel it, but I know it's hydrating.