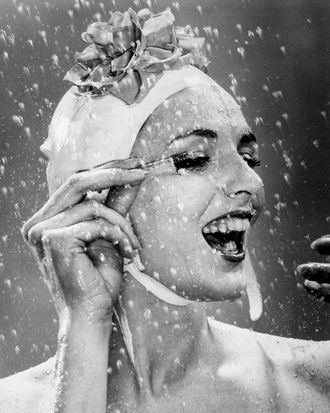 This spring, I went on a deep dive into "clean" mascara, underestimating just how revelatory of a ride it would be. I found that in many "conventional" (i.e., regular) mascaras, there are human carcinogens such as carbon black: a dark powder used as bold pigment that is made from coal tar (which contains heavy metals) and 1,4-dioxane, a toxin used in the manufacturing process of PEGs. It makes your lashes look thick and glossy and therefore runs rampant in many formulas. Most conventional eye products also contain small amounts of mercury as well as other harmful chemicals — formaldehyde and the like — that act as preservatives to keep it from drying out and becoming a hotbed for bacteria. And there's more, including chemicals that mess with your reproductive system and the environment, and chemicals that scientists are still uncovering since "clean" mascara is such a new category in green chemistry. I became so horrified, I went cold turkey. No more mascara for me.
"People often worry less about mascara than, say, a full-body moisturizer, which offers the body much more [chemical] exposure," says the Environmental Working Group's director of Healthy Living Science, Nneka Leiba. "It's okay to make allowances, but we shouldn't fool ourselves into thinking there is no exposure whatsoever. Mascara touches our lids, we then rub our eyes, which increases moisture, absorption …"
After a three-month mascara cleanse, in which I had relied only on my Shu Uemura eyelash curler and a dash of coconut oil (which made my lashes appear dark and glossy), I scoured natural-beauty blogs and talked to industry insiders such as Gay Timmons, a green-beauty consultant and scientist who sits on the board of Credo; Cassandra Grey of the Los Angeles–based beauty site Violet Grey; and the clean makeup artist Sophie Haig, in hopes of finding a mascara that performs and is topically and environmentally safe. Or rather, safer, since "clean isn't definitive, but rather a movement to have cleaner and safer products," says Leiba.
From RMS Beauty's Defining Mascara, which contains pigment-binding beeswax instead of paraffin, which is made from petroleum and often contains adulterants, to Honest Extreme Length Mascara and Primer (one of the only "clean" options that's as affordable as your drugstore favorite), below are nine cleaner mascaras that actually work.
Best overall clean mascara
The Formula: Though not yet in EWG's Skin Deep Database — which is catching up with the fast-growing clean-mascara movement by ranking and assessing brands' ingredient lists according to concerns such as cancer, the environment, developmental and reproductive toxicity, allergies, and immune-toxicity — Juice Beauty's Phyto-Pigments Ultra-Natural Mascara is lauded on many green-beauty sites for its formula that is free of artificial dyes and petroleum byproducts and is, surprisingly, not water-based. "More clean brands are formulating less and less with water since it's such a haven for bacteria, and requires a preservative," says Haig of the potentially hazardous additives.
How it Wears: If you're looking for lengthy, separated, feather-like lashes, this one delivers just that in one coat. For volume — not va-va-voom volume, but extra oomph — you'll need to go back in for a second layer, careful to wiggle the spiral-shaped wand from root to tip. Surprisingly, the natural formula is buildable and doesn't clump or smudge throughout the day. The removal process lives up to the hype, too: Just add water.
Best for glossy lashes
The Formula: RMS Beauty Defining Mascara contains a slew of organic ingredients like beeswax, sunflower oil, and shea butter — a naturally moisturizing combination that makes for a smooth, glossy finish.
How It Wears: Thanks in large part to its thin wand, this product separates each lash with ease and consistency. (If you also want length and volume, try topping it off with the brand's volumizing mascara, which has a dense, medium-bristled brush that helps with curling.) That said, after a full day, the 100% naturally derived formula turned problematic, leaving a bit of wet residue underneath my eyes. Perhaps that's the price one pays for a paraffin-free product, but I'd bet it has more to do with the inclusion of natural scent ingredients such as Limonene and Geraniol, which, though not synthetic, can still act as irritants for those with sensitive skin, and thus lands it at a four on the EWG hazardous scale, causing you to rub your mascara into and around your eyes.
Best for volumizing
The Formula: Gluten-free and plant-based, this volumizing formula is an update to the brand's first offering, which is free of petroleum, paraben, and coal tar. It does contain potassium sorbate, which is made from a naturally occurring antimicrobial compound that acts as a preservative, but, says Haig, "it's not as bad [of an allergen] as perfume or alcohol."
How It Wears: Separated and spider-like long lashes take to the hourglass wand well, though not without some dryness and clumping. That said, it doesn't bleed nearly as easily as its aforementioned counterpart, which was long the primary concern amongst many of the brand's green-beauty enthusiasts. If you rank volume above all, this is the mascara for you.
Best for long-lasting wear
Formula: With a star rating of two on the EWG scale, flagged only for its use of three naturally occurring preservatives, a must with any water-based product, Ilia's Limitless Lash Mascara in After Midnight contains a slew of organic ingredients, from shea butter to carnauba wax, that help to separate, condition and thicken lashes.
How it Wears: Long — in both duration (it lasts all day and has a shelf life of six months) and length of lashes. And while the size of the metallic bottle is par for the course when it comes to mascaras, the dual-sided brush, which features a row of short and dense plastic teeth for thickening at the base followed by a more elongated comb for lengthening, felt surprisingly harsh on my lashes. Still, the result was long, separated lashes that stayed in one place and doesn't require a second coating.
Best waterproof-like formula
The Formula: The under-the-radar Australian skincare brand recently launched stateside with a cosmetics line that also relies on raw, organic ingredients that are COSMOS-certified, which means they meet a strict set of European standards that focus on cruelty-free production and agricultural processes. The brand's Natural Mascara is a 21 percent organic, 98.6 percent naturally derived product that has been dermatologically tested and approved.
How It Wears: The soft, bristly black brush lifts and thickens lashes upon first swipe, but the product itself comes out a bit clumpy and isn't as steadfast when dealing with hidden hairs. Work it in, though, and the result is bold fringe from root to tip that lasts a lot longer than most clean mascaras out there. In fact, it's the closest offering I've found to a waterproof mascara (a test made possible by a crying session on a hot summer's night) — making a removal process one that requires more than just water.
Best for lengthening
The Formula: This two-in-one primer and mascara holds a ranking of three on the EWG scale, again for its inclusion of anti-mercurial preservatives that come with use restrictions in cosmetics, especially around the eye. Still, it touts a formula free of paraben and mineral oil.
How It Wears: This is a two-step process, which is simplified with a thin, miniature priming wand on one end and a short, spiky brush that offers great length and definition that lasts on the other. And while lashes can appear clumpy at first, depending on how many coats you take with the mascara of course, it dries evenly from root to tip. And, considering the multiple layers it requires, it's surprisingly easy to rub off with just water. This is your best bet if you put length — and price — above all.
Best for no-makeup makeup lashes
The Formula: This vegan-friendly, gluten-free mascara is also free from silicon, alcohol, and "fragrance," an umbrella term that allows manufacturers to group together thousands — thousands! — of ingredients, many of them toxic, without any need to disclose them.
How It Wears: The standard wand, straight and medium in length, thick and bristly at the tip, makes lashes appear long and separated for a fanned-out, fluttery look. To get maximized results, the brand recommends no more than three coats while lashes are wet in order to avoid clumping — if you wait until they are dry, like I did, an extra coat likely won't get you far. Overall, this makes for a better daytime rather than nighttime option, simply because of its naturally pretty result. If you're looking for a more volumizing product, and vegan beauty is important to you, try the brand's big-lash mascara.
Best for dark, impactful lashes
The Formula: This paraben-free, PETA-approved vegan brand waited a whopping seven years to bring their mascara to market due to the development of the first organic preservative. The best part? The Wisconsin-based brand's commitment to transparency. With ingredient footnotes that include asterisks for certified organic and certified for both kosher and halal, the recyclable package lists an expiration date — truly a rarity in the personal-care product space.
How It Wears: At first, I found this to be dry, flat, and not thickening at all, though I did get a bold black hue almost immediately, which is impressive considering the brand's pledge to use no synthetic coloring (even if it's topically safe). And because its wide tooth comb allows for easy reapplication, I went back in for a second coat to find that gratifying feeling of BOOM! lashes. It's also worth noting that even though the mascara has yet to be ranked in the EWG database, the brand as a whole falls within the two to three range, and will likely remain there given the founder's commitment to regularly lobbying for the Personal Care Products Safety Act in D.C., which recently found bipartisan support.
Best for defining lashes
The Formula: The gluten-free, [CCPB certified organic formula], which means of its agriculturally derived ingredients, a minimum 99.8% comes from organic farming, is packed with moisturizing jojoba-seed oil and the natural anti-bacterial and antioxidant castor-seed oil.
How It Wears: The silver half-cylinder, small enough to hide in your back pocket let alone a clutch, is sustainable and refillable (a plus since its shelf life is three months), and packs a spiky wand that allows for a precise, smooth delivery. After a coating or two, lashes remain clump-free and upright for hours, but not shockingly so — which is nice when you're going for understated chic. Produced in Italy, this product goes hand-in-hand with other top-performing luxury beauty brands out of Europe (Dior, YSL, Tom Ford) — but without all the stuff (non-biodegradable silicon, toxic triethanolamine, to name just two). The formula has been tried and true for years, and received a low ranking of two on the EWG scale back in 2014.
The Strategist is designed to surface the most useful, expert recommendations for things to buy across the vast e-commerce landscape. Some of our latest conquests include the best acne treatments, rolling luggage, pillows for side sleepers, natural anxiety remedies, and bath towels. We update links when possible, but note that deals can expire and all prices are subject to change.