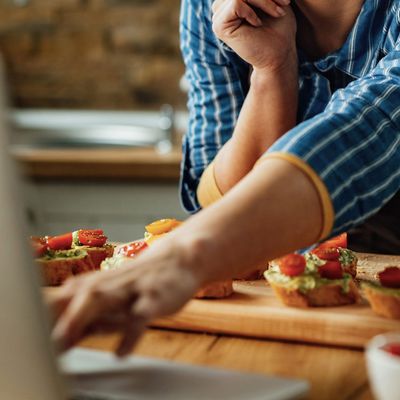 Photo: Courtesy of Sur La Table
Whether you're bored with the four dinners you know how to make or are looking forward to the day you can cook for other people again, after the year we've had, we wouldn't blame you for craving change in your kitchen. Something that could help in either scenario? Signing up for an online cooking class, a category that — like other online classes — has exploded in popularity since many of us started working and (mostly) living at home because of the pandemic. But this desire to take online cooking classes means there are more available than ever before, making it even harder to know which ones are actually worth your time or money or both. To help folks find the best, most effective online cooking classes, we asked eight home cooks, many of whom also work in the food industry, to tell us about any favorites they've taken. (Then, for good measure, we scoured our archives for any others we've written about before.)
Whether folks took classes as part of a date night or as a a way to interact with faraway loved ones, all the people we talked to say their favorite online cooking classes not only help them learn new recipes and skills but also often provide a feeling of community and spontaneity that's been hard to come by over the last several months. "We were physically so far apart, yet we were laughing and talking like old friends as we prepared the same delicious meal," says writer Hayley Barrett of an AirBNB Experiences Indian cooking class she took with her family as a Mother's Day gift. Before we get to the classes themselves, a word about the two kinds of formats we heard about. The most cited type of online cooking class among our people was a live class, which allows you to ask questions as you cook alongside the instructor. But we also heard about prerecorded classes that allow you to rewind and pause as needed. So we've grouped the classes accordingly to make it easier to find the right lesson once you've settled on the type of class you might like. And if you're looking to toe-dip into the world of online cooking classes, we also heard about three options taught over Instagram Live — Black Foodie, Milk Bar founder Christina Tosi's Bake Club, and Ghetto Gastro's Gastronomical Cribs — that you can take without spending a penny (at least on the classes themselves; ingredients are another story).
The best live online cooking classes
Sur La Table has offered a robust program of in-person group cooking classes for years, and when the pandemic changed how most people do most everything, the brand took those classes online, where it now hosts as many as ten a day. It's for this reason we are not listing any one class, but if you're looking for specific ones to try, three of the people we spoke to (one of whom has also taken its in-person classes) say that all of the classes they've taken are excellent, especially given the reasonable $29 per person it charges for most classes.
Cimone Husbands, who took its Sushi Basics class, says you are told what ingredients and cooking tools you'll need well ahead of time and that her class was led by a "very skilled, knowledgeable" instructor who successfully had her making "very tasty" sushi by the end of it. Rick Harding, who works in tech, first signed up for a Thanksgiving for Two class as a "COVID-safe date-night activity" and enjoyed it so much that he enrolled in the company's Two-Day Croissant Series, which, as its name suggests, spans two classes on consecutive days and, because of this extra time, costs $49 per person. Harding agrees that the classes, which are all led over Zoom, are taught by dynamic instructors who are "really good about being excited about what they are teaching and keeping things fun and interesting." Our third Sur La Table student, engineer David Thomas, took one of its Online Date Night classes, during which he cooked "pan-roasted chicken with white-wine herb sauce, brown-butter mashed potatoes, and blistered broccoli." (The Online Date Night series includes a number of other meals to choose from, including steak and surf and turf.) The classes, Thomas notes, are conveniently filmed with two cameras (one is for closeups), and his instructor was "confident, knowledgeable, humorous, and very approachable." That instructor, he adds, also taught him a "mind-blowing" way to dice onions. The two-day croissant course aside, all of Sur La Table's online cooking classes range from 90 to 120 minutes. While Thomas appreciated how his instructor diligently kept to the allotted time, Harding told us that, by sticking to the scheduled time, his instructors moved a bit too quickly for some students at certain points in his classes.
While Harding found the speed of Sur La Table's classes a little fast at times, he says its group format also means it can go a bit slower if there are unprepared students. One solution to both problems would be to take a private class, like this one — the two-hour Indian cooking class that Barrett took via AirBNB Experiences. Its teacher, Neha Gupta, happens to be one of the platform's top ranked instructors, and if you don't want to pay a premium for a private class, she offers group ones, too. "I've made basic Indian dishes before," Barrett says, "but the food we prepared — including rich and spicy chicken do pyaza, saag paneer, and whole wheat parathas — was far more authentic and complex." Ahead of the class, Barrett says she received "an extensive list of ingredients" that were "easy to acquire." During it, the "friendly, patient, and personable" Gupta made the class a joy for her and her family, who all took it on Zoom from separate locations, she adds. Barrett also told us about an unexpected highlight: "At one point, while food simmered away on our various stoves, Neha showed us the view from her kitchen window. She was cooking amidst the snowy Himalayas!"
This Indian cooking class, offered by Los Angeles's Geffen Playhouse (appropriately renamed the Geffen Stayhouse for now) goes a step beyond the kitchen, combining film, performance art, a cooking lesson into one 75-minute experience. According to Emma Morgenstern, the senior producer of the The Sporkful podcast, Bollywood Kitchen host Sri Rao — a cookbook author and filmmaker — "interweaves cooking (the chocolate chai affogato was genius!) with clips from Bollywood films and his own personal story of growing up Indian American in Pennsylvania." While $40 covers admission for one and a digital recipe list, you can opt to pay $95 to receive a box "with spices and various other ingredients" ahead of time, Morgenstern notes. Summing it up, she says it's "part one-man show, part cooking class — and leaves your kitchen smelling amazing."
One critique Thomas has for the higher-production value of Sur La Table's classes is that the finely choreographed process meant sacrificing a bit of that banter and spontaneity that can make any cooking class so enjoyable. For cooks who also like to gab, a class offered by Home Cooking New York might be a better option, according to communications executive Drew Kerr. He took one where "we made risotto and gnocchi" and says you can be as chatty as you like "and ask the instructors things like, 'Is my butter too brown?' or 'Have I rolled my gnocchi out enough?'" Home Cooking New York currently offers a range of both private and group classes, from sushi-making to a lesson on winter soups to what it calls culinary boot camps for kids and adults. Classes are typically 90 minutes (though a couple go as long as two hours) and the organization provides students with a list of necessary ingredients and equipment ahead of time. Kerr adds that, before COVID, he took in-person classes with Home Cooking New York and its online lessons are of the same caliber as those taught IRL.
Perhaps you're looking for a live Italian cooking class taught by an actual Italian. For that, EXAU Olive Oil founder Skyler Mapes recommends the selection of two-hour pasta-making and cooking classes led by Alessandra Lauria. The Sicilian (based in Lisbon) focuses on southern Italian cuisine, which Mapes notes "doesn't usually get as much love as northern Italian pasta dishes." (She says those unfamiliar with the cuisine should check out Lauria's Instagram.) Mapes describes the instructor, who sends students lists of necessary ingredients and equipment ahead of time, as a "fantastic teacher." If your eyes are popping at the price, know that the classes are private and $254 is for a six-person class — the minimum number of people that Lauria will instruct at any time. Mapes adds that Lauria records all of her live classes, so if you forget something in the moment and need to revisit, you can return to the lesson if need be.
Editor's note: The Pasta Queen lists all prices in euros, so the price shown is an approximate conversion in U.S. dollars.
If your palette prefers Spanish cuisine, Dan Pashman, the host of The Sporkful podcast, recommends taking this paella-making class led by chef Tania Lopez. He actually doesn't call it a cooking class, "but more an interactive experience." That's because, in addition to the cooking lesson, you also get "a flamenco concert," according to Pashman, who assures this entertainment does not dilute the lesson's culinary wisdom. "She knows the cuisine inside and out and her passion for the food is contagious," he says of Lopez. Like the Geffen Stayhouse's Indian cooking class, you can pay a lower price of $55 to take the class and receive a list of required ingredients and equipment; or you can pay $120 and get all the ingredients you need — along with a bottle of wine and a paella pan — delivered to your door ahead of the class.
For public and private classes taught by chefs from even more countries, chef Jessica Randhawa, a blogger at The Forked Spoon, recommends the suite of lessons offered by Table Less Traveled, which range from 60 to 90 minutes depending on what you choose. Randhawa says "they're an amazing way to interact with chefs from around the world while being taught to cook like them." Each class costs $65 per person and has an ingredients and equipment list on its sign-up page; if you really like the service, you can sign up for a monthly membership for $55 per month, which gets you one free class a month and a $10 discount on any others you may want to take that same month. Summing it up, Randhawa says the program is the next best thing to traveling overseas and that the recipe she cooked with her sister — a zucchini risotto — also "turned out to be very tasty, or else I wouldn't be recommending it."
The best prerecorded online cooking classes
Photo: Masterclass
As we explained earlier, those who would like the ability to pause, speed up, and rewind their class might prefer a prerecorded one. While none of the folks above mentioned prerecorded online cooking classes, we did hear about several standout ones when we talked to MasterClass students about their favorite classes, so we're resurfacing those recommendations here. (A note that MasterClass charges $180 upfront for a yearlong, all-access pass to every class, but it offers refunds for up to 30 days from your sign-up date if you don't like the programming.) No matter what MasterClass cooking class you take, each comes with ingredient lists and recipes to help you prepare. Tech strategist James Matthews says his favorite class is the one led by barbecue pitmaster Aaron Franklin, who teaches participants to prepare a 12-hour brisket. While the lesson offered great techniques and philosophies that he has since incorporated into his daily cooking, Matthews says its real draw is the "hilarious" Franklin, whom he describes as "the Seth MacFarlane of cooking."
Deloitte consultant Mollie Bowman recommends the Masterclass with Alice Waters, whom she calls "the grandmother of the farm-to-table movement and sustainable cuisine." Bowman describes the experience of "cooking with Waters in her kitchen" as "so soothing and serene," adding that she appreciates how the course's workbooks include detailed recipes that let her try her hand at everything she was watching on screen. (This level of detail was particularly helpful when Bowman needed to play catch-up after becoming "totally engrossed" by a lesson on folding galette dough.)
Photo: Masterclass
Matthews also took James Beard Award–winning chef Thomas Keller's MasterClass. He admits it is a bit "harder to work through" because you're "trying to keep up with a super-skilled chef" but thinks it's perfect for seasoned home cooks who don't want to retrace ground they've already familiar with. It's also a great choice for the cook who likes to get granular, according to Matthews, who tells us that "a whole lesson looked at how to boil asparagus."
Photo: Masterclass
British celebrity chef Gordon Ramsay's MasterClass, says Matthews, is "very Gordon Ramsay" — in other words, it has a little "more pizzazz" than Keller's. That said, he says the instructor is actually far more zen than he can be on television as he takes you behind the scenes of his craft in this class. "There's a lot of Ramsay shaving white truffle and sea urchin, where he talks you through how he's doing it and why he's using those ingredients," says Matthews, who adds that he's used many of the techniques he learned from the class since taking it.
The Strategist is designed to surface the most useful, expert recommendations for things to buy across the vast e-commerce landscape. Some of our latest conquests include the best acne treatments, rolling luggage, pillows for side sleepers, natural anxiety remedies, and bath towels. We update links when possible, but note that deals can expire and all prices are subject to change.