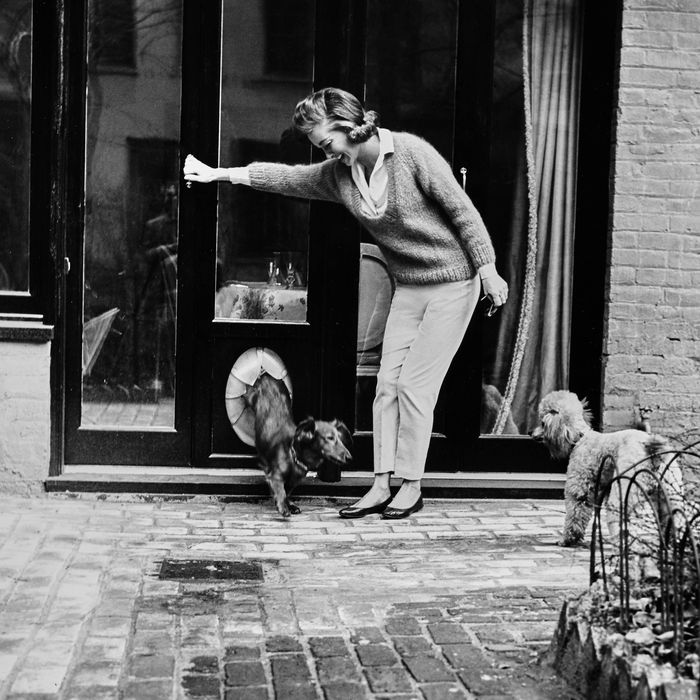 Photo: John Rawlings/Condé Nast via Getty Images
Here at the Strategist, we like to think of ourselves as crazy (in the good way) about the stuff we buy, but as much as we'd like to, we can't try everything. Which is why we have People's Choice, in which we find the best-reviewed products and single out the most convincing. While we've covered the best Halloween costumes, outdoor houses, and accessories for your pets before, here we're going deep on the best pet doors on Amazon. (Note that reviews have been edited for length and clarity.)
Best Pet Door for Sliding Glass Door Installation
"OK … I have to admit … this is the best thing since sliced bread! We have a small and a medium/large dog that like to come and go. They are always asking to go in or out on our back patio with a large sliding glass door. Uggghhh! My bigger, younger dog figured the door out (with the help of treats) in about 2 minutes. My little, older dog is afraid to push doors (bedroom, crate, etc.) but learned to use this door by himself after about two days. We live in a hot climate and I think the door does a pretty good job of keeping the heat out. My husband commented just yesterday that he was so glad we got this door… he is definitely a convert!"
"Two small dogs with small bladders. My life just got SO much easier. I ordered this product so my little dogs could just hit the back yard when needed and we could avoid the many purchases of Nature's Miracle and multiple carpet cleanings each year. Installing things is not my bag, baby. The instructions are a bit vague. I wrestled with this for about an hour before heading over to YouTube out of desperation. I found a few videos and realized what I was doing wrong. The pet door popped right into place once I did it right and my little dogs have been happily enjoying their freedom since. No more accidents in the house. Just awesome!"
Best Pet Door for Wall Installation
"Please note this could be a project for ones not handy with a saw, screwdriver, ruler, and pencil. I found the supplied instructions to be very easy to follow along with, and the included cutout helps a lot. The total install time was less than 3 hours. Pet training was extremely easy. Our dog was using the door herself within 2 hours after install.
One thing I really like about this doggy door is the grey plastic closing door that keeps unwanted critters out of your house. I find this to be a CRITICAL item that is lacking from many other doors in this price range."
Best Pet Door for Screen Installation


"First things first … make sure you understand that this pet door is made to be installed in a screen door with a screen guard in place at the bottom. It does not come with that guard. We chose this design because it strengthens the setup a lot more than if it was simply installed through the lightweight insect screen only. We have two dogs. The bigger of the two is a male schnoodle (mix of schnauzer and poodle). He's roughly 25 pounds. He's about 16" from the floor to the top of his shoulder, and around 7.5" wide across the chest. This door is a great size for him. Our other dog (female) is a little smaller, so she has plenty of room. This door seems well made. The materials are of good quality, and installation was very easy with the included instructions. The door has a flexible, clear plastic flap for the dogs, and also comes with a solid panel that can be slid into place to 'lock' it."
Best Pet Door for Window Installation
"Fits my very narrow window perfectly. The dogs took to it right away and can now go in and out of the house as they please. I'm in a wheelchair and this saves me from always having to transfer myself from my recliner to the wheelchair … Every. Single. Time. They. Wanted. In. Or. Out. Which was ALWAYS. The magnet in it helps to keep the plastic door in place. It's easy to nudge open (for their nose sake) and it 'slaps' back into place. It's a great product for my needs. The security door slides into the slots very easily when it's time for bed or when I leave the house. The window access goes onto a covered porch so I don't know if it would leak water when it rains or snows. It's very snug in the window and isn't going anywhere. My dogs are Chihuahuas and a Beagle. They weigh from 3 to 20 pounds. All of them can nose the door to get through."
The Best Insulated Pet Doors
"The Pet Safe EW is without question the best-insulated pet door I've installed; and I've installed a few. Although I do like the door, it does come with a few drawbacks. It's not a big deal, but the clips it comes with to connect the inner frame break easily. Assembling the frame to install between the two door frames is a bit of a pain. And I'm not crazy about the plastic screws, despite the fact that they do seem to work fine. The flaps on the door are not transparent. This is an issue for my dogs and will take some time for them to get used to. My final gripe is with regards to the cover. While most other doors use a slide, this one uses a snap on cap. It's a bit awkward and too easy to knock off from the outside."
"I own two Australian Shepherds. One is 80 pounds, the other 70 pounds. I live in Northeast PA and have this door mounted in my storm door in my kitchen. I have gone through two single-flap doors in two years. So when I bought this, I was a bit skeptical but wanted to try. This door really held up to the wind. It even survived the blizzard we had in March. Long story short, my dogs run through this door probably 50 times a day, two dogs, that's 100 or more times the flap is used per day. And it still is in good shape 17 months later. I should get one more winter out of it, maybe more. But for the abuse it takes I would buy another in a heartbeat and recommend it to anyone."
"There are a few things you should know about this pet door, both good and bad. The construction is sturdy, and I have no doubt that with reasonable usage this should last many, many decades. Next, be aware that this product includes two plastic flaps that the pet will have to push through. We have multiple dogs and a cat, and our small dog (a Chihuahua) and our cat have trouble pushing through these relatively heavy flaps, even on the extra small version. Regarding sizing: we bought an extra small and an extra large. The extra small is indeed, very small, but a good size for a Chihuahua (no bigger) and a cat. The extra large is way larger than I thought. We have a 150-pound St. Bernard mix, and it's way larger than it needs to be for her. I'd recommend a slightly smaller size in that case. Be aware that a determined human could easily crawl through a door that size, and easily break the thin plastic "locking" panel on the inside. Of course, it would probably take a brave thief to enter a place with evidence of a dog that massive. Installation was very reasonable for anyone who's got a bit of DIY blood in them. I'm very happy with the thermal characteristics of this door."
Best Interior Pet Door


"We bought this to use on my daughter's bedroom door so the cats and dog can enter and exit her room at will during the night and in the morning. Pets range in size from six pounds to 30 pounds. It was easy to install and doesn't look terrible on an interior door. The magnetic closure made a lot of noise, though, when the pets went in and out, so we removed the bottom magnet. The plastic cover to prevent the pets from going out doesn't fit very well. The little cat was able to pry it off with little effort. Luckily, we don't really need to keep them in the room so it's not a big issue for us."
Best Plastic Pet Door


"We're old. We got a puppy anyway. We're amazed we held up to a week of constantly opening the door to let puppy to go potty outside … and then inside. Outside … inside … outside … inside … outside … (you get the picture). So we shopped for doggie doors, and after seeing the glowing reviews of this product, combined with the very reasonable price, we ordered it. Best buy we've made in a long time. Thinking it was going to take the better part of the day to install it, we are pleased to say it took about a half hour. The door comes with tremendous directions for installing. Our lives just got a whole lot easier."
Best Aluminum Pet Door


"I bought this to replace the plastic one I had from the same company. The aluminum is a lot sturdier, and the magnet at the bottom is working a lot better than the old one ever did. It does make a weird sound when the dogs go in and out, as the magnet 'catches'. The clear plastic of the flap seems to attract dirt, and the logo side is smoother and easier to clean than the plain side. A brisk wind will blow in at the edges, where the flap bends, so it isn't weather tight. But it is good enough."
Best Interior Pet Door w/ Flap For Cats


"We installed two of these on interior doors in our house and we love them! We did not have to train our cat to use them, he figured it out by himself. Our cat is a 15-pound American short hair and he fits just fine through them. He particularly likes that the flaps are see-through, as he can sit behind one and stare out at what is going on before deciding to enter the room. We put one on the door from the mud room to the kitchen and one on the door leading down to the basement. We've have them a month so far. Recommend!"
Best Interior Pet Door w/o Flap for Cats


"Awesome, even for scaredy-cats. I have twins babies who will not stop playing with the cat water, food, and litter pan. Now the cats can go in and out of the laundry room as they wish and I can leave the door shut. And I have a cat that is terrified of new things, so a door flap would've been an issue for her, and this model does not have a door flap.
I had my Dad come over and install it. He used a jigsaw and he said it was easy. Package came with a stencil for the cut. It took some coaxing, but the cats started using it the first day. It's so freaking cute to look at, that I didn't mind putting a hole in my door. My fat cat (18 pounds) fits through no problem."
Best Exterior Pet Door For Cats


"This is great for indoor use and even for outdoor areas that are relatively sheltered from weather (rain and wind) and don't need perfect heat efficiency. I installed it in a panel in the window of a garage and kitty loves it. The quality of the plastic lock is kind of poor. For my purposes this doesn't matter much, though, because I almost never lock it, but if you need to use the lock on a daily basis, I would recommend buying a more expensive and better quality pet door, because the lock on this seems likely to break or wear out with daily use."
The Strategist is designed to surface the most useful, expert recommendations for things to buy across the vast e-commerce landscape. Some of our latest conquests include the best acne treatments, rolling luggage, pillows for side sleepers, natural anxiety remedies, and bath towels. We update links when possible, but note that deals can expire and all prices are subject to change.
Every editorial product is independently selected. If you buy something through our links, New York may earn an affiliate commission.