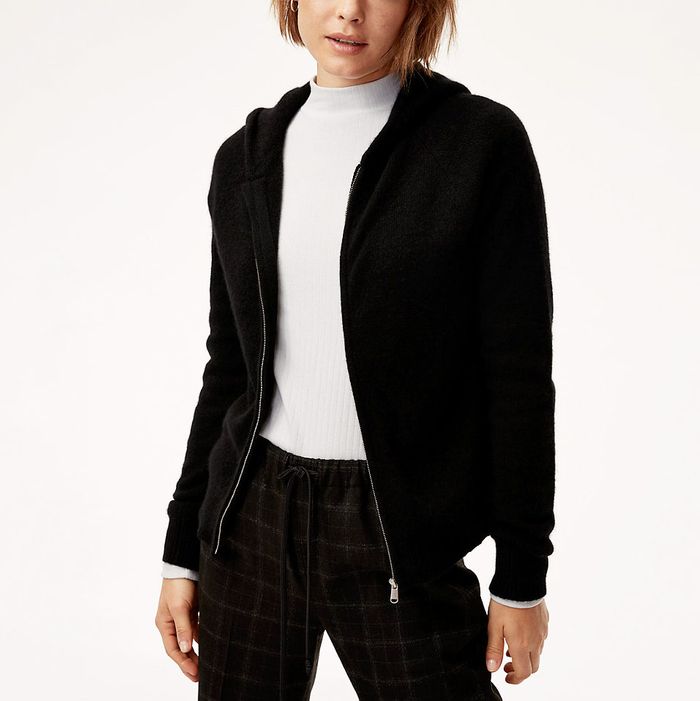 Photo: Courtesy of the retailer.
In our advice column, Ask the Strategist, we take your most burning shopping questions and scour friends, call up experts, and draw from personal experience to answer them. As always, please comment with one of your own — we're here to help.
Question: I'm looking for a cashmere zip hoodie that is not too long and will work for a shorter woman (I'm five-foot-one).
There are few phrases that evoke cozy luxury quite like "cashmere hoodie." An upgrade on your basic zip-up, it's perfect for long flights, lounging around at home, or even battling ice-cold office air-conditioning. But for petite women out there, like you and me (I'm even shorter than you!), this sleek staple can look schlumpy if it's too long or oversize. Your question inspired me to hit the streets and try on a bunch of cashmere hoodies in search of the most petite-friendly.
The winner
Ending right at the waistband of my jeans and not a centimeter lower, this feels like the just-right hoodie of petite dreams. The cashmere is soft and warm and has enough thickness to be your only outer layer on a brisk fall day. It's formfitting with a minimal, polished look. Aritzia caters to petites with sizes going down to XXS, and they actually offer a "long" cashmere hoodie that's more in line with other brands' regular lengths. The only downside? No pockets for keeping your hands warm.
Runners-up
If your hoodie doesn't have to be 100 percent cashmere, and you really like the idea of having pockets, I'd probably go with the Splendid option. It's only 5 percent cashmere (the rest of the blend is made up of rayon, nylon, and polyester), but it's as soft to the touch as the purer options, and it's just the right length. It's a little thinner than the Aritzia hoodie, so not quite as warm, but it'll be fine for wearing indoors or on mild days.
This one narrowly inches into the runners-up category despite two notable flaws. (1) The sleeves are baggy, which could overwhelm a smaller frame, and (2) the thick drawstring of the hood give it a decidedly more casual look than some of the other hoodies (especially in contrasting white), which could be a deal-breaker if you want something you can dress up. However, the extra warm, hefty cashmere makes this one of the comfier options, and it is definitely short — in the same range as the two listed above. If you're looking for a boxy, lounge-centric hoodie, I'd recommend this one.
Honorable mentions
With a hint of wool (it's 95 percent cashmere and 5 percent wool) this is a solidly warm and thick hoodie. The rib-knit details on the hem and sleeves give it a more athletic vibe. Unfortunately, falling at around the midpoint of my back jeans pockets, it's not going to give you that hip-skimming look.