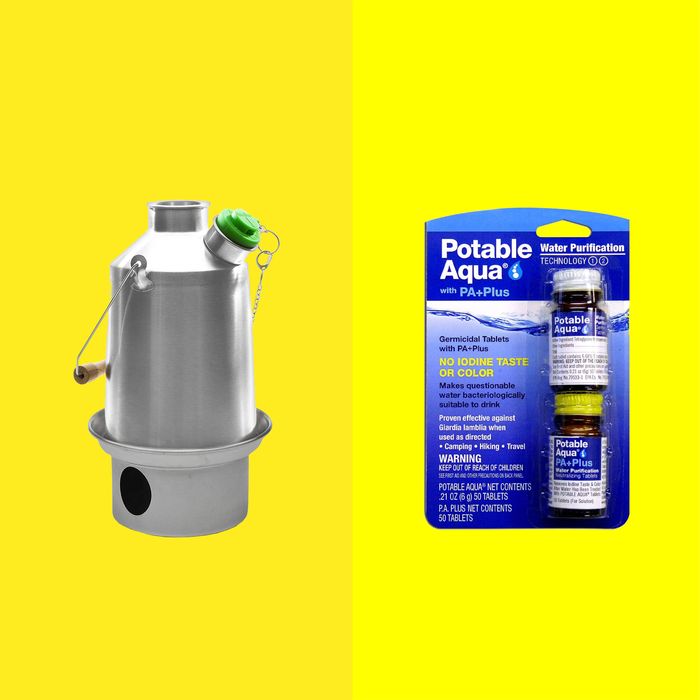 Photo-Illustration: The Strategist; Photos: Retailers
Preppers can argue until the zombies come home about the best ways to survive the apocalypse, but there's one thing on which everyone both in and out of the bush can agree: In the event of a natural disaster, there's nothing more important than having enough water. Humans can survive for only three days without it, so without water, you're sunk.
If you have the space, you should try to have a lot of bottled water on hand. Stephanie Fox of the American Red Cross recommends having "at least a gallon of water per person per day" for three days if you have to evacuate and two weeks if you're stuck at home. "But once that's gone," says former Army Special Operations Captain and survivalist Mykel Hawke, "you need to have a way to resupply." As homesteader and survivalist Morgan Rogue of Rogue Preparedness explains, "The disaster itself is only part of it. We also must consider the aftermath," during which flooding, power outages, broken water lines, and supply-chain interruptions can leave you cut off indefinitely. That's where water purification comes in. There are several ways to do it, but the most practical ones are to boil it, filter it, and purify it with tablets. Most of the experts we talked to recommend some combination of these methods. And just to be clear, we're not talking about a pitcher with a charcoal filter that you fill from the tap — those make your water taste better, but they're useless against viruses, bacteria, and most other harmful contaminants from questionable water sources. We're talking about how to purify water from potentially unsafe sources, so we asked nine experts in the field of survival to recommend the best products to keep you safe and hydrated in a disaster situation.
Best portable water boiler
If you have access to a fireproof container and a fire source, boiling water is a very effective way to remove contaminants. The National Park Service recommends you keep water at a rolling boil for at least a minute if you're below 6,500 feet of elevation and three minutes if you're above 6,500 feet. "You'll need clean water not just for drinking but for dishes, laundry, cleaning, personal hygiene, cooking as well," says Hawke. He suggests you use a "good big pot" in the fireplace (if you have one) or outside over a grill or a portable stove, and he recommends you have backup fire-starting methods like lighters or magnesium bars. For a convenient and portable all-in-one solution, he likes the Kelly Kettle, which is a stove and kettle in one that uses natural fuel (like twigs, grass, or whatever else you find around you) to boil water or rehydrate food in minutes.
Best purification tablets
Another simple and inexpensive way to purify water is with purification tablets. There are two main types: those that use iodine and those that use chlorine dioxide. (Iodine should be avoided by pregnant women and those with shellfish allergies or thyroid conditions.) Both will kill most harmful contaminants in about 40 minutes, but only those made with chlorine dioxide will kill what's called cryptosporidium, a parasite that causes gastrointestinal and respiratory illness, though it will take four hours to do so. And both can leave a somewhat unpleasant aftertaste. Iodine's is said to be worse, but it can be largely alleviated with vitamin C or ascorbic acid tablets, which are sometimes sold with the purification tablets. Thomas Coyne, the owner and lead instructor at the highly respected Thomas Coyne Survival Schools, recommends Aquatabs, which are made from chlorine dioxide. One tablet will purify two quarts of water in about 30 minutes, and they have a five-year shelf life. Rogue likes those as well as the ones from Potable Aqua, iodine-based tablets with a four-year shelf life. The PA+ package has 100 regular tablets and 100 of taste-enhancing tablets, and it treats up to 25 quarts.
Best filters
Filters are another versatile option for water purification, and lots of experts — including John Ramey of the prepper site the Prepared — recommend a combination of tablets and a filter. "Each one does fine on its own, but each has some weak spots, so the one-two punch is the way to go," Ramey says. But if you're only going to have one thing, he adds, go with a filter "because it will treat significantly more water than tablets." A gravity filter uses gravity to do the work and usually consists of a bag you fill with water and hang somewhere, though there are self-contained styles that sit on flat surfaces. They're great if your water source is deep enough to allow for easy scooping into a bag, but if you're gathering water from, say, a shallow stream, you'll have an easier time using a pump filter. Straw-style filters are great for individual use and are light and easy to carry with you. The most popular gravity filter is the Berkey, which can sit on a flat surface and is beloved by many of our experts including Rogue, Lisa Bedford, (a.k.a. "the Survival Mom"), and the popular YouTuber who goes by Prepper Potpourri. It costs a bit, but the fact that it can filter 6,000 gallons of water before you need to replace the filter makes devotees say it's well worth it.
Nettie David of Preppers Survive recommends this one-gallon gravity bag that removes lead, parasites, bacteria, and chemicals and can be used with a straw, a plastic bottle, or in-line hydration bladders.
The Survival Mom uses and recommends a similar yet even smaller and less expensive option called the Sawyer Mini, which doesn't require gravity. It consists of a small filter that can be attached to the included pouch or your own water receptacle (like a plastic bottle) and sipped through the provided straw.
The LifeStraw and the O-Pen, two of Hawke's favorites, are as sleek and simple as they come. Although he recommends you use them in conjunction with a transportable water source like a canteen or a bottle, both allow you to essentially sip directly from a body of water like a stream or river. The LifeStraw can filter up to 1,000 gallons of water and even filters out microplastics down to one micron. The O-Pen looks like a pen and weighs just over an ounce. It uses ozone gas and can filter 16 ounces of water in under a minute. Its rechargeable battery can filter about 25 liters per charge.
The Strategist is designed to surface the most useful, expert recommendations for things to buy across the vast e-commerce landscape. Some of our latest conquests include the best acne treatments, rolling luggage, pillows for side sleepers, natural anxiety remedies, and bath towels. We update links when possible, but note that deals can expire and all prices are subject to change.