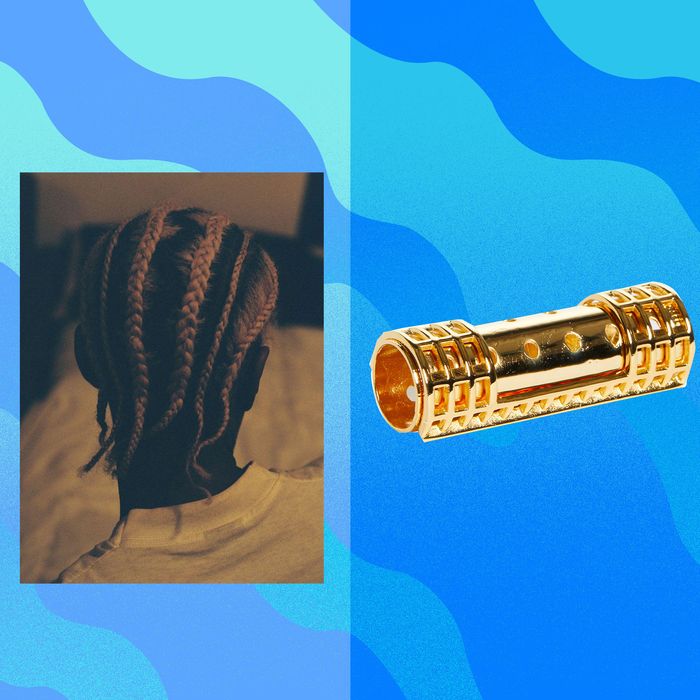 While Black hair is art, Black hair has also inspired all sorts of other works of art, from barbershop paintings to giant barrette sculptures to gorgeous coffee-table books. To uncover the best of the best out there, we reached out to the coolest artists, curators, and store owners we know to learn about some of their favorite pieces of Black hair art. Ahead, 20 prints, books, objects, and museum experiences all about Black hair.
Prints
Shani Crowe's work was mentioned by several cool people we talked to. Crowe is a skilled braider and artist who often blends the two in her photography. This particular print, which features three women connected by a single braid, comes recommended by Kiyannah Stewart and Jannah Handy of Blk Mkt Vintage. "We appreciate her expression on so many levels — the visual beauty, the photographic composition, and, most of all, the sheer technical skill it takes to be a hair-braider and stylist of that magnitude and imagination," they say. "As two Black women, we have personally demonstrated our creativity through our hair and are affirmed and encouraged by the ways she takes the medium to a whole other level." This is one of several prints available from Crowe's collection titled "BRAIDS." Handy and Stewart own another print from the collection called "Sankofa" and have it framed in their bedroom.
Marcella D. Zigbuo Camara, the founding curator of "Young, Gifted, and Broke," a pop-up art exhibition and creative consultancy uplifting Black and POC artists and creatives, also recommends work by Crowe. Camara first became familiar with Crowe from her work with Solange. (Crowe is the hairstylist — nay, artist — who created Solange's braided halo look from her 2016 Saturday Night Live performance.) "R Baby G" is from Crowe's "Red, Black, and Green" series, which celebrates the Pan-African flag. This limited-edition poster was released in October and features a pregnant woman with beaded braids in the colors of the flag.
Photo: retailer
"'Hair Stories Untold' is one of my favorite works about Black women's hair practices and traditions," says Stewart. This series by Nakeya Brown features different ways Black women take care of their hair at home, whether that be deep conditioning, dipping a fresh set of box braids into boiling water, or straightening their hair with a hot comb on the stove. Stewart actually went to college with Brown and says, "It's been incredible to witness her center the most intimate and mundane of Black hair culture in her work." Stewart has the original print of the photo capturing a hot comb, stove, and oven mitt from this series hanging in her kitchen "as part of a collage wall dedicated to beauty, community, and food."
Photo: retailer
Photographer Cary Fagan turns his work into puzzles and prints and sells them through his store, Timeless Goods. "I became familiar with him because he does a lot of creative direction and other set design and photography for Solange," says Camara. "I like this print specifically because she just looks like a regular Black girl. This could be my cousin, this could be me, this could be something that I wear to go to the farmers' market or the grocery store." Camara also likes that the model is dark-skinned. "As a dark-skinned Black person with natural hair, I appreciate being able to see myself in the work, whether that person has dark skin, has natural hair, is plus-size, has different skin textures," she says. "I just think that's important."
Camara recently purchased this print, which she explains is rooted in the West African tradition of hand-painted advertisements. "A lot of folks didn't have access to huge printing presses back in the day to make a sign we might have had here in the '70s or '80s or '90s, so people just painted it," she says. "And even though now they have access to all those things, that tradition still holds and people will still get these really unique paintings to advertise the braid or a hair shop." This Etsy shop takes that concept and fuses it with famous quotes; this one is from musician Fela Kuti.
Camara "loves prints you won't find anywhere else," and says this one is particularly hard to find. It's a print of jazz musician Luis Gasca's For Those Who Chant album cover and would make a fine addition in any music lover's home. Camara says the LP and album cover are just as hard to find. She didn't know much about the artist before stumbling across this poster last summer, she adds, but was drawn to it nonetheless. "This specific print is really stirring and really beautiful," she says. "I love the colors, and this woman, and I think that it's just a really interesting print. It reminds me of Afro-Latino musicians in the '60s and '70s, like La Lupe and Santana."
Books
Photo: retailer
Coffee-table books are another way to bring art into your home, and according to our experts, this monograph is essential. "As an image maker and collagist who centers Black women's hair and beauty, Lorna created this fabulous collection of work where the representations of hair are wondrous, awe-inspiring, and otherworldly," says Stewart. She explains that Simpson uses vintage Jet and Ebony magazines as source material to adorn the heads of Black women; she also uses color and geological formations from textbooks to create reimagined portraits of Black hair. Camara is also a fan. "I always say, if you're going to get into collecting coffee-table books or monographs about Black art, you should totally get Lorna Simpson's book," she says. She appreciates that it's affordable and says that even though it's just three years old — the book was published in 2018 — it's already a timeless classic.
Photo: retailer
If you're looking for an even more modern piece of Lorna Simpson history, Camara suggests framing your January/February 2021 issue of Essence magazine. The cover features Rihanna with her hair reimagined by Simpson in a similar fashion to the portraits in her book. "It was really powerful to me that this concept was used for Essence," Camara says. "A lot of people, even Black artists and Black creatives, save their best ideas for Vogue and Vanity Fair. Essence is a mainstream magazine, but we know how people look at Black publications, so I thought it was really beautiful that Rihanna and Lorna chose to work together, and that they chose to work together for Essence. That was just really iconic." She adds that in 30 years, we'll all be trying to buy it on eBay — so if you already own it, hold on to it.
Photo: retailer
Next on Camara's list of essential monographs is Ever Young by James Barnor, which is one of the titles she purchased for a Black art book lending library she's building for "Young, Gifted, and Broke." Barnor is a Ghanaian photographer who captures Black life throughout the diaspora during different periods of transition in society. There are photos of Ghana post-revolution and images of immigrants who've traveled from the West Indies and Africa to England, but she particularly likes how these images also serve as a reference for the style at the time. "It really shows Black hair in all of its glory," she says. "It shows women wearing wigs, their natural hair, and women with straightened hair. I think it's interesting because it shows Black women and other Black people transitioning into Eurocentric society, but also still trying to maintain their cultural identity."
Photographer and model Sandrine Somé says there are plenty of Black hair art and artifacts to source from wä dé, a store curated by Esther Hien. "She makes it her mission to source old magazines, books, and artifacts that speak to our African heritage, with many of these items having an emphasis on hair," Somé says. "There's a couple of amazing books and Afro picks available at the moment." This book by Jean-Marie Lerat will tell you everything you want to know about West African hairstyles. It is in French, but even if you don't speak the language, the images are beautiful to look at.
Photo: retailer
Somé also likes this book of photos and essays from Burkina Faso photographer Sanlé Sory. It captures the jazz music scene and life post-liberation in the city of Bobo-Dioulasso. "This book gives an amazing glimpse into West African culture, fashion, and hairstyles in the '70s and '80s," she says.