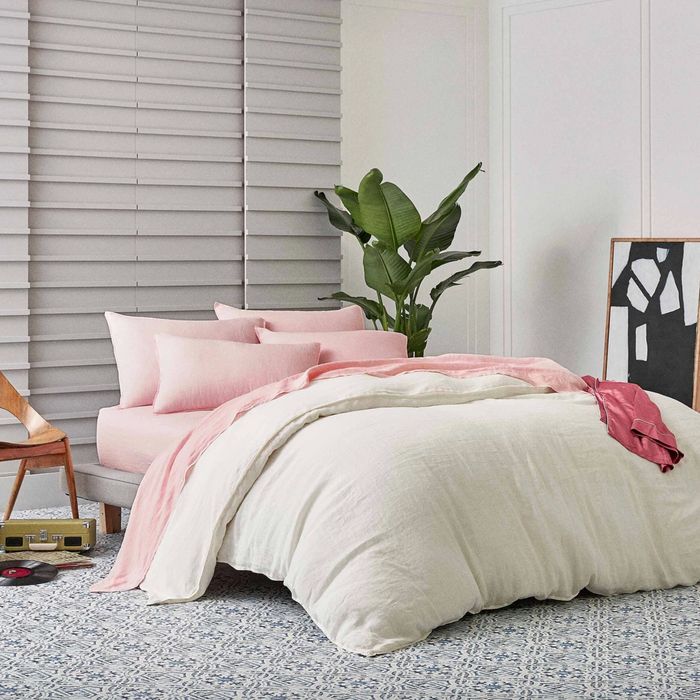 We write about a lot of sheets — surprisingly luxe jersey sheets, cotton ones to keep you cool, dupes for hotel-quality sheets, and linen sheets worth the price — yet we always come back to Brooklinen, a longtime Strategist-favorite brand. Back in 2017, their sheets won over one originally skeptical former Strategist writer, who eventually dubbed them the best affordable linen bedding because of how soft and lightweight they are. We've since written about their just-as-good duvet covers, too. And now they decided to get in on the Prime Day excitement with their very own sitewide sale. Today and tomorrow, you can take 15 percent off almost everything at Brooklinen, with no minimum needed to check out. So if you're in the market for some new bedding — or robes and loungewear or towels — we put some of our all-time favorite pieces from Brooklinen on sale, below.
These were the original sheets that took former writer Lauren Levy by surprise the first time she tried them. They definitely have texture "in a way that you wouldn't with ultrasmooth percale and Egyptian cotton," but they're still incredibly soft — so much so we listed them as our best soft linen sheets. They give an "immediately worn-in feel that only gets softer over time and with each wash."
Their classic percale sheets are their most affordable option. And while they're a touch more basic than, say, their linen sheets, they still promise to keep any hot sleeper nice and cool.
But if you tend to run cold, their heathered cashmere might be a better choice. They're mostly cotton with only 5 percent cashmere, but they promise to be breathable and extremely soft.
Another linen pick to keep you cool. And it comes in ten different colors for whatever your vibe is.
Interior designers love this duvet cover, with one calling it a "great, easy, and comfy staple" for any kind of sleeper.
If you'd like a cozy down comforter without overheating, Brooklinen created theirs to be ultra-lightweight and breathable.
Because they have a tendency to sell out, we recommend jumping on this quilt deal quickly. You can even get a matching pillow to complete your bed setup.