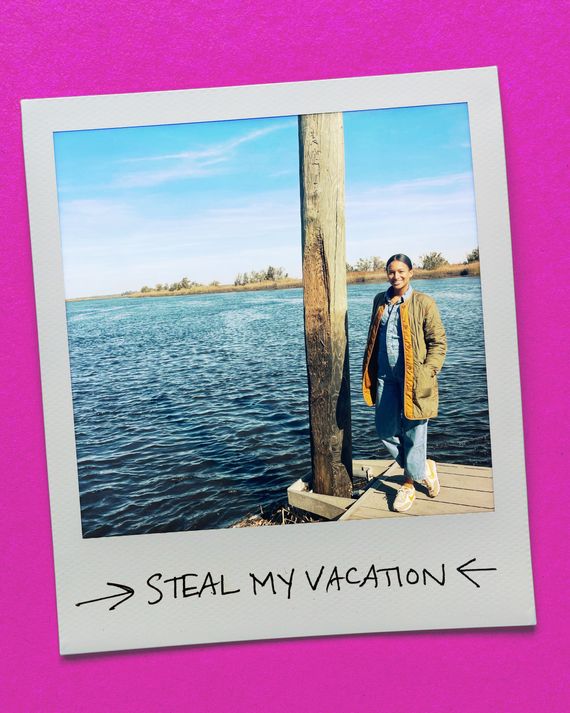 Photo-Illustration: Courtesy of Shanika Hillocks
Everyone knows that person who spends weeks sniffing around travel blogs, going deep into Tripadvisor rabbit holes, collecting Google docs from friends of friends, and creating A Beautiful Mind–style spreadsheets to come up with the best vacations/itineraries possible. In this recurring series, we find those people who've done all the work for you and have them walk us through a particularly wonderful, especially well-thought-out vacation they took that you can actually steal.
Shanika Hillocks usually spends Thanksgiving in New Jersey, but this year her family relocated its holiday gathering to Myrtle Beach, South Carolina. The switch-up created the perfect opportunity for a trip the New York–based brand strategist had been thinking about for a while: a weekend in the Charleston area to sample the city's food scene and learn more about the history of the Gullah Geechee people who have lived in the coastal South for generations. It was a no-brainer. So with a friend onboard and a long list of menus to check out, Hillocks planned a late-November trip. Here, she shares her favorite crab-rangoon dip, French brasserie, and roadside garlic shrimp.
12 p.m. First, eat lunch at a tucked-away French restaurant
The Airbnb my family stayed in for Thanksgiving was super-close to the very small Myrtle Beach airport where all the rental cars were, so I had one of my cousins drop me off at the airport. I grabbed a car from Avis and then took the hour-and-change drive from Myrtle Beach to the Charleston airport and picked up my friend Elisa. Once I picked her up, we immediately started eating. We went to get lunch at this French spot, Chez Nous (6 Payne Ct.), which was a bit outside of the city square proper where a lot of the prominent hotels and restaurants are. It's in a little house, and it has a really beautiful handwritten menu with just a couple of items per service. It's very French. There's beautiful butter, simple fish, delicious greens, and niçoise salads. Wood, a small simple bar, and a beautiful outdoor space that was decorated with greenery.
3 p.m. Check in to the hotel
After the restaurant, we kicked around a little bit and checked in early at our hotel. We stayed at the Emeline (from $329) downtown. I chose this hotel for a few reasons: It's super-walkable and has a restaurant and coffee shop on-site; there's a courtyard you can sit out at, which is really lovely, and there's a gym. It's very modern without being plantation style, which I don't like. There was a cute record player in the room and a really nice common seating area.
5 p.m. Head to a poolside happy hour
We ended up going to a hotel bar called Little Palm (237 Meeting St.), which is inside the Ryder Hotel near its pool. It's from the same people behind Death & Co in New York. It's retro in a way and reminded me of a swim club. It has these beautiful pink-and-green lamps with fringe and pink upholstered bar seats and green tiles. We got bites and drinks to toast our first evening. Our cocktails were really delicious and fun. Elisa got one that was made with ube, a purple yam, and I got a classic daiquiri.
7 p.m. Get an impromptu white-tablecloth seafood dinner
Afterward, we went to Hank's Seafood Restaurant (10 Hayne St.). I didn't have this one on the list I compiled of places to go; we just found it intuitively, and it's across the street from the hotel. You walk in and it's all wood, and the guys have white T-shirts on with black vests. There are white tablecloths and clunky, masculine furniture. It's a typical old-school restaurant, but the experience was really nice. We got oysters and shrimp. We also indulged in delicious bread because they don't do bread service, really, in New York. It was great. Afterward, we went to the hotel courtyard to digest and sit by the fire. It's a really nice fireplace.
7 a.m. Wake up early for the drive to St. Helena Island
Coming to Charleston, I knew I wanted to check out the Gullah Geechee community — descendents of Africans who were enslaved on rice, indigo, and Sea Island cotton plantations — so I cold-emailed BJ Dennis, a Charleston-based chef who's part of the Gullah community. He always gets mentioned in association with the South Carolina food scene, and he appeared in the Netflix documentary High on the Hog, which traces the origins of African American food. We have mutual friends, so I sent him an email a month before my visit and told him I was coming into town with a girlfriend. We told him we'd love to drive out to St. Helena Island, about an hour and a half outside of Charleston and where the Penn Center is located, and asked for some recommendations. He gave us some and agreed to meet us. (He does formal events with the Gullah Geechee community, but this was much more informal.) He also recommended some quintessential southern spots we should go check out, and one of those places was Fuel Zone (5981 Savannah Hwy.) — an inconspicuous gas station that's en route to the island. The gas station having good food is a southern thing. In New Orleans, some of the best fried chicken I've had was at the gas station. Chef BJ recommended Fuel Zone to us because it has a good quick breakfast. He recommended the fish and grits and the South Carolina pudding, a local delicacy similar to blood pudding. We got the fish and grits and ate it on the tailgate of the car.
10 a.m. Take a moment by the Combahee River
On the way to St. Helena, we stopped by the Combahee River, where Harriet Tubman helped enslaved people cross. If you're not paying attention, you can kind of miss it; it's just like a sign on the street. We pulled over and parked the car. There's a little bridge that goes halfway into the water and stops. It's really nice. There's an energy there. I had a similar feeling when I went to the National Museum of African American History and Culture in D.C. I like to sit in that silence and pay respect and imagine what that could have been like.
12 p.m. Eat a traditional Gullah Geechee lunch in the sun
We arrived at the Penn Center (16 Penn Center Cir. E), which was the first school for newly freed enslaved people in the United States. When you drive out there, you notice it's a bit separate from things. It was one of the few safe places in the South during that time. Now it's a cultural center, and there's a shop where a lot of artisans from the Gullah Geechee community sell their work. The Penn Center has a museum of photos that showcase the school's history as well as artifacts, tools, and items from when the Gullah Geechee people occupied the space.
BJ met us there, and he brought a spread of food from his home made with Gullah Geechee ingredients. It was mostly plant based, but some of the food included shrimp and turkey because it was right after Thanksgiving. There was perloo, which is rice mixed up with those ingredients. He brought us kumquats, which were in season, okra, and benne seed, which is like a sesame seed but with a more elevated flavor. We ate on paper plates outside. It was so delicious. If we hadn't had lunch with BJ, we would have gone to one of BJ's recommendations: Gullah Grub (877 Sea Island Pkwy.), owned by another Gullah Geechee chef, Bill Green. People come from all over to eat his food.
1 p.m. See the praise houses
BJ showed us around the island. We saw these little structures called praise houses, where newly freed people would gather. They're smaller than a one-room schoolhouse. You could fit maybe six rows of church pews in the space. I read that this was done purposely because they didn't want the masters thinking they were trying to plan large events or movements. It was a solace and a refuge. People didn't call the police or the authorities; they fixed and solved their problems accordingly within the community. We went to two praise houses, which had no driveways or kept landscapes. Anyone can visit, but you can't go inside because they're unoccupied. We just followed BJ, but if you wanted to find one on your own, you can go to a website called Explore Beaufort. It has addresses for two of them: Coffin Point Community Praise House (57 Coffin Point Rd.) and Mary Jenkins Community Praise House
(355 Eddings Point Rd.).
3 p.m. Make a Nickelodeon-inspired pit stop
Because of the Nickelodeon show Gullah Gullah Island, we also went to a small local fish shop, Bradley's Seafood (1452 Sea Island Pkwy.), which was featured on the show. BJ wanted to show us how Gullah Geechee people have owned businesses generationally. They're very much still active in the fishery community. You can get fresh shark and fresh fish and all that. BJ recommended that we stop at a prominent Black-owned seafood shop, Ravenel's (5925 Savannah Hwy.), on our drive back to Charleston. It's in Ravenel, about halfway back to the hotel. It was honestly the best seafood I've ever had. I got soft-shell crab, garlic shrimp, and garlic crab. It's counter service, so we ordered and then ate it outside on the benches.
5 p.m. Swing by a wine shop–slash–bar
As we headed back to Charleston proper, I went to visit my friend Femi who went to college in Charleston and now owns a wine shop–slash–bar called Graft (700b King St.). He was in the music industry previously, and when you walk in, you see the paraphernalia of his past life, like record covers in the bathroom and all along the walls.
You can grab wine from the cooler, and there's a beautiful bar where you can drink any of the wines you purchase. Elisa got an orange wine, and I got Champagne. Graft also does weekly pop-ups in its outside parking-lot space with various businesses. It's every Monday, and there's pizza. It's almost like a block party.
8 p.m. Catch a live band
Femi recommended we check out Bar Mash (701 E Bay St.) for live music. It reminded me of a feel-good bar you'd find in a small college town. It was sepia-toned almost. Lots of friends together wearing flannel. The band onstage was a motley, diverse crew playing a mix of soul and rock and roll. It was dope, and their voices were great.
10 a.m. Take a self-initiated walking tour
Tuesday was our last full day, so we decided to walk through the city. First, I took the car back to an Avis location in town. We started by checking out the streets neighboring the hotel. Elisa has an interior-design background, so she was able to point out cool architectural features like Charleston single houses, which seem to be a single-room wide when viewed from the street. It's not railroad, because that's very New York, but they have these wraparound porches and big pillars.
6 p.m. Find the best oysters in Charleston
Elisa and I were trying to find the best Charleston oysters, so we went to the Darling Oyster Bar (513 King St.), a quintessential classic oyster bar — super-vintage, lots of navy blue and big seafood towers. Then we went to 167 Raw (193 King St.), which has another location in Nantucket. It was one of my favorite restaurants of the trip. The décor was beautiful. Blue tile and a lovely outdoor space, the best I experienced while I was here. It has tons of fresh seafood. One of my best bites of the trip was the crab dip. It changes often. This time, it was a crab-rangoon dip, and instead of crackers or bread, it was served on roti. There were seasonal vegetables, a really great ceviche, and an awesome crudo. The fish tacos are amazing.
8 p.m. Enjoy a night in at the hotel
That evening, we had cocktails at the Emeline bar, part of the hotel's sister restaurant, Frannie & the Fox. It serves Italian and has a wood-fired oven. It felt like the kind of hotel you'd want to be at even if you weren't a guest. In the daytime, a lot of light comes in, but at night, it feels almost like a lounge. There's a lot of wood and lush, upholstered hunter green. I had a riff on the daiquiri made with mezcal. Elisa doesn't drink a lot, so she got a tea, and we ended up drinking both by the fireplace. We didn't turn up too crazy because we didn't want to be hungover on our flights.
9 a.m. Drink a matcha, order more crab dip, and head to the airport
The next morning, we packed everything up and grabbed coffee from the on-site coffee shop. We got matcha and pastries. The croissants are really good. We dropped our luggage at the front, then did a little more walking around. After that, we popped into 167 Raw again and reordered the crab dip. It was that good. Then we grabbed an Uber and headed to the airport. It was really seamless — just 20 minutes from the hotel.
Shanika's
Charleston
packing
list
Probiotics
I describe myself as a flexitarian but am primarily plant-focused at home. I take Seed daily to keep my digestive system aligned. Nothing ruins a trip more than stomach issues, and Seed provides gut ease from indulgent meals with heavy cream, butter, cheese, and raw seafood.
A light jacket
South Carolina is cooler in the fall months, so having a light, stylish jacket that fits easily in my carry-on and pairs well with denim or dresses is key. I packed this reversible jacket (currently sold out), but this similar style is a versatile substitute.
USB cord
I rented a car from Myrtle Beach and enjoyed the short drive to Charleston while catching up on true-crime podcasts. You'll also need a vehicle to make it out to St. Helena Island from Charleston. One thing that stays on my person during travel is a reliable USB cord. This one, from Native, is reinforced by nylon, stays neatly packed thanks to the leather strap, and is a decent length to pass over to fellow passengers who may be guest DJ-ing or in need of a charge in the car.
Analog camera
Recently, I've enjoyed the analog approach to taking photos on this disposable film camera. The digital development option includes a prepaid shipping label, and your photos are sent back via email in less than a week.
[Editor's note: Manual's disposable cameras are currently sold out, but you can purchase its film-development program and submit 35mm color, 35mm B+W, 120mm color, or 120mm B+W film from any brand. If you have a question about a specific film type, contact the company before placing an order.]
The Strategist is designed to surface the most useful, expert recommendations for things to buy across the vast e-commerce landscape. Some of our latest conquests include the best acne treatments, rolling luggage, pillows for side sleepers, natural anxiety remedies, and bath towels. We update links when possible, but note that deals can expire and all prices are subject to change.