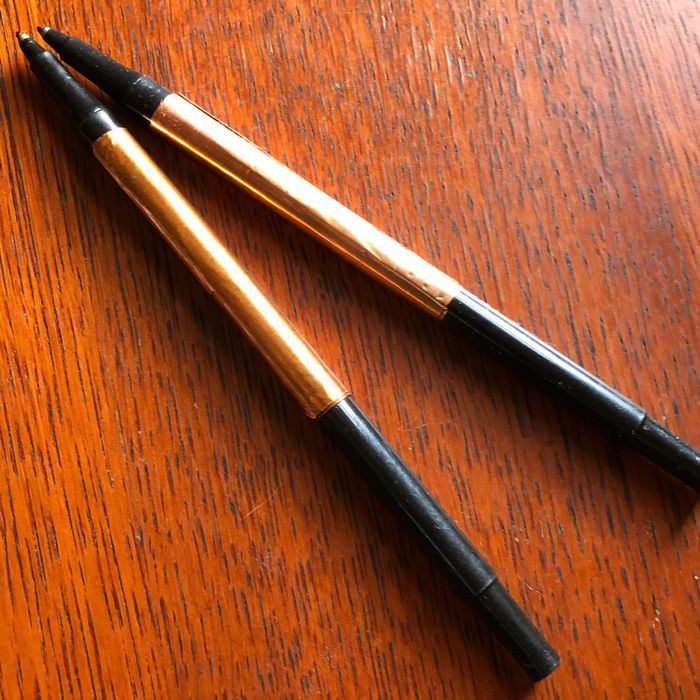 I have a variety of neuroses, but germophobia is not one of them. A freewheeling rail-grasper, I moved through life with nary a care about surfaces — until the pandemic, when I started wiping down everything from my countertops to my bananas. And though we've since learned that the coronavirus spreads mostly from close, person-to-person contact, I doubt there's anyone who wouldn't perk up at the prospect of self-sanitizing surfaces these days.
Copper looks to be that surface. In April, a study published in The New England Journal of Medicine showed that copper eradicated the coronavirus after four hours, as opposed to stainless steel and plastic, where it can live for days. Shortly thereafter, a Canadian company called CuGrip ("Cu" being the symbol for copper of the periodic table) began offering affordable 99 percent copper adhesive wraps for high-touch surfaces like door handles and light switches, so I asked the company to send me some to see how they held up in the field (in other words, my house).
Without a powerful microscope and a science degree, I wouldn't be able to see all this killing in action, so I asked Michael Schmidt, microbiologist and immunologist at the Medical University of South Carolina, who was one of the authors of a study on the infection-reducing power of copper surfaces in hospitals, to explain how it works: "Copper's mission in life is to move electrons," he says. "And when it encounters oxygen, it'll give the oxygen another electron, effectively creating mini-lightning at that surface. It literally blows the virus to smithereens."
But what if — and this is not as likely at my house as it is at, say, Buffalo Wild Wings — that door handle gets used more than once every four hours? "This is where it gets squirrelly," says Schmidt, explaining that "it takes a large number of viruses to infect you with COVID-19, so it's not about how much time, it's really about how much snot." So even though it "won't inactivate [your snot-smeared surfaces instantly], copper is continuously active and will work to control the concentration 24/7 without a need for human intervention. The bottom line," he says, "is that it works."
That was more than enough for me. When my CuGrips arrived, I was immediately struck by how, well, chic they looked. But while they were easy on the eye, they weren't so easy to put on. To expose the sticky side, I had to remove a backing that lacks what I guess you'd call a "starter corner." I tend to have a hard time with any confounding barrier that keeps me from getting at my stuff, so even though my husband was able to remove the backing immediately while barely looking, I was not. Another issue that could also be seen as a personal failing is that CuGrips come only in shapes that favor contemporary fixtures, not the ones I have, which peaked in the '70s. Still, I remained optimistic.
I put the door wrap on my front gate, which it didn't totally fit, but you can't expect a self-adhesive copper wrap to fit perfectly on every high-touch surface. I also received eight small stickers that said they were for light switches, so I spent some time wondering whether I was supposed to use them on the bottom to turn the light on, or on the top to turn the light off, or both, and if that were the case, why wouldn't they just come as one long piece? I'm just now realizing they're probably meant to wrap around just the tip of the light switch, but ultimately it didn't matter because they didn't fit. Maybe light switches are wider in Canada.
One fixture I was sure would lend itself perfectly to a state-of-the-art high-touch-surface wrap was my stainless-steel refrigerator. At only three years old, it was made for future technology like this. But the handle was too thick, and each time I grasped it, my fingers met with and lingered on the uncovered portion in the back, especially when the exposed edges started to curl. But I wasn't too bothered, since the wraps I was actually most excited about were the pen ones. I'm still in the quaint habit of using pens to write things down, and my two beloved circa '14 Paper Mate black fine points were aching for copper. I wrapped them up, and after about a week, the way my fingers landed on the (slightly curling) seams hardly vexed me at all.
Those seams, CuGrip pointed out, where the result of my getting an early version of the grip kit. Now when you buy any of these covers, they come with a hard-plastic spatula-looking thing to help you push down the edges and get out any bubbles. But you don't really need it. After I rubbed my two copper-covered pens against each other for a few seconds, the seams got perfectly smooth, and they've stayed down ever since.
With the kinks literally ironed out, it became clear to me that there's no reason not to put CuGrips on every high-touch surface out there. They work well enough, look good enough, and cost little enough to deserve a place at the table (or railing, door handle, light switch, shopping cart, etc.). When and if I do return to the world, I'll feel a lot safer every time I see that glint of copper.
A few other bacteria- and germ-fighting copper products
The Strategist is designed to surface the most useful, expert recommendations for things to buy across the vast e-commerce landscape. Some of our latest conquests include the best acne treatments, rolling luggage, pillows for side sleepers, natural anxiety remedies, and bath towels. We update links when possible, but note that deals can expire and all prices are subject to change.