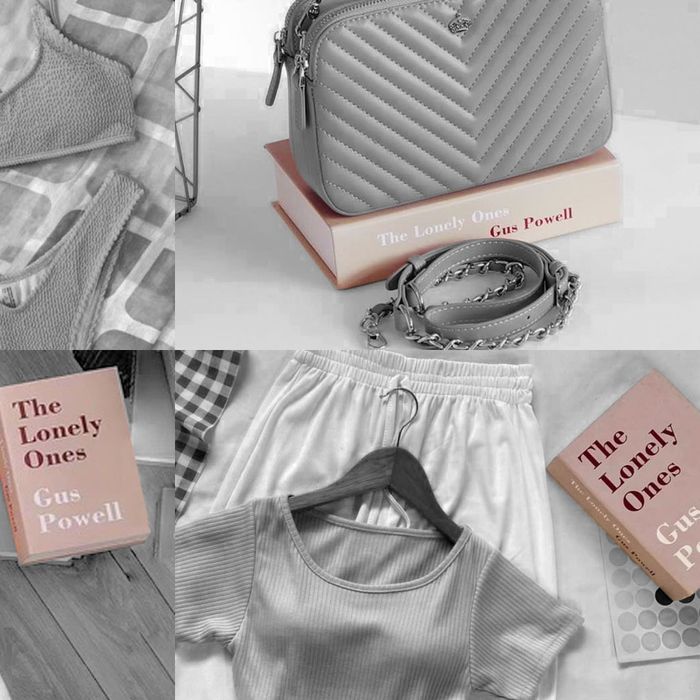 Photo-Illustration: The Strategist. Photos: Keep Bag; Pssnshop-Live; Courtesy of Gus Powell
In August 2020, the photographer Gus Powell received an Instagram message with a picture of what appeared to be his book The Lonely Ones sitting on a shelf in a coffee shop in Seoul. Only it wasn't a copy of the book, which Powell first published in 2015 through J&L Books — it was a cardboard box designed to mimic the book's cover. "What is this? Is it the book's avatar?" Powell wrote to @noloosies, the user who posted it. "I think it's kind of interior props," they wrote back.
Curiosity piqued, Powell started searching for more dummy copies of his book. A reverse-image search turned up photos of the fake — identifiable by a blocky typeface that doesn't quite capture the refined, academic feeling of the real version's cover — as a prop, styled alongside pajama sets, shoes, bras, and sundresses being sold through Facebook shops in countries like Thailand and Vietnam. It was weird: Powell printed only 1,000 copies for the first edition of The Lonely Ones, a book of color photos interspersed with spare one-liners of text, and it's been out of print more or less since.
Powell started reaching out to the sellers. Eventually, he heard back from a jewelry shop using the fake book as a styling prop. The owner directed him to Shopee, the Singaporean e-commerce platform that's like a Southeast Asian Amazon, where Powell found himself looking at a paper-box decoy of his real, 96-page, linen-bound book. After finding it on Shopee, he bought six copies, one of which he gave to his publisher. When he posted about it on Instagram, the fake Lonely Ones was met with a kind of philosophical appreciation. "Like an NFT only more so," someone commented. "Congrats on your book transcending into a concept," wrote someone else. But he remained mystified. "One has to assume that even in the world of fake books, there's editorial decisions being made about which ones will work. What I'm trying to figure out is if somebody actually had my book in front of them."
Unable to resist a retail mystery, we decided to look into why Powell's book was made into a prop in the first place and who was behind the decision. The obvious place to start was Shopee, where Powell and a few Facebook shops had purchased their copies of the fake. This particular seller's page doesn't have a name, but it does carry a vast assortment of boxes decorated to look like books, all organized loosely according to theme. The ersatz edition of The Lonely Ones belongs to a group called "Northern Europe Decorative book ins fashion decoration study room hotel cafe photography pendulum props," and is listed alongside a fake Kelly Wearstler monograph with a misspelled title and a made-up Chanel book. (According to trend analysts, the "ins" stands for "Instagram style.") As I'm writing this, there are 9,566 available units — a ninefold increase on the initial run of Powell's book.
In order to contact this Shopee seller, listed as xrr888.ph, you need a Philippines phone number. I don't have one, so I reached out instead to Shopee's team, who graciously agreed to contact the seller on my behalf. While waiting to see if xrr888.ph would reply, I spoke with a Shopee representative who assessed the rest of the online store. "It's a very typical Asian seller," she says, comparing it to street vendors who sell everything from phone cases to flip-flops to eye masks. "I'm originally from the Philippines, and you see this a lot in stores. It's a mishmash of goods instead of something very specialized." In other words, it's unlikely this particular seller can speak to the provenance of their wares. They never responded anyway.
Made-in-China, another sprawling e-commerce platform, offers a different search function where you can shop directly from factories, including page upon page of fake-book factories. Qingdao Hoda Pack-Tech is one of them, and it sells some of the same fake books as Shopee seller xrr888.ph, like a dummy Kinfolk coffee-table book, a fake Loewe monograph, and the vaguely Scandinavian Urbänlike. Crucially, Made-in-China lets you reach out directly to each factory's supplier, which meant I was soon chatting with someone known as Miss Amanda. She quickly confirmed that Qingdao doesn't make the fake copy of The Lonely Ones, but agreed to answer a few questions about the fake-books market.
According to Miss Amanda, fake coffee-table books are typically made at the request of hotels, restaurants, cafés, and interior-design firms. But because Qingdao requires a minimum of 1,000 books for custom orders, it's started designing its own stock based on images found online and letting customers — like Seoul coffee shops or Taobao clothing vendors — shop piecemeal from a catalogue. (This approach isn't unique to Qingdao: "We have special designers to design fake books," Iven Lee, a supplier for Guangzhou Mqc Printing Co., told me. "Our design department will create them according to market trends, popular patterns, and other factors, supplemented by special processes to achieve simulation.") When I asked what makes a book (like, for instance, The Lonely Ones) worth copying, Miss Amanda didn't pretend to know. "It's hard to find out, friend," she wrote. "Maybe the designer thinks the name is good." And then she dropped a staggering fact: China has more than 2,000 fake-books factories.
China produces an astonishing amount of counterfeit goods across all categories, so it makes sense that books are no exception. Within the matrix of fake books, there are copyright-infringing novels (a few years ago a spate of fake Harry Potter books — essentially fanfiction, but printed by actual publishing houses — was widely read) and hollow books that work great for hiding drugs from your parents. The kind made through factories like Qingdao are purely decorative. Avery Booker, co-founder of Jing Daily, which reports on luxury consumer trends in China, also points out that limited distribution channels and censorship laws might make a real Taschen or Phaidon monograph extra expensive and hard to find in China. So why not make a fake one?
The dummy copy of The Lonely Ones can be found elsewhere online, like Taobao China (a shop called Jiyoujia.com sells it alongside its regular cohort of prop Loewe, Kinfolk, Bauhaus, and Urbänlike book boxes) and AliExpress, through a seller called Onewen Store that sells the same books. But this did little for the investigation. Taobao is notoriously difficult for foreign shoppers to navigate, so much so that you can pay services known as Taobao agents to help broker transnational purchases. (I even wired $10 to one who agreed to help sleuth out the origins of the fake Powell, to no results.) And when the owner of Onewen Store replied over WhatsApp, they offered only a vague "the book was very good and beautiful in appearance, so I made it," before leaving the rest of my messages on read.
And yet, this seemed to be the prevailing consensus. "I get the sense that it's completely random," says Booker. "Sometimes it's a matter of that book looks nice, so we'll copy it, and there's not anything more to it." Eric, a former export businessman who runs the Taobao advice blog How to Tao, offered an even more nihilistic take: "Maybe they don't even know why they chose those books."
Powell has started referring to the fake book as his "third edition." (The second was printed in English, Italian, and Japanese in 2017.) "The thing I like about making books is they have lives of their own," he says. "The idea that the book would not only have a life of its own, but this simulation of it would come to exist, it's amazing. And besides, not everybody gets to have a fake book."
The Strategist is designed to surface the most useful, expert recommendations for things to buy across the vast e-commerce landscape. Some of our latest conquests include the best acne treatments, rolling luggage, pillows for side sleepers, natural anxiety remedies, and bath towels. We update links when possible, but note that deals can expire and all prices are subject to change.