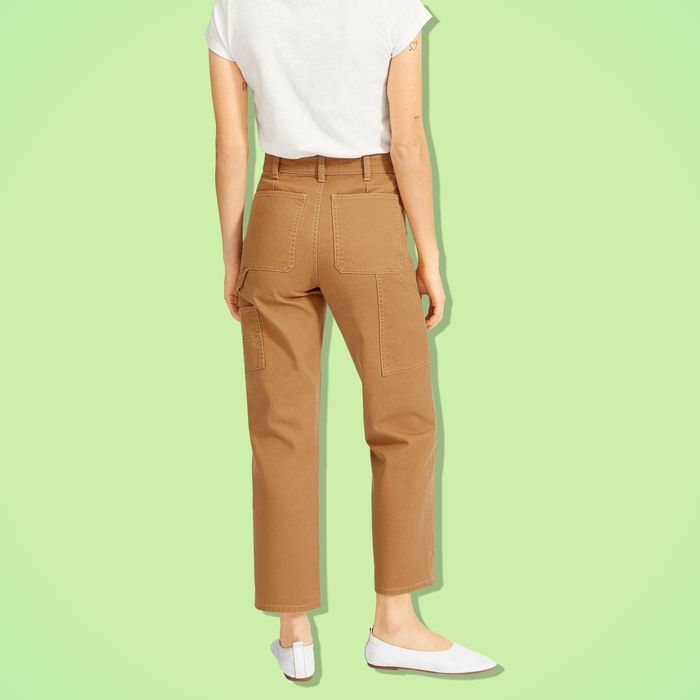 Photo: Courtesy of the vendor
By my seventh month of pregnancy, I really missed pants. No trousers I owned would button over my growing belly, and maternity-specific jeans had a tendency to slide down my rear. But I mostly missed pants because I suspected it would be a long time before I could wear any of the ones in my closet again — and I was right. Even at two months postpartum, I still wouldn't go near former standbys like my high-waisted but unforgiving Kamm pants or my lovingly broken-in vintage denim. And leggings, fancy or not, were never my vibe.
In acknowledging my mom-bod, though, I did not want to shame it by giving up on pants entirely. I just needed to find a new silhouette that made me look as capable as my new-mother self had already become, while still being utilitarian enough for the physicality of motherhood and its attendant sore parts (mommy thumb and other fourth trimester maladies are uncomfortable enough without wearing jeans that are supposed to give you a wedgie). Thankfully, I didn't have to look far, because it turns out my ideal post-maternity pants were already in my closet — I just didn't realize it when I bought them more than a year ago.
Last winter, pre-pregnancy, I surprised myself by buying a pair of white carpenter pants from Everlane. I say surprised because, until then, Everlane was a place where I returned every piece of clothing I've ever attempted to own. Its fits, I find, are all over the place — particularly the extremely narrow shoes, awkwardly boxy blouses, and work pants that don't flatter even the brand's models. But somehow, the carpenter pants were different. On my pre-pregnant body, the rise was not so high that I couldn't sit down. The leg was straight, but the hips accommodating and the cotton material just stiff enough. The length was perfect on my five-foot-five frame (those on the taller side may find them a bit too cropped — the inseam is 26.5 inches — but for short- to medium-height ladies, the abbreviated hem lends a tailored feel).
Fast-forward to present day, when, while fantasizing about my ideal new-mom pants — or ones that look presentable without being precious, are easy to wash and wear, and pair well with other pieces in my design-editor wardrobe — I realized the carpenter pants checked all the boxes. White being the not-so-baby-friendly color that it is, though, I went and bought another pair in golden brown (and a size up). On my post-maternity body, the non-stretch cotton canvas holds me in without cutting off my circulation and keeps its shape through several wears. Their cropped length works with just about any shoe, with no hemming required. And although I wouldn't say they completely camouflage the wider, flatter mom butt I now realize is a thing, they definitely don't enhance it.