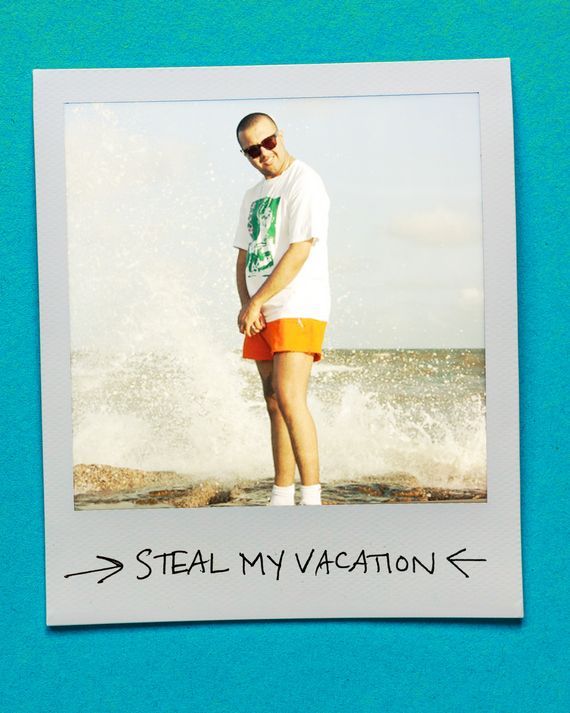 Photo-Illustration: The Strategist; Photos: Retailers
Everyone knows that person who spends weeks sniffing around travel blogs, going deep into Tripadvisor rabbit holes, collecting Google docs from friends of friends, and creating A Beautiful Mind–style spreadsheets to come up with the best vacations/itineraries possible. In this recurring series, we find those people who've done all the work for you and have them walk us through a particularly wonderful, especially well-thought-out vacation they took that you can actually steal.
Long before Brandon Mahler was running U.S. operations for the natty British menswear label Drake's, he was a South Houston kid making the short drive from his hometown to Galveston, the Gulf Coast island known equally for its oil refinery (and its spills) and its beaches or tourist attractions. Mahler has visited Galveston at least 75 times in his life, and finds windows to return even though he now lives in New York. "I have a weird attraction to Galveston," he says, citing the "New Orleans feel," the "haunted" hotels, and its underrated antiques scene. If you go, Mahler says to pack light. Not only is Galveston hot and muggy most of the year, it's extremely casual — shorts and flip-flops, or jeans and cowboy boots, are the standard at even the more upscale spots. Here, Mahler shares his favorite historical neighborhood walk, vintage bookstore, and fried po' boy.
11 a.m.: Check into a grand seaside hotel, grab a bike
If I don't arrive the night before, I take the first flight out in the morning so I land as early as possible. I rent a car and drive from Houston, which takes less than an hour. The best time to visit is March and April, right after the winter (when the humidity can make a 50-degree day feel like 30 degrees) and before it gets so hot you can't enjoy life outside of your air-conditioned hotel room. Before you drive over the Galveston Causeway Bridge that connects the island to the mainland, you'll pass a beautiful marshland off the side of the highway that any friends you're traveling with will ask to stop at. You tell them that's the Killing Fields, where the bodies of 30 murdered women and girls have been found since the 1970s. Most of their murders are still unsolved. There's a movie about it. You keep driving.
Check in at the Galvez (from $129), and drop your bags and the car. The Tremont (from $134), which is located on the Strand (the main downtown strip), is another great option. They're on opposite edges of the island (but just a five-minute car ride apart — it's a small island), and while both are beautiful and historic (like, so old they could be haunted), the Galvez is on the seawall, and I like to stay by the beach. The hotel really sticks out. When you walk inside, it feels like you're taking a step back in time to when Galveston was a major port town, as if some seaside tycoon in a video game got a bonus and was able to drop something super-elegant from the 1900s in the middle of a humble beachside village.
Once you're here, you can pretty much walk or bike. The hotel has bikes you can borrow, or if you're with friends and want one of those four-seater bikes with a canopy, you can walk down the street to Island Bicycle Company (1808 Seawall Blvd) and take a ride down Seawall Boulevard. A little fresh salt air after a flight is a great pick-me-up.
1 p.m.: Eat fried fish by the beach
There are tons of shacks set up along the beach that sell Gulf Coast oysters, fried catfish, fried shrimp, calamari — the staple Galveston diet. You can't go wrong, so pick one and park your bike. Then take your wax-lined paper basket to a bench and settle in for some people-watching. Like any weird beach town, Galveston is filled with characters. If you've seen the new film Red Rocket, parts of which were shot nearby, you know what I'm talking about. All those people in the film actually exist and you'll see them here. It's fascinating.
2 p.m.: Visit a zoo inside a pyramid, catch an IMAX
If you're traveling with kids, Moody Gardens (1 Hope Blvd) is a must. Every local kid grew up going here, and I've even gone a few times as an adult. Not everyone is down with aquariums and zoos, but Moody's runs a legit nonprofit operation. You'll see the site's three giant pyramids when you drive into town across the bridge: One's pink (the discovery pyramid), one's turquoise (the aquarium), and one's glass (the rain forest). The rain-forest pyramid is hot and humid, and there's a lot of plant life and butterflies flying around. The place is super-educational. They teach you about ecosystems and rehabilitation. There's also an IMAX theater in the discovery pyramid, and I've definitely sought refuge there on a sweltering summer day.
7 p.m: Gulp some Gulf Coast oysters
After a nap and a change of clothes, it's time for dinner. The first stop is Gaidos (3828 Seawall Blvd), a big Texas seafood staple that's been around for forever. If you came to Galveston for Gulf Coast oysters, this is your spot. If you've never enjoyed one, they're briny and taste like the sea. Some people don't think they're as "nice" as other oysters, but try one for yourself. They're so good. They also serve a great mix of seafood styles, and then because we're in Texas, you get your Tex-Mex with fish tacos and quesadillas. I usually get the fish and chips or the fish tacos, unless I'm really hungry, and then I get the whole fish plate: Shrimp, scallops, and catfish tenderloin. After a big meal and a walk back to the hotel, it's time to call it a night.
8 a.m.: Get coffee, walk along the Strand
There's basically one coffee shop in town that isn't a Starbucks, called Mod (2126 Postoffice St.). I get a coffee to go and walk the Strand (the downtown historical area and the main drag) to scope out the antique shops. There are tons of antique stores; you just turn the corner and bump into another one. I always come home with something, whether it's a few books or a piece of furniture. Sometimes it's just cool, weird odds and ends: vintage napkins or enamel pins with sayings like, "When I die, bury me upside down so the whole world can kiss my ass." There's less of a clothing scene, but there are lots of vintage Wranglers and cowboy boots. I once found an old beat-up silk Korean souvenir jacket before those things were everywhere, and a vintage Vietnam T-shirt that I love. I've even bought some vintage tees that aren't my size but are so cool I couldn't help it, like an old University of Galveston tee I have. It's tiny! I guess I can hang it on my wall if I want to.
10 a.m.: Eat a classic American breakfast
There's not a ton of fancy dining in Galveston, so if I want to enjoy a solid breakfast in a place that offers a quieter start to the day (a.k.a. not a beach shack), I'll hit the Galvez restaurant. It's your classic American fare: eggs, potatoes, bacon. More coffee.
Noon: Shop for vintage books
Technically the antique stores open at 10 or 11 a.m., but because it's a beach town, the shop owners tend to operate on their own schedule and often don't open until noon. If that's the case, I'll check out Galveston Bookshop (317 23rd St.) first. It's two stories of wall-to-wall books, as well as vinyl and comics. I head straight to the art section. Sometimes I come with a list of things I'm looking for, and other times I'm open to whatever catches my eye. I once found an old Italian furniture-design book that I paid $8 for. When I got home, I realized it was a first edition worth something like $400. I also found an amazing vintage "Galveston architecture" poster here for $10. It's framed in my home now, and it's one of my favorite things I own.
2 p.m.: Walk off lunch with an architectural tour
I love the shrimp po' boy at Shrimp N Stuff (3901 Avenue O), and their downtown location is conveniently right by the Galveston Bookshop. I get it with fries and a Coke. Then I take a meandering walk back to the hotel through the historic neighborhoods. You could spend hours checking out all the amazing old buildings. Some of my favorite streets to mosey down are Mechanic Street, Market Street, and Broadway, where you'll see the odd Art Deco building tucked in between all the historical homes. Check out Bishop's Palace and Moody Mansion on Broadway, and then meander by the Menard House (33rd Street), Saint Joseph's Church (Avenue K), 1880 Garten Verein (Avenue Q), and the Bryan Museum (21st Street). You can spot waterlines around the buildings that date back to the Great Galveston hurricane that devastated the area in 1900 (hence the seawall), as well as more recent hurricanes like Harvey and Rita.
4 p.m.: Lounge at the hotel pool
Back at the hotel, I head straight to the pool. I don't go to the beach in Galveston. The water is brown. I've been told it's because the water is shallow, not dirty — but the beach itself is. There are still tons of people sprawled all over it, but it's not for me. I'd rather go through my new stack of books poolside.
8 p.m.: Get a corny but "legit" seafood dinner
I'm not embarrassed to admit that I love Landry's (5310 Seawall Blvd). It's a regional chain restaurant that's trying really hard to be "fancy," and the weirdness of that, to me, is part of why I go. The exterior has a '50s-style movie marquee with the words "Taste, Laugh, Live" on it, if that gives you any sense of the vibe. The interior is just a regular seafood house, though, and the food is legit. Go with a bunch of people, if you can, so you can get all of the starters, plus the gumbo, and literally any of the fried-fish entrées. Crawfish is really big here, too, if you're into that. I'm not — too much work and not enough reward. I know Houston people go crazy for it, but I'm not about to fight with these mudbugs and get no meat.
10 p.m.: Hop on a late-night ferry ride
One thing that's really fun to do anytime, but especially late at night, is to hop on the Galveston–Port Bolivar ferry at the east end of the island. You can see dolphins and porpoises, and just enjoy being out on the water. It runs 24 hours. It takes you to the other side of the island, and sometimes I just take the ferry straight out and back, and sometimes I get off and walk around. There's nothing to really "see" except what life on the island is like. The houses are all on stilts, the high school is on stilts, all the businesses are built on raised planes. And you just think about what it must be like to live your regular daily life under the constant threat of storms and flooding.
11 a.m.: Check out Galveston's contemporary-art scene
Start your day on the Strand with a dose of art. Disclaimer: Most "art" in Galveston is really kitschy: seagulls and seashells, people finding things on the beach and attaching it to something. I've learned to love a kitschy keepsake, but when it comes to art, the Galveston Arts Center (2127 Strand) is a much-needed palate cleanser. It's a newly reopened contemporary-art gallery that features younger up-and-coming artists, and they have a lot of very cool shows. Often, I'll be home in New York and find out about an exhibition they're staging and wish I was there to see it.
1 p.m.: Eat enchiladas for lunch, ice cream for dessert
The Original Mexican Café (1401 Market St.) is old-school Tex-Mex; this place has been around for over 100 years in the same two-story house off the Strand. It's so good and the menu is so big, you'll want to order everything, but skip the apps and go straight for the enchilada platter. Remember, you have dinner later. But first, head to La Kings, an old-school candy store and ice cream parlor where everything they serve is made on-site. It looks like an old soda fountain, and you can watch the candymakers stretch saltwater taffy while you order a scoop of ice cream. If you need gifts for anyone back home, this is a great spot.
3 p.m.: Drink a tiki drink
The Huli Huli Hut (312 19th St.) is "technically" a Hawaiian restaurant and tiki bar, but it's more like an island-themed, thatched-roof sports bar: Picture a Margaritaville without the Jimmy Buffett money. It's a locals' spot. You don't go there for the food; you go there to hang out. It's a good place to post up and chill before your last night out.
6 p.m.: Enjoy a farewell meal of escargot and plantain chips
It's my last night, so I start a little earlier and try to fit a bunch of stops in. First is dinner. I know a restaurant called Rudy and Paco (2028 Postoffice St.) doesn't sound like it's gonna be fancy, but this is a white-tablecloth, candlelit date spot. Get the plantains, ceviche, and the seafood pasta. Also the escargot. Get the escargot with the plantain chips, trust me.
8 p.m. Squeeze in some daiquiris and souvenir T-shirts
After dinner, as you walk through the Strand, you'll pass bars and clubs with live jazz and country music, and you might hear the strains of a Townes Van Zandt cover. His 1977 album Live at the Old Quarter is all about Galveston, and locals love to pay tribute. But keep on moving down to DTO (2701 Market St.), which stands for Daiquiri Time Out. You'll think you've rolled up to a building in Grand Theft Auto's Vice City, but trust me, it's nice inside: fake Art Deco exterior, nice non-video-game bar interior. Yes, you can get a wide variety of daiquiris, but there's also a menu of craft cocktails and solid mocktails — just ask what they have that's zero-proof.
I always take the last flight out to make the most of my time. But before I go, I hit up the goofy souvenir shops on the beach near the hotel. The T-shirts are actually really funny and clever. I have one that's the Warner Bros. logo with "Galveston, Texas" underneath it. Or "Bitch One" and "Bitch Two" with "Galveston, Texas" underneath it. Basically, anything unrelated to Galveston with the town's name underneath it. They have a sense of humor about themselves. And yes, I also have a tiny bottle of beach sand with my name written on a grain of rice. They got to me.
Brandon's
Galveston
Packing
List
Film camera
I started going to Galveston (more frequently) around the same time I was getting into photography, and I think the city was an amazing exercise in photography for me. I took photos of things like Mardi Gras and the Lone Star Rally, as well as architecture and my favorite strange things around the island.
Comfortable shoes
Galveston isn't a city where you need to dress to impress. No one there cares about what shoes you've got or what sneakers you're wearing, and I usually just bring whatever beater shoe I'm feeling at the time. Or something I know is going to get dirty. The island can be an unpredictable place; sometimes a rain shower might pass over, or one might have passed the night before. I've also definitely thrown out a pair on its last leg on my way out. A parting gift to the island I love.
A lightweight wind shell or sweatshirt
When riding the ferry or walking around at night, it tends to get a little chilly, even wet. If you're not a shell person, maybe a lightweight summer sweater. Drake's did an amazing loose-knit cotton sweater a couple of summers ago that was absolutely perfect for the beach. If you get too warm, just tie it around your neck or waist for a cool beach look.
Refreshing skin spray
The humid salty air isn't the best for everyone's skin, and sometimes it leaves me a little moist and sticky. While most people don't care, I get uncomfortable and start to think about it too much. I can't enjoy my fried food po' boy when I'm almost as greasy as the dish! Before walking into a few places, I'll put a little spritzer on to refresh my face.
The Strategist is designed to surface the most useful, expert recommendations for things to buy across the vast e-commerce landscape. Some of our latest conquests include the best acne treatments, rolling luggage, pillows for side sleepers, natural anxiety remedies, and bath towels. We update links when possible, but note that deals can expire and all prices are subject to change.