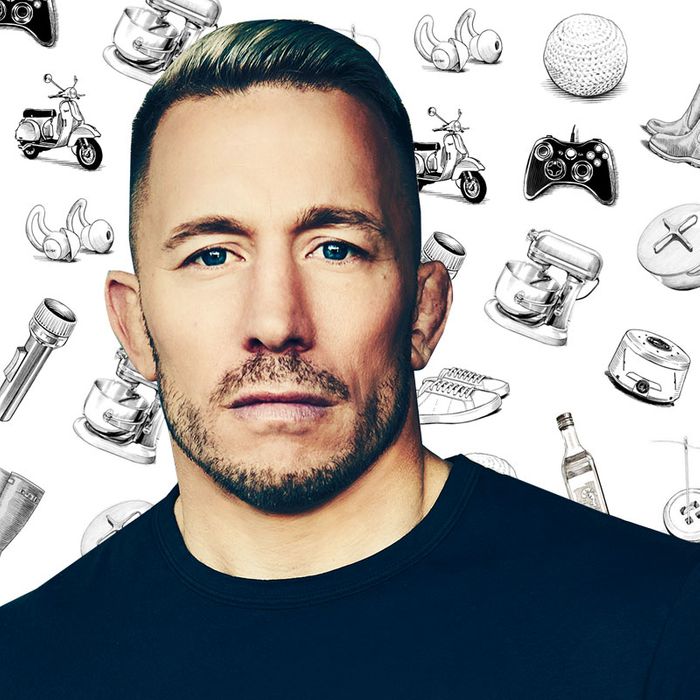 Photo: J-Squared Photography
If you're like us, you've probably wondered what famous people add to their carts. Not the JAR brooch and Louis XV chair but the hairspray and the electric toothbrush. We asked mixed martial artist Georges St-Pierre — a spokesman for footwear brand Royer and star of Marvel's miniseries The Falcon and the Winter Soldier out now on Disney+ — about the toothbrush, chocolate, and lip balm he can't live without.
Chocolate is my weakness. I love everything chocolate: chocolate cake, chocolate bars, chocolate ice cream. If it has chocolate in it, I will love it. But Lindt is my absolute favorite. I'm a big fan of its milk chocolate. People always say to me, "Oh, I thought that you are someone who is really healthy?" I am healthy, but I like to live my life and be happy. There are a lot of natural pleasures in life, and eating is one of my natural pleasures, especially when I'm eating chocolate. I will not feel completely happy if I can't have it.
I'm a bit of an excessive person — I give everything at 110 percent, which is sometimes a problem. When I brush my teeth with a normal toothbrush, I give it my all and I damage my gums. My dentist pointed this out to me. He said, "Georges, you're damaging your gums by going too hard with the toothbrush." He suggested I get an electric toothbrush, since you don't really need to do anything but move it around your mouth. My dentist recommended this one. It cleans really well and my gums feel a lot better.
You need lip balm during winters Montreal, where I live, because it's so cold. This is my favorite. I've tried many brands; I don't know what it is about this one, but I think it lasts the longest of any lip balm I've used. Some brands I think try to create an addiction by making your lips dry out faster so you have to constantly reapply or they'll feel itchy. People tell me my mind is playing tricks on me — and maybe it is — but once I started using this brand, I didn't get that sensation anymore.
Water is a very important part of my life. Not only because I drink it, but because I use it for cold immersion baths as well. I've done a lot of research and talked to experts and now I believe the baths boost my immune system, reduce my inflammation, and burn my fat. I think they help my moods, too. I typically take ice baths in the barrel four mornings a week, but I've also started to do a form of hot-and-cold therapy before bed. I'll go in my Jacuzzi, then take an ice bath in the barrel for a few minutes, then get back in the Jacuzzi, then get back in the barrel again. I've noticed it actually helps me sleep better at night and I wake up feeling really good in the morning.