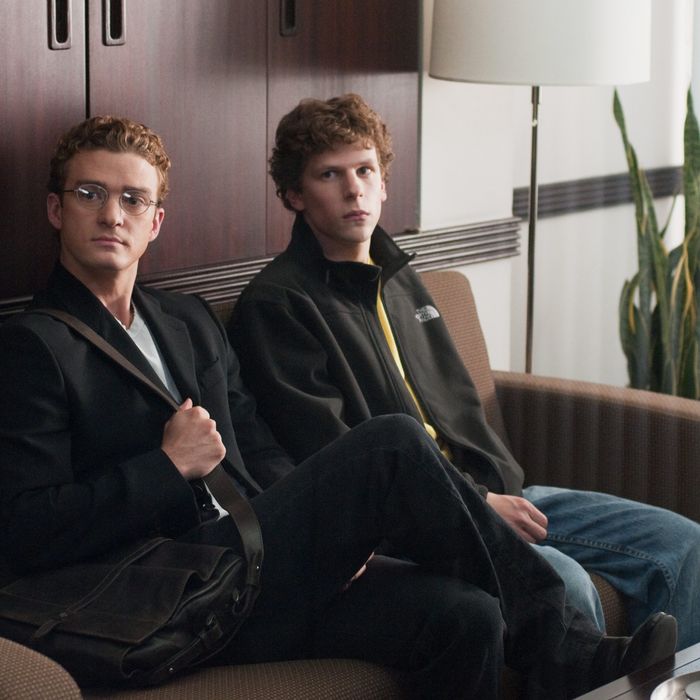 Photo: Merrick Morton/© 2010 Columbia Tristar Marketing Group, Inc. All rights reserved.
While we might already be familiar with the ins and outs of dressing for the gym, the cold, or the beach, knowing what to wear for ultraspecific dress codes like job interviews, wakes, and "dressy casual" isn't always obvious. That's why we're launching What Do I Wear? — a series in which we talk to experts about the tips and tricks of dressing for occasions that might need more specifics than a casual Google search can give you. While we've covered finance job interviews before, in this installment, we're talking to experts about how to dress for your first tech job.
The way people view the "dress code" in the tech industry is largely informed by the people who run it: Think Mark Zuckerberg in a T-shirt and hoodie, or Steve Jobs in a turtleneck and jeans. It's the opposite of dressy, skewing toward "anything goes." So when it comes to preparing for your first tech interview in Silicon Valley or otherwise, is it okay to wear any old schlubby thing or should you actually step it up? According to experts, it depends.
G2 Crowd chief marketing officer Ryan Bonnici — who's served in senior-level roles at Salesforce, Microsoft, and HubSpot — says he's seen it all when it comes to dressing for interviews. "I really think that there's no one size fits all," he says, because it all boils down to the company culture. "It depends on the company you're working for and the role and the CEO." He always recommends that candidates check the Glassdoor page or company website to find hints on how to dress.
Stephen Milbank, the co-founder of New York–based tech start-up Button, agrees, saying candidates will show up in anything from overalls and hoodies to blazers. "Most of the engineers that we interview are coming from other start-ups or companies that are following what cultures were set at places like Google or Facebook, so everything is pretty similar: jeans and tee shirts and hoodies and general casualwear," he says. "My CTO has his own sense of style that sets the pace for his team. He enjoys Hawaiian shirts, graphic tees, and Warby Parker glasses. The sales side is more J.Crew business casual because they have more external meetings with clients."
Both Bonnici and Milbank emphasize that being comfortable is more important than the perfect presentation, though. "In the end, how you perform is what we care about. I would like to think that in tech, we're more about being a meritocracy than anything about appearances," says Milbank.
Here, they give us some clues about the spectrum of dressing for a tech interview, whether you anticipate that you'll need to dress it up or keep it casual.
"For a dressier interview, you can't go wrong with fitted pants or simple jeans, a nice fitted, tailored jacket, and then a button-up shirt. Often times for new candidates, there's a tendency to overdress. To wear a full suit, and even potentially a tie, and that might give away that you're not from the industry because it's so rare that you would see someone in a full suit, let alone a full suit and a tie." – Ryan Bonnici
"For the button up shirt, go for white or probably not something with crazy patterns or written slogans or things like that. The goal is smart casual." – Bonnici
"Overall, you need to be mindful of making sure you're rounding out your outfit. So if you're wearing professional chinos and a blazer, then you might feel comfortable wearing a t-shirt under the blazer because everything else can dress you up. If you're going with jeans and a more casual blazer I might say to dress that up with a nice white shirt. So I think you have to balance it out." – Bonnici
"I'd steer clear of flip-flops, sneakers, as well as loud or colorful shoes or high-tops for a dressier interview. Not to say you shouldn't wear them once you start, but try and keep the focus of the interview on your work-related skills. Smart and casual walking shoes can work well, or, my preference is to go for a nice leather shoe (which goes well with a chino). Say, a double or single monk strap." – Bonnici
"Similar to men's interviews, I don't think you can go wrong with a well-tailored smart-casual look, like a smart and well-tailored blazer and a blouse with pants or chinos." — Bonnici
"For separates, neutral colors tend to go best, but don't be afraid to make it pop with a bit of color." —Bonnici