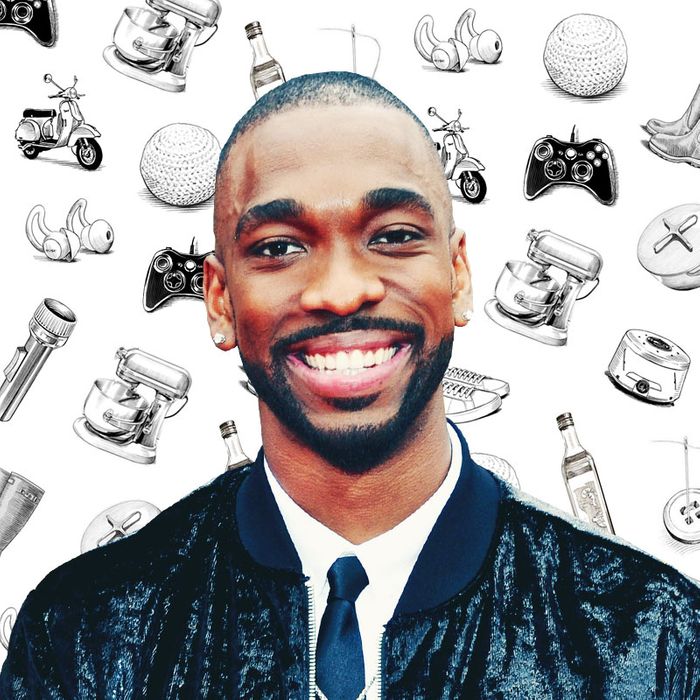 Photo: Allen Berezovsky/FilmMagic/Getty Images, Illustration: Joe McKendry
If you're like us, you've probably wondered what famous people add to their carts. Not the JAR brooch and Louis XV chair, but the hair spray and the electric toothbrush. We asked actor and comedian Jay Pharoah — whose new film 2 Minutes of Fame is streaming now — about the cereal, album, and face mask he can't live without.
I've been eating Cap'n Crunch for 29 years. At least from the age of 3 on, I've been an avid Cap'n Crunch eater. I love the Cap'n. It's just something about peanut butter and milk and a little bit of sugar. You can't get better than that. It's so delicious and such a delight. I look forward to it. I might pour some nice almond milk in there. I used to pour normal milk, before I knew I was lactose intolerant. But now that I got that nice almond milk in there it's like sitting on the beach and enjoying yourself with a nice bowl of Cap'n Crunch.
I really don't buy into the whole iPhone craze. I like my green bubbles and I don't care who has a problem and gets offended by that, because green is a great color. Think about the color green: money, trees, grass, life. Thank you. Okay — I actually do have an iPhone, I just don't have service hooked up to it and I'm not going to do that.
Essence is a special alkaline water with a pH of 10. it's literally the cleanest-tasting water I have ever put in my system. It comes in a bottle with a purple label. Gotta love purple, right? Prince! It tastes good and they sell it at Whole Foods. It's way better than Essentia — it's like Essentia's hotter cousin. Essentia is a good homemaker, but it ain't necessarily a dime piece.
My parents never let me buy any rap albums. When I was growing up, I had to sneak-listen to all that stuff. I had two very Christian parents, and you know, Ludacris, he don't got Christian lyrics. When I first heard that album, it was the spring of eighth grade. I had a burned version from my sister; I put the CD in my PlayStation (because that's how I used to play music), and then my dad came in the room. The song that was playing was "Game Got Switched." My dad took the CD as soon as he heard the chorus. He opened my PlayStation, picked up the CD, and put it in his room thinking I would never listen to it again. But I'm what they call a sneak. So what I did was, I switched the burned CD with a CD that had nothing on it, and I played that Ludacris CD every time he left the house. My favorite song on that album has to be "Southern Hospitality." That was really dope, and I'm from the South, so I can relate to everything that he was talking about. But there are some honorable mentions on there. There's one called "Phat Rabbit." That's a real fun one. I didn't know what a phat rabbit was at the time, but when I learned, oh boy.
I was a Dragon Ball Z and Dragon Ball fan back when the show was on Fox and it used to play at six o'clock in the morning — they would play two episodes back-to-back. I would get up early in the morning to watch, and I was so captivated by Goku and the way he was and what he stood for. Goku is representative of somebody who is put in a different environment but learns how to thrive in it and become a good person, and he was always the voice of reason in every scenario. I think that's why I fell in love with the series so much, because of the morals and the code and the values that they try to push to young kids besides "AHHHHHH." So anything Dragon Ball related, I've got it. I have a Dragon Ball Z shirt and I even have this Dragon Ball face mask. I got Vegeta and Goku on my face mask. People have asked me where I got it from and I have gladly ordered more so I can hand them out, because I want to push this Dragon Ball rhetoric to the end, baby.
I've got to have baked wings in my life. I don't eat fried wings; I try to keep a healthy lifestyle and one of my favorite healthy pastimes is baked wings. I love them. And I like a nice little dry rub seasoning on them, too. I'm from Virginia, you know, the DMV baby, so I'll take a little Old Bay seasoning, sprinkle it on there. I don't have to do blue cheese or ranch — that ruins the integrity of the wing, and there are so many calories. But you gotta have sea salt. If I'm making them from scratch I use sea salt, some Old Bay, maybe some lemon-pepper seasoning — because lemon pepper wings are amazing. And then I take a little bit, just a little bit of hot sauce, whether Louisiana or Texas Pete. I sprinkle it on there and I bake them. To quote Stewie from Family Guy, "that's better than sex."
I'm a PlayStation guy, not an Xbox dude. I own an Xbox but I don't have it hooked up. The latest PlayStation is PS4 — but if you're really cool in Hollywood, or you're Bill Gates or Jeff Bezos, you might have the PS5 [which is supposed to come out later this year]. The game that I love to play on PS4 is God of War. Any God of War games on PS4 are fire — even the ones on PS3 were fire. Call of Duty and Shadow of Mordor are also amazing. I don't know how many times I've played Shadow of Mordor. I used to play that game until I got a headache. I love anything Lord of the Rings related.
I've been wearing Prada Black cologne for the last couple of years. I used to rock Prada Sport, but Prada Black just works with my pheromones. You have to find the right cologne to work with your body chemistry, otherwise you're going to smell like trash. I spray a couple of squirts of Creed on top of the Prada Black — it smells really nice with those mixed together. I grew up around folks who put too much cologne on, and it's too much. You don't need it. Don't nobody need no 25 spritzes of no dang cologne. You've got to have the right amount of squirts — three, possibly four, for any situation.
Clear alcohols have the least amount of calories in them, and I like the taste of gin. It's a grown man's drink. Let's be honest, it tastes like a pine tree, but when you mix it — squeeze a lime in there, put some club soda in there — it's one of the most refreshing things. So if you're trying to get a little buzz, but you're still trying to stay healthy, I suggest getting yourself some gin.
I'm ashy. Any cocoa butter lotion is good. If it's cocoa butter, it's good butter. Cocoa butter is the best butter. Cocoa butter is handy at any time. You might have a nice lady or someone like that in the house; she's getting out of the shower, she's a little ashy, and you say, "Baby, I got you." And she says, "Oh my God, you got cocoa butter lotion? I was going to leave you, but now I'm going to stay."
The Strategist is designed to surface the most useful, expert recommendations for things to buy across the vast e-commerce landscape. Some of our latest conquests include the best acne treatments, rolling luggage, pillows for side sleepers, natural anxiety remedies, and bath towels. We update links when possible, but note that deals can expire and all prices are subject to change.