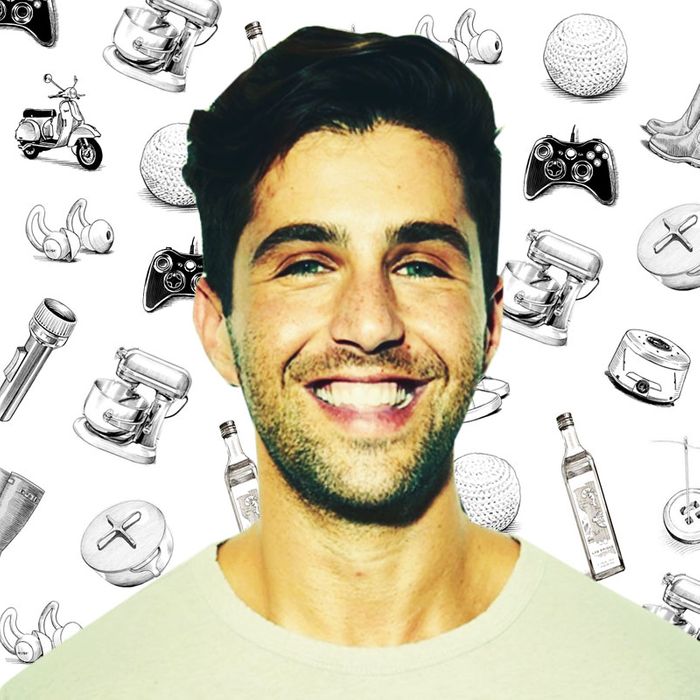 Photo-Illustration: The Strategist; Photo: Courtesy
If you're like us, you've probably wondered what famous people add to their carts. Not the JAR brooch and Louis XV chair but the hair spray and the electric toothbrush. For this installment, we spoke with Josh Peck, actor and author of Happy People Are Annoying, which comes out today, March 15. Below, he shares his favorite designer sunglasses, the perfect elevated Yankees hat, and the antacid he swears by.  
I started using this probably three years ago. I'm sure I just saw fancy people that I follow on Instagram using it. I follow Jerry Seinfeld's wife, and she was a big fan. Even though marijuana itself is mostly legal in America, and CBD is 100 percent legal, it still feels a little bit like the Wild West. Like, what's the quality control on this? But there are a few brands like Lord Jones that are synonymous with quality and I always feel totally comfortable taking it and know that I'm not accidentally dosing myself with a psychoactive thing that's going to put me into some wormhole. I'm a sober guy, so the couple of nights a month I'm having trouble with sleep, or just need something to sort of cool out, I'm very limited with my options. Melatonin is fine, but I find that it can turn on you. You'll fall asleep pretty quick, but then 45 minutes later, you're awake and you've had some weird night terror and you want to sleep eat. With Lord Jones, it helps me fall asleep and the great thing is I've never ever felt hung-over the next morning from it, and I feel like that's like the antithesis of NyQuil, because NyQuil works great, but the next morning you're like, Am I safe to drive?
With some energy drinks, you'll feel like you're in the bathroom of a club without any of the requisite euphoria. I like that Celsius does exactly what it says it will and nothing else. It's smooth and it doesn't taste like gasoline. You certainly get that boost of energy you're looking for but it sort of comes on mild and leaves mildly and tastes really good. I mostly drink it for a pre-workout, but on certain days, if my son's been up crazy early, and I have no intention of working out, I'll pop one open anyway.
I'm really fancy-sunglass averse. I literally think I've lost enough sunglasses in my life to pay for half a year of college. I made a choice, probably when I became a dad and became more money-conscious, where I said I'll never spend more than 50 bucks on glasses again. But my wife was like, "Listen, you've grown a bit, you seem like you can handle it, a nice pair of glasses are worth the investment," so she bought me these for my birthday and I'm obsessed. They're a classic, slightly wider frame. They're polarized. It's Tom Ford. You can't go wrong.
Photo: The Strategist; Photo: Retailer
I'm big on end-of-year sales. I'll go to a fancy place like Nordstrom or even Barney's, but I'm only going when everything is 50 to 70 percent off because they're clearing it out for next season. My wife got me a $300 gift card to Nordstrom and in the note it said, "Try to buy something not on sale." That's how I got this great piece. Much like the glasses, it feels pretty classic. I've had it for almost ten years and two years ago I was in my buddy's car, and we were shooting something and I was getting hot, so I took it off and I left it. It was one of those things where enough time had gone by where I just assumed it must be gone, but like, it could only be in his car. I brought it up to him when I was at his house the other day and he just goes, "Damn it," and he proceeds to go to his closet to pull it out. He had been wearing it.
When I was a kid, I played this character named Luke Shapiro in The Wackness, which takes place in 1994 in New York and it's all about the great renaissance of hip-hop, from Biggie coming out with "Ready to Die" and Tupac and NAS. He was like the standard New York kid walking around with the yellow wired headphones that came with a Walkman, and I was that kid in real life. Then it became the absurdly gigantic headphones that were wired. Then slowly but surely, we've now sort of graduated to the earbuds, and I mean, unless Elon Musk figures out a way to implant them in our brain, I don't know if it gets better than the AirPod Pros, but if anyone can top themselves, it's Apple. The original AirPods, no shade, were too small for my earholes so they would fall out. The Pros are the perfect fit.
I randomly spent the night once hanging out with Kid Cudi. He was awesome, and a big Drake & Josh fan, so much respect. But the one thing he said in particular was don't make music for musicians in the sense of, if you're a creative person, it's easy to be ultra-creative and do something so far out of the box, but the truly genius thing is being able to slightly elevate something that people love and really put your own spin on it, but it's still consumable by the masses, and that's how I feel about this hat. There have been so many fitteds where I was like, Oh, that's just some wild shit. There's too much going on. But this one is slightly different and just subtle enough where I'm like, Oh, this feels like a very new take on it. I'm a New York fan, period, and I feel like the Yankee cap is so synonymous with New York culture. It's become bigger than the team. And, you know, Denzel wears a Yankee cap, Spike Lee, Mike Rapaport — all these infamous New Yorkers — that it just feels like in a small, extremely less famous way, I'm joining their ranks.
[Editor's Note: Peck's fitted is only available on resale sites now, but Aime Leon Dore's current collection of Yankee baseball hats is in stock.]
I am a big Tums guy. I've tested all the high-end proton-pump inhibitors — Prilosec, Nexium — and nothing quite hits like a $3 bottle of Tums. You know, it's going to be chalky, and you know you're going to probably feel like you're 70, but when that heartburn or that agita starts coming down, you're gonna kiss the bottle.
I am a daily coffee drinker, which in some ways is probably correlated with my need for Tums. If I'm drinking coffee, it means I'm looking to get some energy, and stuff like Lion's Mane can really help you. It's a bit of a nootropic; it makes you feel like you can think a little bit quicker and that your head is slightly clearer. I do these half-comedy, half-speaking gigs at colleges. A lot of times I'm recovering from a day of travel and running around and checking in at what I'm sure is a lovely Courtyard Marriott. I'll get in in the morning after a red-eye and I'll try to crash for an hour or two and then get up, have a workout, shower, and then if I can, get a really nice hit of caffeine with some Lion's Mane or something. I just feel ready to hopefully inspire the promising young minds of tomorrow.
Photo: The Strategist; Photos: Retailers The Strategist; Photo: Retailer
My new book is called Happy People Are Annoying, and it's sort of a reluctant memoir given by someone who's halfway through life. I love memoirs, I love self-help books, but sometimes I feel like the person talking to me, they're so enlightened. I find the best advice comes from people that are a few steps ahead, but can truly relate to where you've been because they were just there as opposed to someone who's finished with the journey. A lot of the people who will read this book have watched me since I was a kid, and they've seen my struggles with weight, identity, and drugs and alcohol, and then the ups and downs of my career and pivoting to start this successful social media, speaking, writing side of my career that was unexpected, but turned out to be exactly what I always needed. So in a weird way, I feel like because people have seen me through those times, and know that I had truly walked through it, that they could feel like it was coming from a friend instead of a teacher who is less connected to where they're at.
The Strategist is designed to surface the most useful, expert recommendations for things to buy across the vast e-commerce landscape. Some of our latest conquests include the best acne treatments, rolling luggage, pillows for side sleepers, natural anxiety remedies, and bath towels. We update links when possible, but note that deals can expire and all prices are subject to change.