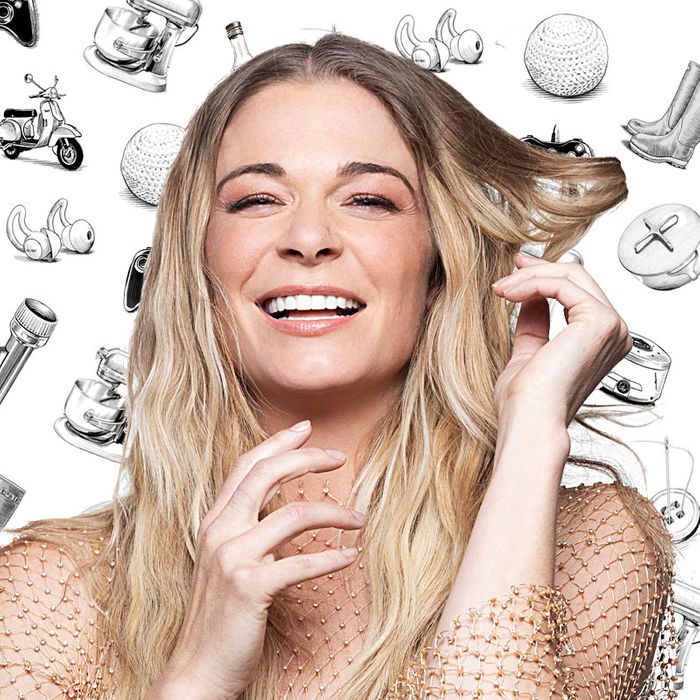 Photo-Illustration: The Strategist. Photo: Norman Seeff
If you're like us, you've probably wondered what famous people add to their carts. Not the JAR brooch and Louis XV chair but the hair spray and the electric toothbrush. We asked LeAnn Rimes — who released her most recent album god's work in September — about the potato chips, hand sanitizer, and the massage gun she can't live without. 
I started working with this incredible doctor, Dr. Mindy Pelz, on balancing my hormones and working on my gut health. We were all sanitizing the shit out of ourselves for the last three years, but our skin has healthy bacteria on it, and every time we put on antibacterial stuff to kill the germs, we kill absolutely everything on our skin, which has a connection to our gut. When we kill the good stuff, it can cause negative interactions with the gut and change it. She recommended this spray because it's still protective but doesn't kill all the good bacteria on the skin. It smells so good and has a little bit of a spice to it, which I really like. It's very good for the holidays, I have to say.
Oh my God, that stuff is heaven. I found it last year, but I think I found it late in the game because when I went to buy another jar of it, they were sold out everywhere. I was obsessively checking the site to see when they were going to release more so I could buy a case of it. It's so good; it's like dessert. I literally will just eat a spoonful of it straight out of the jar, but I also put it on paleo bread. I love any nut butter; it's a huge part of my diet. I love all of their flavors, including their almond and cashew butters, but this is a special treat.
Good Crisps are a healthy way to eat a potato chips because they are not fried in bad oils. Like I said, I've been really focusing on my hormone health as I've turned 40 and preparing my body for the easiest menopausal transition eventually possible. So I've been really eating for my cycle. That means I eat keto during the first half of my menstrual cycle, and then I eat a lot more carbs on the back half. When I get to the second half of my cycle, I carry these potato chips around with me. I'm like, I can have all the carbs right now, and dig into the potato chips. The sour cream and onion is my favorite flavor. I used to be a huge Pringles girl growing up, and now this is my healthier version of that. They taste exactly the same. They're so good.
I've tried every firming, stimulating face thing under the sun. This is the first one that I find actually gives real results. It uses microcurrent and heat to firm and tighten muscles, and immediately after I use it, I can tell a difference in my face. It doesn't last forever. With any of these devices, you have to be consistent with it. I use it three or four times a week as part of my morning routine, but when I'm consistent, I can tell a really big difference. It takes probably about 10 or 15 minutes, and it feels a little electric. It heats up the face gently and feels warm and tingly. Once you learn the patterns of the face, you can pretty much do it in your sleep.
I've used a lot of the other percussive massage therapy guns and gave up on them. Nothing ever really releases my muscles. This uses vibration frequency to release the muscles and it is heaven for me. I take it on the road when I travel. When I'm singing, the muscles in my neck and jaw can get really tight. I find that this is super, super-helpful to release all of that tension. It's more of a vibration frequency than it is an actual pounding. With all the other ones, I feel like I'm being hit. This feels more like a nice little tingly vibration. I use it whenever I feel like I'm getting a little tense. Definitely after my shows, or sometimes after a workout. It's a great tool to have.
I love information and numbers and being able to track my wellness journey. I love to know how far I've walked, how I've slept. I'm just a Virgo in that way. But I really wanted to get the Oura ring to track sleep because I sometimes have a hard time sleeping and staying asleep. It gives you a readiness score in the morning, which helps me gauge how well I'm sleeping and how much energy I can expend that day, helping me focus on the days when I don't have a lot of energy to relax a little more and give my body what it needs. I have a gold one right now, but they just came out with a rose-gold one. I'm asking Santa for one for Christmas.
Those hats saved my life. I don't love doing my hair and spending a lot of time on it, so when I go onstage, I just throw on a hat on. They're so fashionable and super-cute. I think I got my first hat of hers maybe three or four years ago, and now I have a whole collection of them. My favorite is actually a men's style that I got made. It's my favorite accessory for sure.
I'm obsessed with sweats. I mean, if you don't see me onstage in a dress, I'm in sweats and the occasional pair of jeans and a T-shirt. These are durable, cozy, soft, and super-fashionable. I feel like when I put them on I don't look like a schlub. I love their college sweatshirt and cropped sweatpants. They have a really cool rust color that's out right now that I love. Sometimes I'll just take the sweatshirt and wear it with jeans and make it a little bit more dressed up. But like I said, they're super-cute, so when I go out in them, it doesn't look like I just rolled out of bed.
I'm from Mississippi, and I prefer not wearing shoes at all times, but I have a closet full of them, and there's now more tennis shoes than there are heels because I just can't do heels anymore. Even onstage, I either go barefoot or wear a low pair of boots or tennis shoes. Golden Goose tennis shoes are really fun and versatile: I can wear them with sweats; I can wear them with dresses. They've got a great vibe.
I love the watermelon Celsius. It brings me a little bit of joy throughout my day. I can't drink a whole one at one time — I have to make it count because it's a lot of caffeine, but when I'm really busy or right before my workout, I'll have a little bit of a can. I just love the taste of watermelon. It's my little hit of joy.
The Strategist is designed to surface the most useful, expert recommendations for things to buy across the vast e-commerce landscape. Some of our latest conquests include the best acne treatments, rolling luggage, pillows for side sleepers, natural anxiety remedies, and bath towels. We update links when possible, but note that deals can expire and all prices are subject to change.