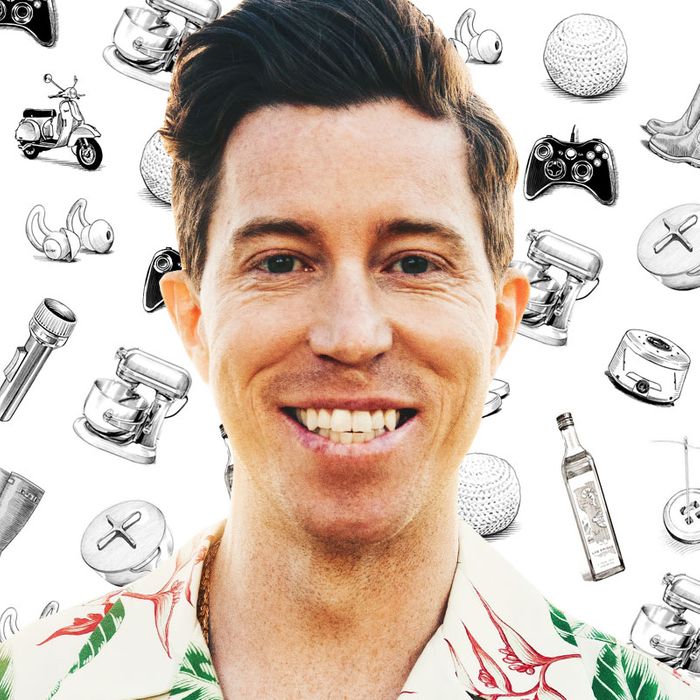 Photo-Illustration: KRAVE
If you're like us, you've probably wondered what famous people add to their carts. Not the JAR brooch and Louis XV chair but the hair spray and the electric toothbrush. We asked Shaun White — a three-time Olympic Gold medalist for snowboarding who is the global brand ambassador for Krave Jerky — about the lip balm, speaker, and blender he can't live without.
I'm in the mountains all the time. The weather there is always pretty harsh, and your skin and lips can get so dry. You don't want your lips to crack — it's hard to get them back to normal once they do. I've been using this lip balm for a year, maybe two. I used to be a Blistex fan because it was reliable. But I'm a little more posh these days. This is kind of addicting — there's something about it that's just so nice. I use the non-tinted one. I've made that mistake before, though — accidentally using the tinted one. My girlfriend, Nina Dobrev, has both, and I picked up the wrong one. It's a nice color, just not for me.
I started using this when I cut my hair short. I think my hair is wavy, but a lot of people call it curly. I'm self-conscious about it because when I take my helmet off after snowboarding all day, my hair is flattened into place. If I put this in before I ride, I can take my helmet off and style my hair back into place so it actually looks good for those side-slope interviews. After you finish a ride, your nose is red, your lips are cold, and it's below freezing out, but you have these reporters immediately saying, "So tell us about your childhood." Those pictures and interviews last forever, especially if you win a medal, so they are moments when you want to actually look kind of good, right? At the 2018 Winter Olympics in Pyeongchang, as I was walking to the halfpipe, I handed my publicist this product and a comb and said, "Just in case I win." And I did.
Something about a wallet makes you gather clutter. Maybe I'm just a simplistic person, but I don't need 20 receipts and all that stuff just collecting in my wallet. This clip holds just enough for me: It has my ID, two credit cards, and some cash, which is all I need. At one point in my life, I started to wear tighter pants, and this is perfect for fitting into the pockets of those. I don't remember how I found it, but other money clips I've used started to feel less secure not long after I got them. This one has been great. I've bought it for five or six friends, too. If I see a friend struggling with a cluttered wallet or if they've complained about having a bulky one, I'll get this for them — or at least recommend it.
I bring this with me almost everywhere. It sounds really great and is incredibly durable. I've accidentally knocked it into a bathtub, drowned it in a Jacuzzi, and dropped it down some stairs, and it still works just fine. The speaker really stands up to everything. Its