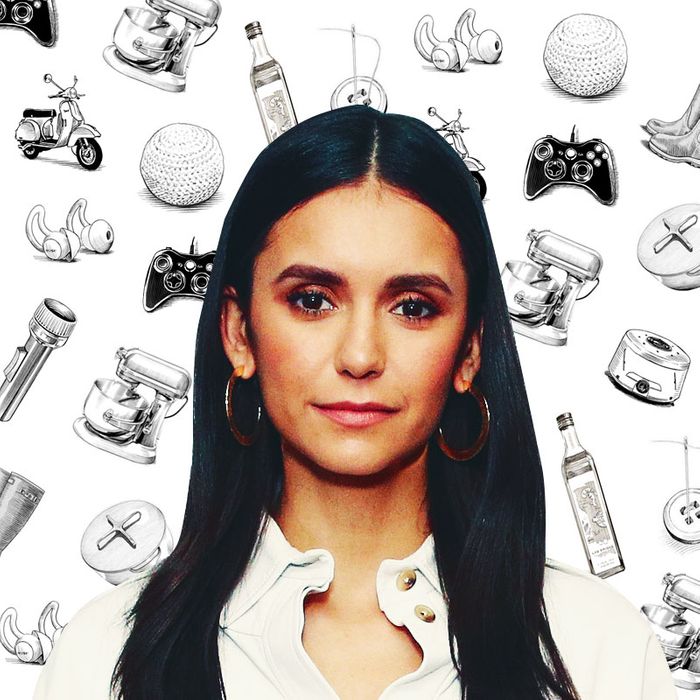 Photo-Illustration: Getty Images
If you're like us, you've probably wondered what famous people add to their carts. Not the JAR brooch and Louis XV chair but the hair spray and the electric toothbrush. We asked actress Nina Dobrev — who, with actress and dancer Julianne Hough, recently launched Fresh Vine Wine — about the deodorant, candy, and candle she can't live without.
A year or so ago, I switched over to natural deodorant because I found out that antiperspirants can block your sweat glands and that some people have claimed they can cause breast cancer. I work out so much — and sweat so much. But I was worried about smelling bad if I switched. I tried a bunch of different natural deodorants and this is the only one that works for me. I actually think I smell better ever since I started using it. I first tried the Rosy Pits scent, but then I tried Sunny Pits and liked it way better. It's a citrusy lemon smell. The deodorant feels like summer. When I put it on in the winter, my spirits lifted because it reminded me of summer.
If you've never had these before, you need to get some. They're low-calorie with minimal sugar and they taste so good that you'd never know they're actually healthy. I have some in front of me right now. I normally only crave sweet things once a month, around a certain time a month, if you catch my drift. But I'll eat the Smart Sweets all the time because I don't feel guilty about having them. It feels like I'm cheating without cheating.
I'm wearing one as we talk. The little patches make a blemish go away a lot faster. I'll actually put a patch on then put my makeup over it because when you try to cover up a blemish itself, you're just adding more bacteria to it. So the patch acts as a barrier and protects a blemish as it grows and does its thing, without irritating it. They're not completely invisible under makeup, but they help me and I feel fine going out with a patch on. I've found they work overnight: I'll sleep with one on and the next morning the pimple will either have disappeared or matured enough that I can extract it on my own.
I wouldn't say I'm a candle person — more of a candle addict. The room I'm in right now has about 11 scented candles in jars. Instead of having logs in my fireplace, I have probably 30 candles in there. I fell in love with this Lafco one the second I lit it. The scent is piney, warm, inviting, and crisp. It's another thing that brings me back to summer whenever I smell it.
When I need makeup to stay on — for like 12 hours — I use this spray. I always have it on-set for when I'm sweaty or doing kissing scenes. Without it, putting on and taking off a mask would remove all of my makeup. I'd look inside a mask and see my whole face imprinted on it. This spray really locks everything in and it literally lasts all day. I used it recently before putting on a white mask to meet my friend at a restaurant. When I took the mask off, she was like, "How is there no makeup on it?"
These THC-infused drinks are like microdosing weed. Some of my friends are very into weed and they have to have a couple of these to feel anything. But I only need one. They taste really, really, really yummy — it's kind of like you're having soda, but a more special soda. I didn't get paranoid after, either. They're just nice to take the edge off at the end of the evening.
[Editor's note: Currently, the drinks are only available to purchase online in California; they can also be found at select dispensaries in that state, Nevada, Rhode Island, Illinois, and Massachusetts, according to the brand.]
Erin and Sara Foster introduced this brand to me. They gave me a bottle of the bodywash and I went through it so fast. Now I buy the stuff myself and I've tried all the different scents. The eucalyptus is definitely my favorite. The sandalwood is a close second. The product isn't bad for the environment, has minimal ingredients, and smells and feels good. Together, all of that makes it a must-have.