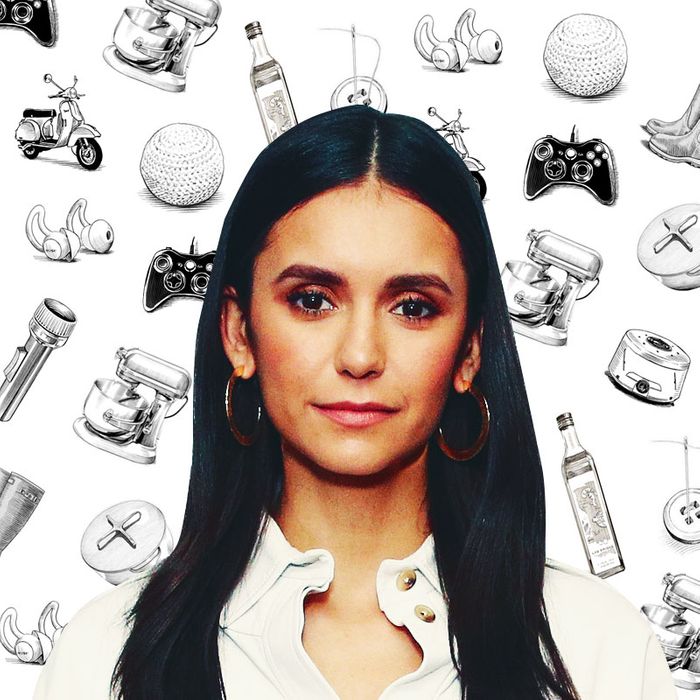 Photo-Illustration: Getty Images
If you're like us, you've probably wondered what famous people add to their carts. Not the JAR brooch and Louis XV chair but the hair spray and the electric toothbrush. We asked actress Nina Dobrev — who, with actress and dancer Julianne Hough, recently launched Fresh Vine Wine — about the deodorant, candy, and candle she can't live without.
A year or so ago, I switched over to natural deodorant because I found out that antiperspirants can block your sweat glands and that some people have claimed they can cause breast cancer. I work out so much — and sweat so much. But I was worried about smelling bad if I switched. I tried a bunch of different natural deodorants and this is the only one that works for me. I actually think I smell better ever since I started using it. I first tried the Rosy Pits scent, but then I tried Sunny Pits and liked it way better. It's a citrusy lemon smell. The deodorant feels like summer. When I put it on in the winter, my spirits lifted because it reminded me of summer.
If you've never had these before, you need to get some. They're low-calorie with minimal sugar and they taste so good that you'd never know they're actually healthy. I have some in front of me right now. I normally only crave sweet things once a month, around a certain time a month, if you catch my drift. But I'll eat the Smart Sweets all the time because I don't feel guilty about having them. It feels like I'm cheating without cheating.
I'm wearing one as we talk. The little patches make a blemish go away a lot faster. I'll actually put a patch on then put my makeup over it because when you try to cover up a blemish itself, you're just adding more bacteria to it. So the patch acts as a barrier and protects a blemish as it grows and does its thing, without irritating it. They're not completely invisible under makeup, but they help me and I feel fine going out with a patch on. I've found they work overnight: I'll sleep with one on and the next morning the pimple will either have disappeared or matured enough that I can extract it on my own.