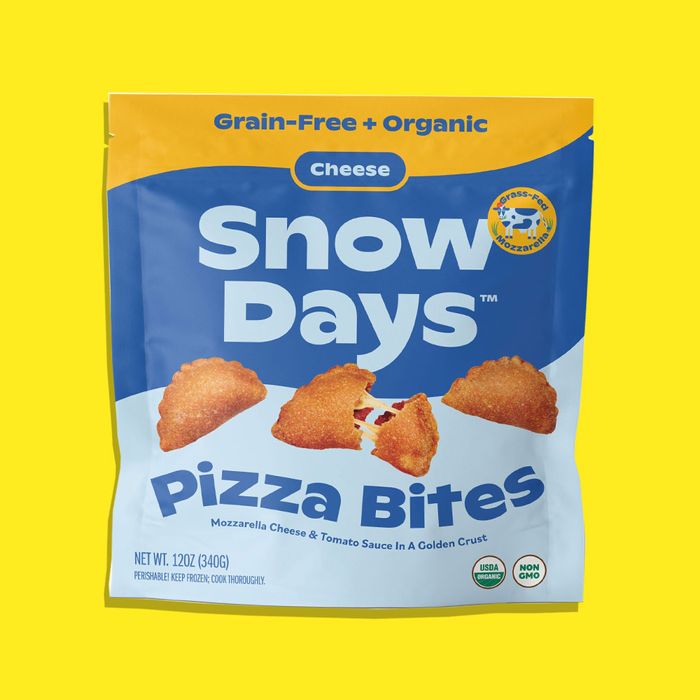 I love pizza bites. They take one of my favorite things (bread) along with another favorite (cheese) and meld them into an easy-to-eat morsel. What I don't love is that they're often bland and leave me feeling like I've eaten cheesy air. I've eaten the classic (Totino's), the "healthy" (Amy's), and the experimental (read: a keto-friendly recipe I found on Pinterest), and all of them, while satisfying, weren't delightful to eat. As a kid, my pizza bite of choice was, of course, the ubiquitous Totino's pizza roll. It was, after all, "how kids helped themselves." They were easy to pop in the microwave (though the oven made them perfectly toasty) and I could put away 10 or 12 without much thought. Of course, they aren't great for you. Calories aside (because who's counting?!), they're packed with salt. Six pizza rolls have 380 milligrams of sodium, which is about 16 percent of the recommended daily intake. That was fine when I was in high school and early college, but as eating well became more important to me, processed snack foods became less appealing. But I'd be lying if I said I didn't miss it. There's something satisfying about eating a pizza bite. Perhaps it's the squish of the bread and the slightly runny tomato sauce. Maybe it's the surprise of chewy, cubed pepperoni or how easy it is to pop in your mouth. And while I love my grapes, cherries, prosciutto, and crackers, a charcuterie board just doesn't hit the same.
In May, a random package showed up at my house. This isn't unusual. As a writer, I receive things from brands and often I don't know who sent it and why. Usually it's beauty and wellness stuff (think eye-shadow palettes and gua sha stones), but this time it was a freeze-dried pack of "healthy" pizza bites from a brand called Snow Days. I searched through my emails trying to suss out who had gifted me with this and later found out that a friend of mine was working with the brand and had put me on a list to try it. Clearly, she knows me well. After doing a bit of research, I realized the Snow Days brand makes organic, gluten-free pizza bites that are both tasty and nutritious. I was thrilled, but not convinced. I've dabbled in healthy snacks before and been burned by foods that are supposed to be "better for you," and end up being bland or only marginally better for you (think one less gram of carbs or two more grams of protein) — sometimes both.
I popped the Snow Days bites in the oven for eight minutes and read the back of the bag while I waited for them to heat up. From a numbers perspective, it isn't healthier than eating, say, a piece of fruit. But I'm willing to argue that that isn't the point. It's a pizza bite, so it's important to have pizza-bite-type expectations. With that said, it contains 10 grams of protein per serving (five pieces) and 23 grams of carbs. For comparison, the same serving of Totino's contains 29 grams of carbs and 5 grams of protein. But that's where — nutritionally speaking — it stops being worlds away from a Totino's. But the big point of difference was how few ingredients Snow Days used and that said ingredients were both organic and gluten-free. Everything was recognizable and pronounceable: cassava flour, grass-fed butter and mozzarella, eggs, apple cider vinegar, apples, and vegetables like spinach, carrot, bell pepper, and sweet potato. I couldn't pinpoint a single vegetable in Totino's, and now I had seven populating my pizza bite. Seeing all the veggies, I was a little concerned that the Snow Days bites would taste like a health food — like a lettuce-y, crunchy facsimile of a pizza bite — but when I took them out of the oven, weeping cheese and sauce, I was happy to note that they were slightly sweet thanks to the apples and sweet potato and saucey, like a full-size pizza that your gluten-free friend says is good — and actually is.
I quickly devoured a serving's worth and then put a few more in the oven to confirm they were as good as I thought. And when my partner and roommate got home, I made more so they could try them too. Our consensus: They're very good. They fit the bill as an easy-to-cook (actually, warm up), quick snack that tastes good and doesn't make you feel like crap after. They're perfect for eating while watching bad reality TV on the couch or scarfing down during the precious ten minutes between meetings. They've become a go-to midday snack, but I try to be sparing. After all, they're pricier than Totino's (a two-pack will run you $31, whereas Totino's costs $4 a bag), but given that they're healthier and better-tasting, I think they're worth the money.
The Strategist is designed to surface the most useful, expert recommendations for things to buy across the vast e-commerce landscape. Some of our latest conquests include the best acne treatments, rolling luggage, pillows for side sleepers, natural anxiety remedies, and bath towels. We update links when possible, but note that deals can expire and all prices are subject to change.