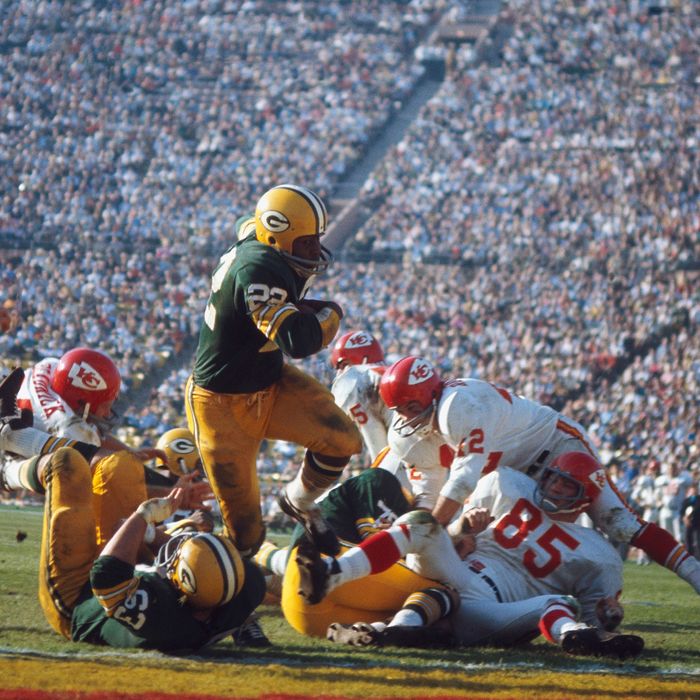 Photo: Focus On Sport/Focus on Sport via Getty Images
If you missed the TV sales on Black Friday and Cyber Monday, don't worry. Right now — in the days before the Super Bowl — is a great time to buy. Manufacturers know that a lot of people will invite over large groups of friends and family, forcing themselves to wonder whether their TVs are good enough. They know some of those people may buy new TVs in response, and so they give us all deals. In fact, the weeks before the Super Bowl offer some of the lowest TV prices you'll see all year. So whether you're watching the Super Bowl for the game or the commercials, or you're in the other room, where you turned off the game and are streaming Cheers, now you can do it on a new TV.
Maybe you're looking for a top-of-the-line OLED from LG. Or maybe you're looking for the newest 4K HDR TVs from Sony, Samsung, Vizio, and more. (This is, after all, the first Super Bowl game broadcast in 4K with HDR.) Or maybe you plan on having the couch to yourself and only need a 32-inch TV that costs under $100. Whatever your plan, we've got you covered. And if you don't know what any of those terms mean and you just want something to impress your inebriated, seven-layer-dip-housing friends, we've got you covered there, too.
You could easily spend as much on nachos and beer for Super Bowl Sunday as you would on this set. While it's a basic set, with no smart features and exactly two HDMI inputs, you'll still see the game in perfect clarity.
Why show the Super Bowl in just one room? At this price, you could also have the game on in the kitchen. Or your bathroom, an ideally solitary way to take in extended ad breaks.
Like the two TVs above, this TCL has a resolution of only 720p. But the big benefit of a small TV is 1080p and 4K on small screens is overkill. Your eyes can't even tell the difference. TCL provides an excellent balance between price and quality. And it has built-in Roku, which our expert called "one of the best interfaces."
Vizio has been making no-fuss, quality TVs at budget prices for more than a decade. It's a big step up from true budget brands like Insignia and Sceptre for nearly the same price.