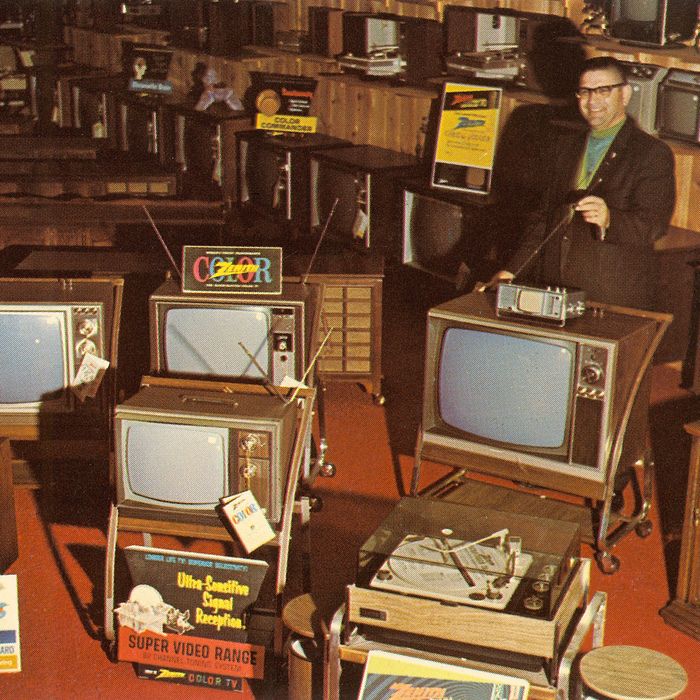 Photo: Found Image Holdings Inc/Corbis via Getty Images
If you're going to buy someone a TV as a gift this holiday season, good for you. You are a very generous gifter. You also have great timing: On Cyber Monday, manufacturers mark down their TV prices to some of the lowest levels you'll see all year. (Right before the Super Bowl can be a good time, too.)
Every television set listed below is vetted by Strategist editors, who are already tirelessly searching this year's sales to find you not only the best prices on TVs, but the best prices on good TVs that will make you happy. Maybe you're looking for a top-of-the-line spendy OLED from LG. We know we are, since this is one of the few times each year that the price gets anywhere close to affordable. Or maybe you're looking for the newest 4K HDR TVs from Sony, Samsung, Vizio, and more. Or maybe you want a 32-inch TV that costs only $100. We've got you covered. If you don't know what any of those terms mean and just want something you can watch The Crown on, we've got you covered too.
We'll be rounding up all of the best Cyber Monday deals on TVs here. You can also follow us on Twitter for more sales coverage. The holidays are almost here. With Strat, you don't have to handle them alone.
Need a TV for your kitchen? Or your bathroom, closet, or a drawer that, although infrequently visited, could stand to be more entertaining when you peek in? For this price, you can buy a TV for anywhere you wanted.
TCL provides an excellent balance between price and quality. And it has built-in Roku, which our expert called "one of the best interfaces."
Vizio has been making high-quality budget TVs for more than a decade. You won't be disappointed with this in your bedroom — or any other place you need a small TV.
The perfect basement TV. You you won't get as vivid of a picture as you would from a brand-name set, but it's a good enough TV for most situations. And it's even cheaper than it was on Black Friday.
A good-size TV from a great brand at a great price.
You won't find a better designed TV than this one, which has a nearly bezel-less screen. A great picture, too.
A beautiful 4K picture with 120 Hz refresh rate, so quick-moving objects won't look blurry. The 55-inch version might be the sweet spot for most viewers: plenty of TV size for an incredibly reasonable price of $550. If you want to feel like you have a movie theater in your home, the 82-inch version is also on sale for 44 percent off.
Compared to the 8 Series above, the 7 has one fewer HDMI port and a refresh rate of 60 Hz instead of 120 Hz. Those numbers matter only if you you're hooking up more than three components like cable boxes, streaming devices, and gaming consoles, or if you're very concerned about getting a slight blur when things move quickly across the screen.
With TCL, you may not be getting the best TV, but you know you're always getting a good one — and in this case, a huge one.