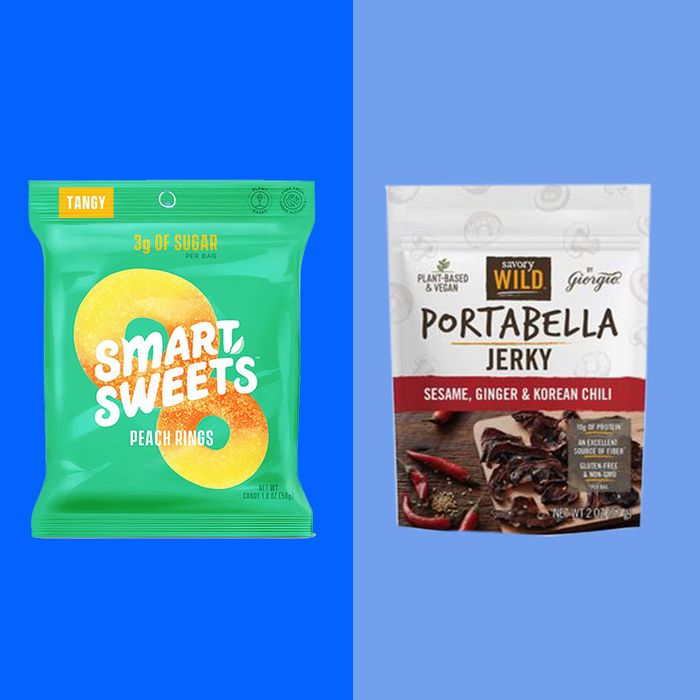 Photo-Illustration: retailers
With many of us working from home — and no office vending machine on hand when the inevitable afternoon slump hits — having a decent snack supply in your own kitchen has never been more crucial. (And that's doubly true if you have a remote-schooled kid or two in your household.) There's certainly no shortage of snacks out there, so we did a sweep to find the tastiest ones available online — that just so happen to be healthy too. From breakfast-y bites to get you through midmorning Zoom meetings to high-protein treats to tide the kids over until dinnertime, here are the best options for every single kind of snacker.
For snackers who prefer a light breakfast
Some people just don't do big breakfasts, and while we don't understand those people, that's fine! Nature's Bakery's popular fig bars — which have nearly 10,000 rave reviews on Amazon — are perfect for anyone who doesn't want to bother with a morning meal (but also doesn't want to starve until lunch).
Texture enthusiasts will enjoy the combination of crunchy, slightly salty rice cakes (which have just two ingredients) spread with a nice rich layer of this peanut butter (which also has just two ingredients).
You can spend a half-hour (that you don't have) chopping up fruit, or you can snack on one of these all-natural fruit-leather bars from Stretch Island that contain a quarter of the recommended daily serving of fruit in flavors like autumn apple, apricot, strawberry, and grape.
Bring up BelVita breakfast biscuits to a group of friends and see if you don't have at least one friend who is obsessed with these tasty and surprisingly filling little cookies. They might not look like much, but they have enough protein and whole grains to carry you through four hours of Zooming.
For snackers who sometimes forget to eat lunch


Photo-Illustration: retailer
There's a reason SkinnyPop is ubiquitous: It's the perfect guilt-free afternoon snack (though, for the record, we think all snacks should be free of guilt). This popcorn comes in flavors like white cheddar, butter, and kettle corn, satisfying pretty much any craving you could have. Go ahead, eat the whole bag. After all, they're only .65 ounces apiece.
There's a reason people who do high-energy activities love a good trail mix. The stuff is filling and nutritious, and it'll give you a quick boost of energy. But not all trail mixes are created equally. We like Sahale's inspired varieties — particularly its berry-macaroon and mango-tango almonds, pomegranate-vanilla cashews, and, for purists, a classic fruit-and-nut combination.
Portabella mushrooms: the grass-fed beef of the fungi world. This vegan jerky from Savory Wild more than makes up for the lack of meat with a blend of sesame, ginger, and gochugaru (Korean chile) and ten grams of protein per serving.
Or, if you want the real thing, this brand's take on jerky is thoroughly 21st century: grass fed, gluten free, sea-salted, and only 90 calories. One reviewer who says they typically dislike "very chewy, thick-cut beef jerky" says this one is thin, crispy, and "phenomenal." "I've been waiting for something like this," they add.
Instead of Cheetos Puffs, how about vegan chickpea puffs? They might not be a complete dupe for the real thing, but you still get to enjoy licking "cheeze" dust off your fingers when you're done.
For snackers with dietary restrictions
Photo-Illustration: retailer
We at the Strategist love seaweed snacks. So you can imagine that we've really missed this keto-friendly, vegan, gluten-free fave that used to be stocked in our office pantry. They are light, exceedingly crunchy, and plenty salty. You truly won't miss the potato chips.
Just because you're gluten free doesn't mean you should miss out on the pleasures of snacking on pretzels. And thanks to Quinn Snacks, one of the better-reviewed gluten-free pretzel offerings out there, you don't have to. As one reviewer says, the "flavor is beyond delicious. They are crunchy, not too salty, and once you start it is hard to stop eating."
There's eating an entire box of Ritz Crackers (no judgment!), and there's eating an entire box of nutty, corn-free almond-flour crackers with just a hint of salt. One you'll regret. The other will leave you pleasantly satisfied.
Paleo devotees can chomp on these nitrate-, MSG-, hormone-, soy-, and sugar-free beef-jerky sticks without ever missing a Slim Jim.
If you're a snacker who's obsessed with superfoods — or if you're vegan or gluten free — these snack bites feature eight of them, including goji berry, cacao, chia seeds, and lacuma powder (a fleshy fruit found in the Andes).
For snackers with a sweet tooth
A healthy alternative to peanut brittle, this double-chocolate-cookie brittle is made with bananas. Throw some macadamia-nut honey butter into the mix if you want to take it to the next level.
Another favorite of Team Strategist back when we had an office: These barely covered but still surprisingly indulgent almonds from SkinnyDipped are an ideal 3 p.m. boost (and, we can tell you from experience, are even better accompanied with a cup of coffee).
If you can't live without a candy jar, SmartSweets makes low-sugar — but still very, very tasty — versions of all your faves, including Swedish Fish, gummy bears, and that old standby the peach ring.
Butternut squash is naturally sweet, so these cinnamon-dusted butternut-squash stalks — that almost have the texture of a chip — are a real delight.
The keto diet is still fairly new, and food companies are still trying to catch up, but HighKey is ahead of the curve with its highly rated keto-friendly snacks that are also great for people living with diabetes or just trying to eat less sugar. The snickerdoodles, in particular, are a hit, with 4.5 stars based on more than 5,500 reviews.
While these aren't particularly low calorie or sugar free, we like that they contain just a single ingredient and are satisfying to crunch on.
For snackers of all stripes
And if you're attempting to feed a whole bunch of snackers — say a family of four stuck at home in the midst of a pandemic — go for this. It includes some of the healthy snack brands we've already mentioned (Nature's Bakery, SkinnyPop, BelVita), but it also has some of the more indulgent snacks you crave from time to time, like Utz cheese puffs and Rice Krispies Treats.
The Strategist is a new site designed to surface the most useful, expert recommendations for things to buy across the vast e-commerce landscape. Some of our latest conquests include the best cheap apartment accents, steak knives, lime juice for cocktails, and insoles (that Guy Fieri happens to love). Note that all prices are subject to change.

If you buy something through our links, New York may earn an affiliate commission.