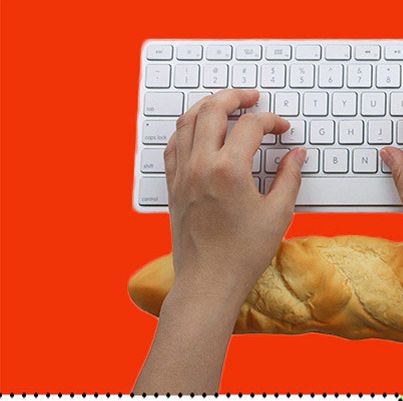 So realistic. So bizarre. So wonderful.
Things that look a lot like other things will never cease to make us extremely happy. They also, in a pinch, make a wonderful gift when you are totally stumped as to what to get someone. Your co-worker Jimmy one time mentioned while waiting in line at Chipotle that he wished they served shrimp? Get him a shrimp-shaped neck pillow! Your niece Jane just got into photography and you can't afford to get her a fancy camera? Get her a camera-lens-shaped travel mug! You literally don't know anything about your mother-in-law? She will surely be delighted by a blueberry-muffin-shaped candle. Below, the best, most realistic trompe l'oeil–esque items (many of which are from Japan) that you can buy on Amazon.
Looks like: A hotdog.
Is actually: A coin purse.
Looks like: a slice of bacon
Is actually: a Band-aid.
Looks like: a cocktail
Is actually: a tape dispenser
Looks like: a baguette.
Is actually: a keyboard cushion.
Looks like: a peanut-butter-and-jelly sandwich.
Is actually: a pouch for toting around school supplies, makeup, or phone and computer chargers.
Looks like: a pineapple.
Is actually: a doorstop.
Looks like: a poached egg atop several slabs of bacon.
Is actually: a phone case.
Looks like: cigarettes.
Is actually: pencils.
Looks like: a Sprite bottle cap.
Is actually: lip balm.
Get the best of The Strategist delivered to your inbox.
Looks like: a pair of jeans.
Is actually: a pair of pajama pants.
Looks like: cabbage.
Is actually: a pencil case — that would make an amazing clutch.
Looks like: a camera lens.
Is actually: an insulated travel mug.