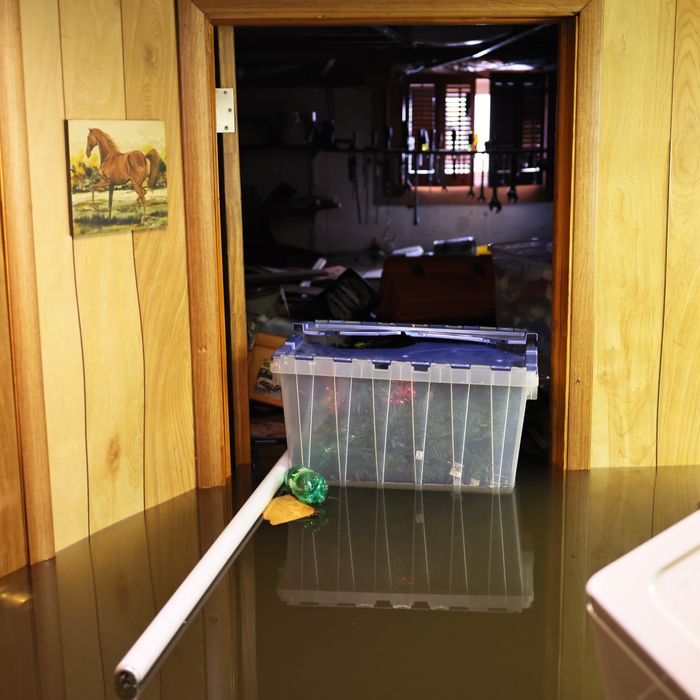 Photo: Getty/Getty Images
After Hurricane Ida wrought destruction up and down the Eastern Seaboard this week, lots of homeowners face an unpleasant reality: flooded basements. Flooding can damage or destroy belongings and even cause serious injuries. Unfortunately, with extreme weather on the rise around the world due to climate change, it's becoming more and more common. If your basement does flood, the best thing to do is contact a certified water-damage-restoration technician in your area. To find out what to do on your own if the damage is less serious — and what you can do to prevent damage in advance — we spoke with Paul Abrams at Roto-Rooter Plumbing & Water Cleanup and April Ramoni, a coordinator with the disaster-response organization Team Rubicon.
Abrams and Ramoni agree that the first step when dealing with flooding is to ensure that your basement is safe to enter. "One thing that can go wrong is electrical shock," says Abrams. "If there's an outlet or appliance that's underwater and you step in there, you could be electrocuted." If you're able to safely turn off the power in the flooded area, make sure you do so before trying to remove any items or clean up the water. If your circuit breaker is in the basement and you can't access it without entering, contact your utility company or an electrician. Ramoni adds that it might also be necessary to cut off the flow of natural gas or propane if the pilot light on your furnace or heater located in the basement turns off due to flooding.
The next thing to check is whether or not the water is contaminated. If there's any odor or you suspect flooding may be coming from the sewage system, contact a professional who can safely deal with the contamination and stay out of the water. If that's not the case, Ramoni says it's still a good idea to wear gloves and a mask in the basement when you're cleaning to protect yourself from any debris that might be in the water.
Removing
water
and
out
the
basement
Once the basement is safe to enter, you'll want to dry it out as quickly as possible. If you have carpeting, you'll likely have to rip it out and remove it along with any large upholstered furniture, Ramoni says, as those items usually can't be salvaged. Abrams suggests looking for a certified water-damage-cleanup company that will use professional-grade water vacuums, fans, and dehumidifiers to quickly get rid of water from the air and surfaces. You can also buy or rent these to clean up on your own if the damage is minimal.
These wet vacuums can remove water. Abrams says that whichever one you choose, keep in mind that bigger is better, and higher-capacity vacuums will be able to remove more water in less time. Also, make sure to keep any cords elevated above the water to prevent electric shock.
A powerful fan will help speed up drying time. In a pinch, Abrams says household box fans will work too but might not be as quick or effective.
Removing moisture from the air and surfaces as soon as possible helps prevent the growth of mold. "Any time there's standing water, one of the best things that you can do to help mitigate mold growth is to start getting the space dried out as quickly as possible," says Ramoni. "The longer that water stands, the more risk there's going to be for contaminants to start to form." Again, professional-grade ones will always be more effective, so this is another area in which you might want to rely on a local expert.
Preventing
future
flood
damage
No one wants to think about flooding before it happens, but as Ramoni says, "an ounce of prevention is worth a pound of cure." She points out that most standard homeowners' insurance policies don't cover flood damage, but you can purchase additional coverage through the National Flood Insurance Program or your own provider. There are a few steps you can take to mitigate future damage, especially if you're in a flood-prone area. If your basement has a floor drain, occasionally pour some water down to make sure it's draining efficiently. If it's not, contact a plumber to clear out any clogs or blockages that could make flood damage worse. Ramoni adds that if you're finishing or refinishing your basement, choose tile or another waterproof flooring material that will be easier to clean than carpet in the event of a flood. And if you store valuables or mementos, like family photos, in the basement, consider waterproof or elevated storage containers.
Ramoni suggests placing a sensor in your basement that can alert you if any flooding begins. Some of these are even smart-home-enabled so you can get notified on your smartphone wherever you are. That way, you can act quickly in cutting off power to prevent electrocution and moving important items to higher ground.
"Sump pumps are your first and last line of defense," says Abrams. Installed in the lowest part of your basement, a sump pump contains a pressure sensor that detects excess water and, when activated, pumps it away from your home's foundation. Since most sump pumps run on electricity and it's common to lose power during a storm, Abrams says it's also a good idea to have a backup sump pump that runs on battery power (like this one). If your home isn't already equipped with one, a plumber can help determine which type is best for your basement.
The Strategist is designed to surface the most useful, expert recommendations for things to buy across the vast e-commerce landscape. Some of our latest conquests include the best acne treatments, rolling luggage, pillows for side sleepers, natural anxiety remedies, and bath towels. We update links when possible, but note that deals can expire and all prices are subject to change.