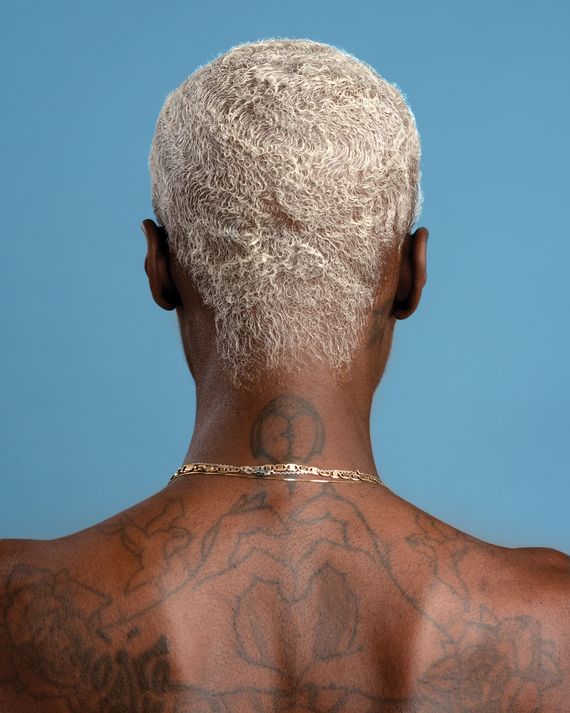 As part of our weeklong celebration of natural hair, we asked 11 New Yorkers about going natural for the first time. Some thought about it for years. Others went natural by accident. Some have since returned to different styles. Others have never gone back. Here, they share their natural-hair stories — and their best tips for taking care of their curls, Afros, locs.
"I wet my hair in the shower every morning."
"I was tired of getting my hair done every two weeks in the salon. I also just wanted a fresh new look that would showcase my face and cheekbones more. Since, I've tried two-strand twists, bleaching and dyeing it different colors, and even a buzz cut. When I'm just wearing my natural curls, I wet my hair in the shower every morning so the curls are fresh. I put in some leave-in conditioner, then I run my fingers through it with Eco Style Olive Oil Gel — it makes my set last an entire day." —Destiny Owusu, model and influencer, Crown Heights
"I hydrate it and let it flow."
"My hair does well when I embrace it; commit to it, love it, hydrate it and let it flow! Don't try to control it. I started wearing my hair like this during my sophomore year of college. My buddy Adrian gave me a haircut, and I never cut the top again." —Cameron Carr, account manager, Harlem
"As I Am leave-in conditioner does wonders for my hair."
"I had several failed attempts at going natural throughout high school. I would get discouraged, and right when I was making progress, I would go to the Dominican salon to get a blowout. In the fall of 2015, when I was a junior in high school, I decided to officially cut my hair and grow it out. Now, my only challenges are figuring out when I'm going to actually 'do' my hair and retaining moisture. If I can crack the code on those two things, my life would have no problems, but I've found that As I Am Leave-In Conditioner does wonders for my hair. I've tried so many, and I always come back to that one. It's so moisturizing." —Alexis Armstrong, college student, Jamaica, Queens 
"I only retwist my hair once every six weeks or two months."
"I went natural in 2017. Before, I wasn't able to take care of my hair because I'm tender headed and I have coarse hair. My family would relax it but it damaged it over the years. I didn't comb it or anything, and I hated how it looked. I finally decided to cut it because I wanted a fresh start and to take care of it myself instead of turning it over to other people. Now my hair is my crown. I cherish it. My hair has been in locs for two years. I only retwist my hair every six weeks to two months. I learned that retwisting too much thins out your hair at the roots, and that's why sometimes people's locs detach. My favorite product for retwisting is Cantu Shea Butter Twist & Lock Gel for Natural Hair. It holds the twist without any clips." —Chinomso Ononiwu, shift supervisor at a men's shelter, downtown Brooklyn
"My bed is my comb."
"I did my first big chop in February 2012. My mom and sister had hair issues, and I didn't want to end up like them. It turns out that I get bored with my hair quickly, and my natural hair makes me want to try new things. In a decade, I've had different sized Afros, poofs, twist-outs, wash-and-gos, many braided styles, shaved sides, very low cute buns, and blow outs. And I embrace the evolution of a single style over time. My twist-outs start very defined. I don't like to pick it too much because I lose that definition. When I wake up and take my bonnet off, my hair's a little fuller and less defined, so I always say, my bed is my comb. Usually by day five, it's an Afro that I put in a puff and gel the edges down."
"Cardi B's DIY mask gives my hair a great slip."
"If I could do it over again, I'd definitely do the big chop — but I went natural by accident. I had been getting relaxers since I was 9 years old, and this one time, I missed my touch-up. After that, I began to notice my curls starting to form at the roots, so I decided not to relax my hair anymore. Transitioning made the process harder. Now that my curl pattern is flourishing, I have way more confidence with my natural hair than when I first started." —Shai Hayes, recording artist, East Orange, New Jersey
"Everything with my hair takes patience."
"I shaved my hair off two years ago. I thought it was time to have a full head of natural hair like I always wanted. You know what I've learned from it? Patience. From detangling to styling, everything with my hair takes patience. Aunt Jackie's Don't Shrink Elongating Curling Gel is my go-to product. I use it for most of my protective styles and to style my eyebrows and sideburns. It's great overall and it doesn't flake. I love my hair more now than I did before. The 'fro's like my crown, and I like to stunt with it." —Jonathan Emanus, multidisciplinary artist, East New York
"Chébé powder makes my hair look luxurious."
"I got my first relaxer when I was 14 years old. I didn't want to, but my mom said it would be easier. My scalp suffered as a result of the chemicals in the perm, and I had seborrheic dermatitis. I went natural during my sophomore year in college, and I never went back. I like to pair Angelic Artistry Avocado Coconut Leave-in Conditioner with Chébé shea butter. Chébé powder [made from a mix of herbs from Chad] is steeped in oil, then incorporated into shea butter. Chébé powder's been helping with breakage and makes my hair look luxurious." —Cynthia St. Juste, voice-over artist, Flatbush
"I use too many products to name."
"I have always had natural curls, but I started wearing weaves around 2007. I did that until 2016, when I got a big chop. My hair had thinned out a lot over time, and I just wanted to start over and embrace my hair in its natural state again. I also got tired of maintaining the sew-ins. At first, I really wasn't doing much to it — I'd wash and condition it and be on my way. Now, I use heated bonnet caps, oils, leave-ins, aloe vera juice — I use too many products to name." —Starr Graves, makeup artist, Bushwick
"I realized I needed to understand my own porosity."
"When I was 12, I moved from Houston to attend a boarding school in Nigeria. I had to cut my hair as a school requirement, and it was not a cute haircut. I remember crying and picking up pieces of my hair from the floor after my barber session. Over the course of six years, I cut my hair about 40 times. The last time I cut it off was in May 2016 — after that, I decided I was ready to take control of my hair. I realized I needed to understand my own porosity and curl pattern and stick to a consistent routine. Once I did that, I was able to navigate my way through the beauty-supply store without feeling overwhelmed. Taliah Waajid African Healing Oyl is a must for me: It has olive oil, almond oil, and vitamin E, which help to seal and maintain moisture after I condition my hair. The bottle and nozzle makes it really easy to carry out oil treatments or eliminate dryness on my scalp." —Nneoma Nzeduru, graduate student, Newark
"I mist my locs with rosewater every morning."
"I first went natural in my mid-20s, and I started with an Afro before I had locs. I just got tired of fighting with my hair. That period of just being over it intersected with a moment in my life when my politics were shifting. I read a lot, I was vegetarian for some years — just experimenting with different ways of being in relationship with the world and with myself, and my body. Going natural just felt right at the time. It was an easy decision. I love the way my babies pull my locs, sometimes try to chew on them, hide behind them when they meet new people or feel shy. They're almost like a security blanket. My hair is super-thirsty, but my locs are sensitive to buildup from overusing oils and products, so I mist my locs with rosewater every morning. The scent is nice and uplifting, so it's a good way to start." —Tiffany Fitzgerald, nonprofit associate director, Clinton Hill
Production Credits
Photographs by Delphine Diallo
Grooming by Chichi Saito at Art Department
Casting Assistance by EveryStylishGirl
The Strategist is designed to surface the most useful, expert recommendations for things to buy across the vast e-commerce landscape. Some of our latest conquests include the best acne treatments, rolling luggage, pillows for side sleepers, natural anxiety remedies, and bath towels. We update links when possible, but note that deals can expire and all prices are subject to change.