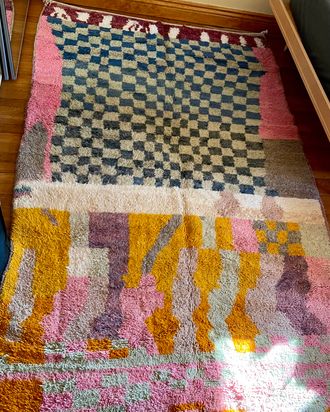 All I wanted was a soft rug to sink my feet into when I got out of bed — one with a fun design in bright, warm colors that would complement my yellow-painted room. After a couple weeks of browsing, I found one I quite liked from a North Carolina–based rug emporium called Rug Source. (The site has an overwhelmingly vast selection, is always running sales, and has free shipping and returns.) Its distinctive patchwork graphic, offset with a vivid orange, was just the statement piece I needed to jazz up my room, and for its six-by-eight-foot size, it came at an unbelievable price: $173. I ordered it and gave the matter no more thought.
Then I got an email notification that, unfortunately, the warehouse could not locate my rug and my order had been canceled. I promptly set off on a frenzied search, comparing every potential new rug I came across to the one that was now MIA, and found them all wanting. It was the first rug's too-good-to-be-true price, I think, that proved to be the biggest stumbling block — after all, why would I pay more for a rug I liked less? Somewhere along the way, my emotional investment shifted from "Tra-la-la, I'm shopping for a nice rug" to "I will settle for nothing less than my perfect rug, my rug soul mate, my One True Rug."
Suddenly, I had 40 to 60 open tabs on my laptop — all of them full of rugs. Scrolling through Ruggable, Revival, Craigslist, and Facebook Marketplace was the first thing I did when I woke up and the last thing I did before bed. When I closed my eyes, visions of rugs danced in my head: Moroccan rugs, Persian rugs, Beni Ourain rugs, wool, jute, silk, hand-loomed, hand-knotted, hand-tufted.
I finally settled on a rug a few weeks ago. It's not my One True Rug, but it's very fetching, fits all of my criteria, and, crucially, was within my budget of under $1,000. And in the course of my research, I came across plenty of other fantastic rugs — so I wanted to share some of my favorite finds.
One rug I seriously considered was from We Might Be on Fire, a New Orleans–based brand with a range of textile offerings including rugs, blankets, and towels. I was immediately charmed by the punchy graphics inspired by nature and the bayou, from beady-eyed herons to lime-green lily pads, but was especially taken with these lolling alligators. Sadly, the muted, cool-neutral tone didn't jibe with my desired color palette, as I wanted something a little brighter and splashier, but this would be perfect for a reptile lover looking to adopt a few gators.
Speaking of bright and splashy, artist Alex Proba's rugs, with their abstract shapes and vivid hues, certainly fit my bill. I've always been a sucker for an interesting texture — whether a high-low pile or a mixed-material situation. For me at least, the tactility of a rug is just as important (if not more so) as its visual impact, but I definitely wouldn't have to choose between the two with this Day 672 rug. I can imagine how delightful it would be to shuffle around on the wool and feel the nubbly, pebbled texture underfoot. However, since I was planning to position my rug partway under my bed, it seemed like a shame to cover even an inch of it, so I envision this rug as more of a living-room conversation-starter.
I would be remiss not to mention Etsy, which is an excellent place to browse rugs sourced straight from India or Morocco that won't cost an arm and a leg. No matter the rug design you're in the market for, I guarantee there's a vendor on Etsy specializing in that style. I'm not super-big on the antique-looking, dense floral patterns; I have a more modern sensibility and gravitate toward bold, striking graphics — this rug is certainly that. It had the right colors and looked very plush in the photos. I came pretty close to checking out until I noticed the same pattern sold by four or five other stores. Which is fine — I'm an educated consumer, I know how the supply chain works — but in my heart of hearts, I was still holding out for something a bit more special, preferably one-of-a-kind, not a rug you could encounter on an avant-basic influencer's Instagram. I backed out and closed the page.
I had a brief but intense infatuation with the Mota 2 rug. I loved the cheerful yet sophisticated color scheme and high-low texture of the polka dots — as if someone took a cookie cutter to the wool. It's made by Gan, a Spanish textile-design house, and if all of those words sound expensive to you, your suspicions are correct — the rugs are hand-tufted and made-to-order, and they ship from the E.U. Unfortunately, the fine print revealed the existence of hidden import fees and customs duties, so, much like with a passionate overseas fling that fizzles out, I gloomily concluded that the logistics required to seal the deal weren't worth the headache and expense. There are several "inspired by" designs out there that feature high-low polka dots, such as this NuLoom rug, but as I'm an inveterate snob, it's the real thing or nothing for me, I'm afraid.
The rug that has my heart, the one I'd buy with zero hesitation if money were no object, is the Nanimarquina x Jaime Hayon Silhouette Rug, which will run you $1,505 for just a four-by-five-foot tapestry and only gets more eye-watering from there. But I adore the colors and playful line drawings, and it feels very true to my personal style — far more than any other rug I've encountered. I found someone selling a 6'7" x 9'10" version of this rug for $3,000 on Facebook Marketplace (for context, that size goes for $5,000 on DWR), and for a few days, I oscillated wildly between This is insane! There's no way I'm gonna spend that much on a rug! and Money is a tool to enjoy your life! You can't take it to the grave with you! Eventually, common sense prevailed, but it was a hard-won battle. Rest assured that this rug will absolutely be my first purchase the moment that I win the lottery, attract the favor of a wealthy benefactor, or pull off a bank heist.
At long last, I pulled the trigger on this rug from Rug Source. Considering that the company stocks an enormous selection of more than 30,000 rugs, it seemed to me that, if I couldn't find a single rug I liked there, it would indicate that my search had crossed over into concerningly pathological territory. (It didn't hurt that they offered me $50 off a new rug for all the trouble, and the free shipping was rather attractive as well.) After a Google reverse-image search confirmed this rug's one-off status, I hit "buy" — which means this particular rug is no longer available, but here are some comparable options, or a Google search of "boujad rugs" should yield results with a similar geometric, asymmetrical pattern. The rug was delivered straight to my door, tightly wrapped in a neat bundle. I opted not to concurrently purchase a rug pad but ended up snagging one later that I trimmed down to size. It's been in my room for a few weeks now, so I've had ample time to assess its merits, and I can confidently declare that it's lovely! The colors are vibrant in shades of rose and goldenrod, sage and olive all melded together in an abstract swirl. The pile is thick and soft, and it's just the right size to squeeze into the space between my bed and armoire. I'm very happy with it. So happy, in fact, that I can't wait to start shopping for the perfect rug for the living room.
Some more rugs we've written about
The Strategist is designed to surface the most useful, expert recommendations for things to buy across the vast e-commerce landscape. Some of our latest conquests include the best acne treatments, rolling luggage, pillows for side sleepers, natural anxiety remedies, and bath towels. We update links when possible, but note that deals can expire and all prices are subject to change.