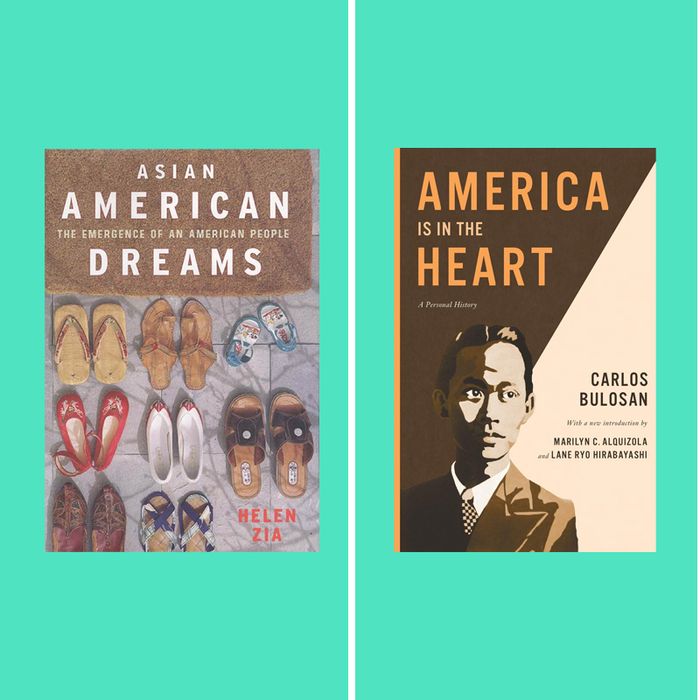 While the first major wave of Chinese immigrants arrived in the U.S. in the 1850s, Andrew Hsiao, senior editor at Verso Books, says that "Asian American was an invention of the 1970s." He goes on to explain that "the generation of young activists in the late '60s and '70s who came up with the pan-Asian political identity 'Asian American' are the folks we now call the Asian American movement." Christine Bacareza Balance, an associate professor of Asian American studies and performing and media arts at Cornell University, puts it another way: "Before it was a census category or a niche marketing term, they were actual people who were fighting to understand themselves as a kind of pan-ethnic coalition."
Lisa Lowe, a professor of American studies and ethnicity, race, and migration at Yale University, adds that anyone looking to better understand the meaning of the term "Asian American" should also look to the "historical and ongoing relationship of U.S. wars and military occupation in the countries from which many Asian migrants, immigrants, and refugees come." As she explains, "the recent murders of Asian women in Atlanta brings anti-Asian violence to public attention, but it also exposes many other everyday forms of violence that go unnoticed." According to her, these include "the concentration of Asian immigrant women in service work, who are often disproportionately exposed to danger, harassment, COVID, or other kinds of harm," all things that Lowe says tie back to the "histories of war that prompted their immigration." Summing up what we learned from talking to 13 writers, scholars, historians, and editors about the best books on Asian American identity, Lowe notes that "there are many ways to approach the understanding of Asian Americans today."
To help anyone looking to deepen their own understanding, we put together the below list of 15 books on the topic that those experts recommend. In the tradition of our reading lists, most of the books come recommended by at least two people. (While nobody was allowed to recommend their own book, the list includes a few written by our experts that received single recommendations from others.) Speaking of our experts, they include Hsiao; Balance; Lowe; journalist Tammy Kim, a contributing opinion writer at the New York Times and co-host of the podcast Time to Say Goodbye; erin Khuê Ninh, an associate professor of Asian American literature at UC Santa Barbara; political strategist, storyteller, and artist Tanzila Ahmed; editor and writer Shawn Wong, who is also a professor of english at University of Washington; Jafreen Uddin, executive of the Asian American Writers' Workshop; David Palumbo-Liu, a professor of comparative literature at Stanford University; New Yorker writer Hua Hsu, who is also an associate professor of english and the director of American studies at Vassar College; New Yorker writer Jiayang Fan; poet and critic Cathy Park Hong; and poet Mai Der Vang.
Three of our experts say Helen Zia's Asian American Dreams would be a good place to start for those who haven't read it. Part memoir and part history, the book, published in 2000, covers key crisis moments of the Asian American political experience, including the 1982 murder of Vincent Chin and the Los Angeles riots, as it traces the role of activism in the formation of the concept of Asian Americanness. According to Balance, Zia weaves these stories together by "talking about her own politicalization" while "grounding it in working-class issues" and highlighting the "role that the LGBTQ community and people in organizing and activists played in the movement." Kim agrees. "What I loved about this book, besides the fact that it was written by a queer woman journalist, is that it places labor struggles at the center of East, Southeast, and South Asian American life," she says. Summing it up, Ninh calls the book a user-friendly overview of the Asian American movement.
For those who prefer fiction, Le Thi Diem Thúy's novel about Vietnamese refugees also came recommended by three of our experts, including Palumbo-Liu, Hsu, and Lowe, who describes it as a "haunting and lyrical novel written from the perspective of a young girl who travels by boat from Vietnam with her father and four 'uncles' to settle in San Diego." Palumbo-Liu calls it "both a family narrative and a narrative about the Vietnam War and its aftermath," adding that the book is "one of the most moving and intimate accounts of the flight of Vietnamese refugees to the United States." Hsu says the story "unfolds like a series of dreams or hazy, childhood memories," resulting in "an absolute masterpiece that conveys how the pains of our pasts never quite leave us." The novel, Palumbo-Liu adds, "teaches us a great deal about how families can be reconstituted and reimagined after tragedy."
According to Lowe, Yen Le Espiritu's 2014 book is a "riveting study that explores how the Vietnam War was important to the creation of Vietnamese identity, and focuses especially on the politics of war memory and commemoration practices." Balance adds that it's a useful book for learning how refugees' experiences in U.S. wars in Southeast Asia help "diversify who we understand to be part of the Asian American community," which, as she notes, is a "very heterogeneous community."
"Any list of people who should shape our sense of what an Asian American life can be should include Grace Lee Boggs," says Hsiao. He adds that her autobiography Living for Change is "really worth reading to see how a passionate revolutionary negotiates the '30s, '60s, and the '90s." Ahmed agrees, calling Boggs, who died in 2015, "such an important figure to the Asian American movement" and "a key leader in the civil rights and Black Power movements." Ahmed recommends Boggs's 2011 book The Next American Revolution, which she describes as a manifesto of sorts that presents a blueprint for how to bring about social change in our world today. She especially appreciates the book's message, which Ahmed says is about the need "to focus on local organizing and working with people and how that will create a revolution."
When it comes to Asian American fiction, Hsiao says you can't talk about the genre without talking about Aiiieeeee!, an anthology of Asian American writers compiled by editors Frank Chin, Jeffery Paul Chan, Lawson Fusao Inada, and Shawn Wong (whose name you might recognize from the list of experts we consulted for this story). Hsiao told us that anthologies and other collected works are in general important to the Asian American movement, but says Aiiieeeee!, published in 1974, is the first of its kind and a "key book" that reintroduced forgotten texts and writers when it was first published. (Some of those writers, including Carlos Bulosan, John Okada, and Hisaye Yamamoto, wrote works that appear on this list.) While Hsiao explains that the texts in the anthology were written at a time when "the authors weren't addressing Asian American identity in the same way we might," he says they are still considered "formative in shaping Asian America" because they "made us see that we Asians in America had shared histories of oppression and resistance." Put another way, he says the book allowed "a Chinese American like me to read about and identify with a Japanese American's story, which is the essence of Asian American identity."
This 1993 anthology of contemporary Asian American fiction edited by Filipino playwright, writer, poet, and multimedia performance artist Jessica Hagedorn came recommended by Balance and Hsiao, who says it balances out the "too-male, too East Asian cast" of Aiiieeeee! He loves the anthology for its "breadth and variety" of works, which include short stories and excerpts by writers such as Amy Tan, Maxine Hong Kingston, Joy Kagawa, Meena Alexander, and Fae Myenne Ng. Balance says the anthology came at a time when "people were starting to understand that there is a thing called Asian American literature" and helped to "push that idea and bring a lot of new writers into the scene." (If you read and enjoy the anthology, you might consider its second volume, Charlie Chan Is Dead 2: At Home in the World.)
John Okada's seminal novel No-No Boy was first published in 1957, reissued in 1976, and excerpted in Aiiieeeee! The only book written by Okada, No-No Boy is about the (fictional) Japanese American Ichiro Yamada's reacclimatization into his Seattle community after spending two years in an internment camp and two more years in prison for refusing to serve in the U.S. military during World War II. It was mentioned by several of our experts, including Wong and Balance, who calls it a significant book that influenced many Asian American writers who came after Okada. Balance adds that the book is multi-dimensional, tackling issues such as mental health and "the politics within certain Asian American communities around allegiance and loyalty to this nation that interned them." It also "puts forth a different figure of Asian American masculinity," according to her.
Filipino writer Carlos Bulosan's autobiographical novel was first published in 1946 and was also excerpted in Aiiieeeee! Again, it came up several times; Palumbo-Liu told us the story "begins in the Philippines and moves to the United States at a critical moment in Asian American history." He adds that, over the course of the book's 327 pages, the author touches on several topics, including "the relationship between the Philippines and the United States and the diasporic Filipino community, the role of migrant labor, the beginnings of socialist and communist organizing in the fields, and Bulosan's acquisition of a literary education and subsequent writings as an essayist, journalist, and novelist." According to Ninh, this and No-No Boy are two of the most-taught books in Asian American studies courses. Palumbo-Liu agrees, noting that America Is in the Heart is often read and taught side by side with John Steinbeck's Grapes of Wrath.
Two of our experts, Ahmed and Balance, mentioned the work of Vietnamese American writer Ocean Vuong. Balance suggests pairing Espiritu's Body Counts with Vuong's debut poetry collection Night Sky with Exit Wounds, which she says tackles similar issues like war, memory, and family, "but in a much more intimate and everyday