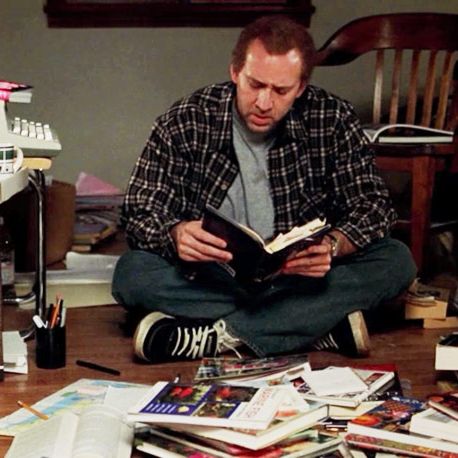 Photo: Courtesy Columbia Pictures
Welcome to Reading Lists, comprehensive book guides from the Strategist designed to make you an expert (or at least a fascinating dinner-party companion) in hyperspecific or newsworthy topics, from microdosing and psychedelic therapy to French cooking. Here, we've compiled a list of essential books on writing, with guidance from novelists, poets, essayists, short-story writers, and writing teachers. 
Those surveyed (listed with their most recent books) included writing faculty members at the Writers in New York summer program at NYU (Saïd Sayrafiezadeh, Brief Encounters With the Enemy; Angelo Nikolopoulos, Obscenely Yours; and Craig Morgan Teicher, The Trembling Answers); and writing faculty members at Sarah Lawrence College (Brian Morton, Florence Gordon; Jo Ann Beard, In Zanesville; Jacob Slichter, So You Wanna Be a Rock & Roll Star; and Mary La Chapelle, House of Heroes); as well as Gabriel Packard, author of The Painted Ocean and associate director of Hunter College's MFA program; Halimah Marcus, executive director of Electric Literature; Paul La Farge, author of The Night Ocean; Kevin Guilfoile, author of The Thousand and contributor to The Morning News; and Leni Zumas, author of Red Clocks and associate professor of creative writing at Portland State University.
Each writer shared a list of books they consider essential reading for aspiring writers. The results reflected the diverse interests of the group surveyed, from classic writing manuals and 19th-century novels to contemporary works that blur the lines between fiction and nonfiction, poetry and prose. While dozens more titles in a variety of genres could be on this list, we only included ones recommended by at least two writers to give you the best shot at becoming the next Rachel Kushner or Michael Cunningham. Consider the eight books below an introduction to the writer's library.
There's a reason this succinct style guide will be on freshman composition syllabi ad infinitum — or at least until we all give up and start writing exclusively in emojis: It teaches everything you need to communicate clearly and accurately in writing. "Everyone should have a Strunk & White," said Guilfoile. "I believe I own at least three copies and I suspect most professional writers have the entire text internalized." Packard said, "Get your prose style down, at the level of the sentence, with the pithy wisdom contained in this book, not least of which is 'omit needless words.'"
With more than 100,000 entries along with usage and etymology for each, the Oxford English Dictionary is an invaluable resource for wordsmiths. "I wish someone would give me an online subscription to the OED," said Marcus. "I would waste time looking up all the words instead of wasting [time] on Twitter." La Farge prefers the print edition: "Of course you can look words up online. But how will you stumble on the ones you don't know you don't know: ug, or apocalypst, or catoptromancy?"
Packard called Letters to a Young Writer, from Colum McCann, National Book Award–winning author of Let the Great World Spin, "the writing-advice book for our generation" with "fatherly guidance on living as a writer." McCann shares thoughts on craft, like writing dialogue and creating characters, as well as practical advice on finding an agent and choosing an MFA program. Sayrafiezadeh also recommended McCann's book and advised aspiring writers that it "might be most helpful to start with the chapter 'Don't be a Dick.'"
A collection of Forster's lectures given at Cambridge University in 1927, Aspects of the Novel gave writers a vocabulary for discussing craft, like distinguishing between flat and round characters and defining the elements of plot, that's still used today. Morton said the nearly one-century-old book is "still fresh, thought-provoking, and funny … like a guided tour of the house of fiction, given by a charming and knowledgeable practitioner." Zumas said it's "especially useful for thinking about plot." (Forster's oft-quoted definition goes, "'The king died, and then the queen died' is a story. 'The king died, and then the queen died of grief' is a plot.")
La Chapelle chose this book for its "provocative, paradigm shifting essays from a wonderful fiction writer and literary scholar." Baxter examines how storytelling in everyday life — like political spin or our tendency to anthropomorphize inanimate objects — affects one's writing. La Chapelle said "I have circulated at least four of his essays in my craft classes for years." Zumas also enjoyed Baxter's book and said it's a regular fixture on the syllabi of her fellow writing teachers.