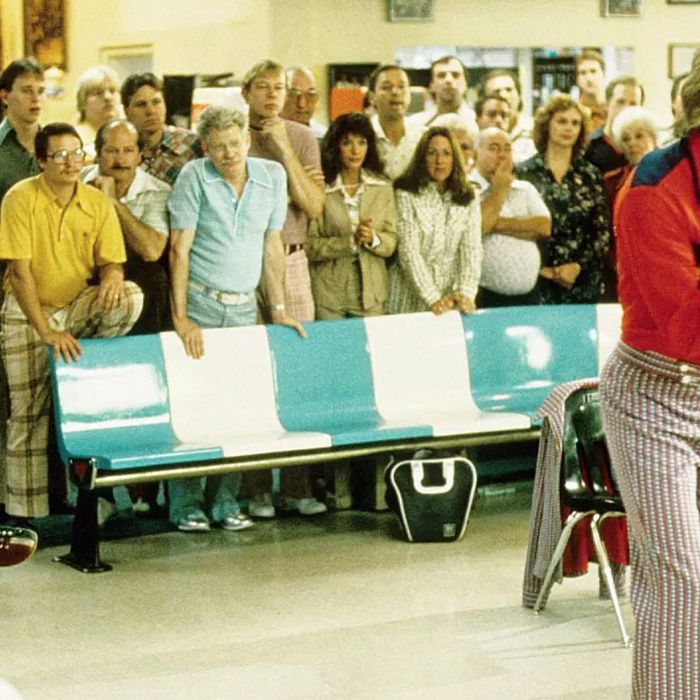 Photo: Courtesy of Rysher Entertainment
Here at the Strategist, we like to think of ourselves as crazy (in the good way) about the stuff we buy, but as much as we'd like to, we can't try everything. Which is why we have People's Choice, in which we find the best-reviewed products and single out the most convincing ones. (You can learn more about our rating system and how we pick each item here.)
And while we've written about lots of sports equipment bags before — including the best disc golf bags, the best ski boot bags, and the best ski bags — here, we've rounded up the best bowling ball bags, as praised by the most enthusiastic reviewers on Amazon.
Best-rated bowling ball bag
Dozens of bowlers describe this bowling bag as "easy," including one who writes, "Everything fits and it's easy to carry. Just as good as the more expensive brands." And she's not the only one who compares this bag to more expensive options. "Sure, the $150 bags are nice but not twice as nice. The quality your getting for this price is really good," says this experienced bowler. Another is impressed with how much he can fit in it, explaining, "I carry two balls and other equipment. It's compact, but still roomy for all my gear. It's easy to pull and for me, and it's stable. Room for only one pair of shoes, also towels. Side pocket holds wrist support, ball cleaner liquid, dry powder and small wire brush. I have room for all that stuff and more." A few complain that there aren't as many bells and whistles to this bag as the more expensive options, but as one reviewer concludes, "There are no thrills with this bag and occasionally I feel inferior next to people with name brand bags but then I think to myself, this is bowling. It's a bag. It has one function that has zero effect on my game."
Best-rated (less expensive) bowling ball bag
"Simple, straightforward bowling bag. No frills and inexpensive," explains one reviewer who says, "Two seasons in and so far, so good." One impressed reviewer calls this "such a nice bag," explaining, "I only bowl a couple times a week for fun so it works great for me. It fits my 12-pound ball and size nine shoes perfectly. It has a very sturdy, durable feel to it and I like that it's more modern/trendy than most bowling bags." Many appreciate how roomy this single ball bag is, like one who is "really happy with this cute little bag." However, that "little bag" still holds a lot, by their description: , "Fits my ball, my shoes, socks, and there is still a little room for other small accessories if needed. Easy to carry as well." As one kind grandmother discovered after her grandson bought a bowling bag at a garage sale without a bag, "When it came, I was amazed by the quality for the cost. Great buy and much easier to carry a bowling ball into lanes now."
And now for some micro-picks for every type of bowling ball bags you might be looking for.
Best single ball bowling bag
Lots of reviewers looking for a compact, single ball bowling bag chose this option from Storm. "Great bag for the price and it looks really nice. I'm surprised it can hold a 15-16 pound bowling ball with ease and have enough room for shoes and a lot of accessories in the front pocket," writes one reviewer. Another customer appreciates how secure this bag is, explaining, "This bag cradles my balls very well, they are secure, and don't jostle when carried. My balls don't suffer damage from rubbing on the walls of the bag. I appreciate the shoulder strap as I have 15 pound balls, so carrying them in one hand can lead to fatigue and wrist pain." Lots of reviewers are impressed with how much this can actually hold, like one who says, "This bag is great and I love the price. It is big enough for my bowling ball and shoes and anything else I need." And as this reviewer puts it, "Great bag for the money. My son is just getting into bowling so I didn't want to spend a lot but still get quality. This fits the bill perfectly."
Best rolling bowling ball bag
Reviewers rave about how spacious this rolling bowling bag is. "The top compartment is great for shoes and the side is great for our ball cleaners and towels. Also, it holds the two balls well and rolls nice," explains one reviewer. "This bag has plenty of room for all my bowling gear. Shoe covers, shoes, extra socks, wrist brace, towel, ball sling. The ball compartment is padded and has molded plastic cups that your ball sits in nicely," adds another. A third specifically wanted this bag, and wasn't disappointed, explaining, "I opted for this bag over a Pyramid bag of a similar style because I liked that this one has fabric handle on the end. This makes it so much easier to get it in and out of the trunk of my car." Many agree that this rolling bowling ball bag is easy to transport, like another customer who writes, "I've had this bag for a couple months now and I love it. Plenty of storage room for my belongings. This bag and I have rolled ourselves in and out of my local bowling spots with ease."
Best bowling ball bag with holder
Beginner and advanced bowlers both like this single ball bag. One "total rookie to bowling" purchased this as his first bowling ball bag and thinks "it's perfect for a single ball bowler," explaining that it offers, "Easy placement of the ball, both size 13 shoes fits easily into one side of the bag leaving plenty of other pocket space for anything else." Many reviewers appreciate that it has both a strap and handles, like one who writes, "It has the hand-held handles and it also has a shoulder strap, so you can carry it either way. Great bag at a great price." An advanced bowler has "owned other much expensive bags in the past" but admits, "This bowling bag is my favorite so far. This Athletico brand has two separate compartments so you could put two pairs of shoes and for me that's awesome because when I go on travel for bowling events, I put my bowling shoes in one and in the other, my slippers or dress shoes or whatever I want to bring." And as this reviewer concludes, "What can I say? This is a good bag that will hold your shoes, ball, and other accessories. It has the hand-held handles and it also has a shoulder strap, so you can carry it either way. Great bag at a great price."
Best rolling bowling ball bag with shoe compartment
The compartment dedicated to bowling shoes is the stand-out feature on this rolling bowling ball bag. "This bag is awesome. It is light enough to carry and has room for two balls and both mine and my wife's bowling shoes," raves one reviewer. A few complain that there's no extra pocket to put trinkets; as one reviewer explains, "You have to store them with your shoes on tap. Not a bad thing but you have to bag your accessories separate then put them with your shoes." Lots of reviewers also love that this bag rolls. "I am just getting into bowling and needed a wheeled bag for transport," one customer writes, noting, "You do have to pull the bag behind you, it doesn't roll if you are trying to roll it in front of you, but it really isn't a problem. The handle stays up like it should when rolling." And as this reviewer explains, it will work great for those looking for a two-ball bag: "So this bag is pretty badass and my wife loves it. It's a solid bag for a 2 ball carrier, would definitely recommend it."
Best bowling ball bag for accessories