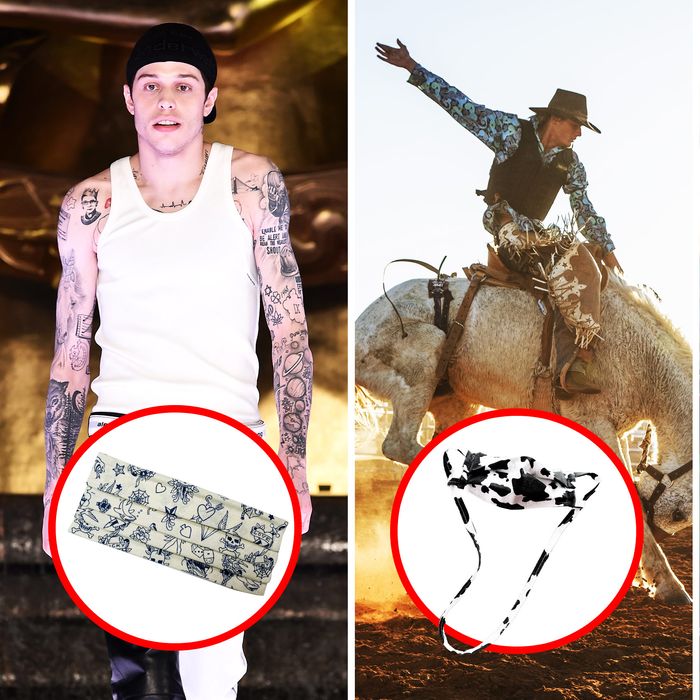 Photo: getty/netflix/retailer
The scariest thing about this year's Halloween just may be the prospect of some trick-or-treaters not wearing face masks. If you do celebrate the holiday (and that celebration includes more than just the members of your pod), please cover up. Not only does a mask protect the people around you, this year there's an added bonus: The right mask can be the perfect complement to your costume. And if you don't have something planned yet, many masks work as costumes on their own (or with one or two small additions). Just look for something bright, patterned, or covered in fur, and let your imagination take it from there. Here are 21 fabric face masks and costume ideas to help get your creativity started.
Disco ball
Photo-Illustration: Getty/retailer
Combined with all-black clothing, this sequined mask will transform your head into a disco ball.
René Magritte's 'The False Mirror'
Photo-Illustration: moma/retailer
This will take some craftsmanship but only a very little bit. Use a Sharpie to add a black dot in the center of this mask to become Magritte's iconic painting.
The Mona Lisa
Photo-Illustration: Lourve/retailer
Wear her slight smirk instead of your own. A flowy gown is optional.
Emily in Paris
Photo: retailer
Snap a selfie wearing this mask, an Eiffel Tower blouse, and heels too high for cobblestones, and you'll be America's most ringarde sweetheart.
Orville Peck
Photo-Illustration: Getty/retailer
Dress like Canadian country musician Orville Peck in a mask with colorful fringe. Add a cowboy hat or Western shirt for a more complete look.
Nurse Ratched
Photo-Illustration: Netflix/retailer
If you have a surgical mask, you have the most important part of a Nurse Ratched costume. Just sweep back your hair, put on all white, and top it off with a folded paper hat.
Pete Davidson, Post Malone, or any other celebrity who went a little wild with the tattoos
Photo-Illustration: getty/retailer
If you're really feeling it, add some temporary tattoos. (Although this mask is already sold out, we found a similar one based on Harry Styles's tattoos that you can find at the link below.)
A purse
If anyone wants to tuck any money in, just make sure they sanitize first (chain sold separately).
Lettuce or a salad
Photo-Illustration: Getty/retailer
The only prop you'll need is a tomato.
An oyster
Photo-Illustration: Getty/retailer
Pin a single pearl earring or pendant onto the mask or wear a pearl necklace — and be ready to explain to anyone who doesn't quite grasp the subtlety.
Janelle Monáe's 'Pynk' music video
Photo-Illustration: atlantic records/retailer
Monáe's 2018 "Pynk" video features strategically placed hot-pink ruffles just like this mask. Wearing it with a pink sweatsuit (any shade will do) should drive the message home, but you may have to play the video on your phone for people to get it — a bonus, in our opinion.
A polar bear
Photo-Illustration: getty/retailer
This Etsy seller makes furry masks in a bunch of different colors. For a polar-bear costume, go with the white furry mask and all-white sweatpants and sweatshirt. You'll also want a toy fish.
A house cat